Looking for that perfect holiday destination where you can scuba dive one day, trek through ancient rainforests the next, then summit a mountain for a sunrise finale? Then look no further than Sabah!
Home to some epic adventure experiences both underwater and on dry land, no other destination in Asia offers you the chance to dive with sharks, turtles and schooling fish, then head to the jungle in search of orangutans and pygmy elephants – all on one incredible trip.

---
Need help planning your next holiday in Sabah?
Contact one of our dive travel experts today.

---
Exploring Sabah
Sabah is one of the few locations in the world where incredible diving, amazing adventures and jungle exploration are all within such easy reach of one another. Getting around Sabah is very simple, with lots of flights and public transport, making it all the more easy for you to put together a trip that combines diving, wildlife encounters and trekking. It's no surprise that we recommend Sabah as one of our favourite adventure travel destinations!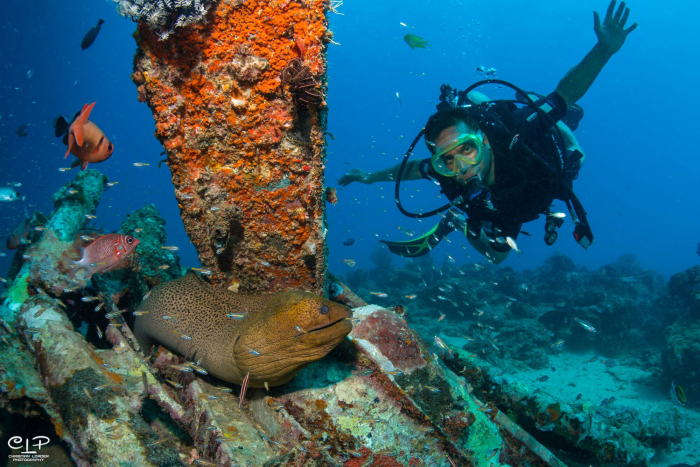 Where can I dive in Sabah?
Over on Sabah's east coast lie sheltered bays, coral fringed islands and Borneo's best diving destinations. If you fly over to Sandakan, you can head out into the Sulu Sea to peaceful Lankayan Island where they can explore some interesting shallow reefs and wrecks as well as hunt for macro subjects, including an unusual giant jawfish. Close by are the islands of Selingan, Bakkungan and Gulisan – part of the Turtle Islands National Park. The islands are an important nesting area for turtles and if you stay over night, you'll have a very good chance of watching a turtle coming up to lay her eggs.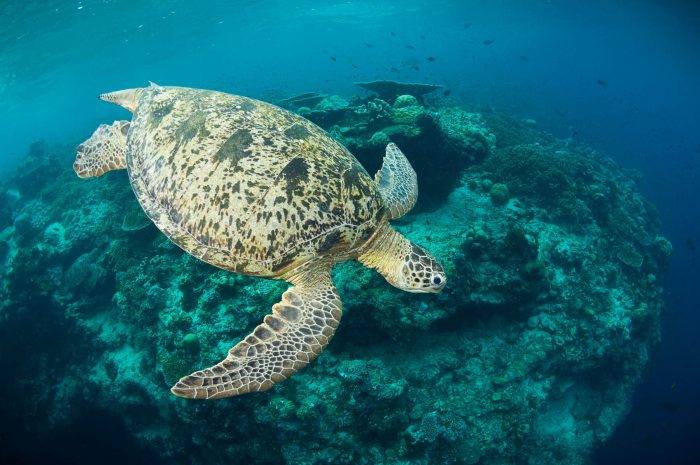 South of the Tun Sakaran Marine Park and a boat ride from the local town of Semporna are Sabah's most famous dive destinations – the islands of Sipadan, Mabul and Kapalai. Lying in deep water off the continental shelf, Sipadan is THE dive destination in Sabah to encounter green and hawksbill turtles, swirling tornadoes of barracudas and jackfish, coral-munching bumphead parrotfish, whitetip and grey reef sharks, and clouds of colourful reef fish. Throw in the occasional hammerhead shark off the reef, devil and manta rays, the occasional whale shark or thresher shark and the steep walls festooned with corals, and you have one the best dive destinations in the world.
Closer to the mainland and surrounded by a vast network of reefs and shoals are the islands of Mabul and Kapalai. Both are great choices from which to explore Sipadan, but are also fantastic dive locations in their own right. If you want the island life, plenty of muck critters and reef fish, as well as colourful corals and interesting artificial reef, then we would recommend a trip to Mabul and Kapalai.
Recommended resort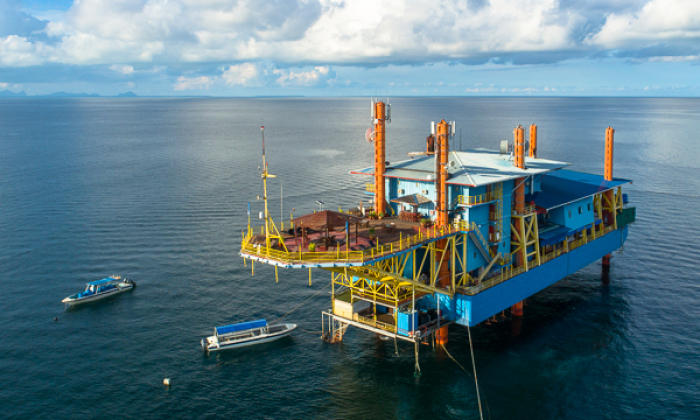 Mabul and Kapalai
Seaventures Dive Resort
Seaventures is a unique dive resort with outstanding facilities for scuba students and divers of all skill and comfort levels, as well as a fantastic team - dedicated to safety and ...
Jungles, wildlife and adventure
As soon as you arrive in Sabah, you can't help but notice the silhouette of Gunung Kinabalu looming over the landscape. This towering peak can be climbed by anyone with a reasonable level of fitness, and offers a strenuous trek through stunted clouds forests, followed by a night climb to the summit to catch the sun rising through the sea of clouds below. If you would like something a little less strenuous, then you can head north instead and visit some of Borneo's most beautiful beaches around the 'Tip of Borneo' at Kudat, or stay in a longhouse or jungle camp and learn about the local customs and wildlife. You can also book a white-water rafting trip at Kiulu, not far from Kota Kinabalu.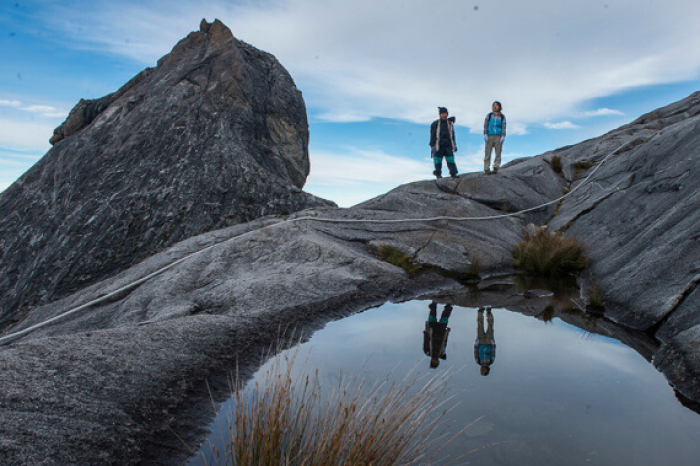 If its amazing amazing wildlife encounters and jungle trekking that get you excited, then you'll need to head over to Sabah's east coast. Not far from Sandakan is the world famous Orangutan Rehabilitation Centre at Sepilok and the Borneo Sun Bear Conservation Centre. We recommend spending at least half a day here so you can watch orangutans around the feeding platform, then explore the Rainforest Discovery Centre and visit the world's only sun bear sanctuary.
From Sepilok, it is a short drive to the Kinabatangan River, one of Sabah's best wildlife destinations. Don't forgot to stop off at the Gomantong Caves on the way. This huge cave system is filled with bats and swallows whose nests have been collected for hundreds of years to make birds' nest soup. A top tip – once you have checked out the caves, climb the trail to the summit of Gomantang's pinnacle as wild orangutans can often be seen here.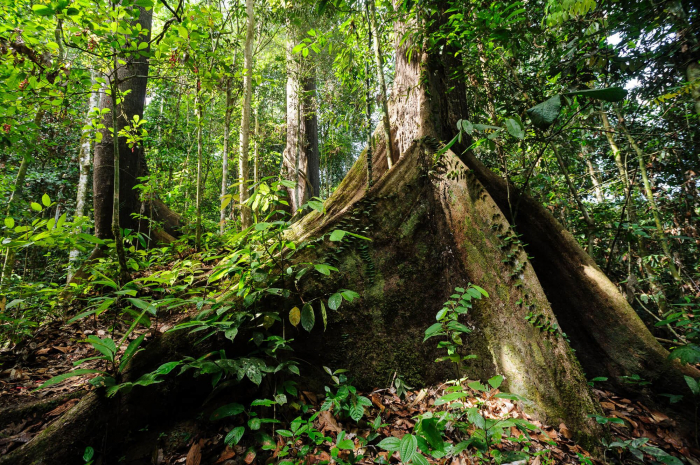 The Kinabatangan River is one of Sabah's real highlights and should not be missed. The jungle that borders the meandering river is home to an incredible concentration of wildlife and there are fantastic homestays and community projects run by the local Orang Sungai – the 'River People' – to stay at. The best way to experience the Kinabatangan is to book a dawn cruise along the main river and into the many narrow channels and oxbow lakes. Get your camera ready as you are likely to see proboscis monkeys and wild orangutans, crocodiles, pygmy elephants and an amazing variety of birdlife.
South of the Kinabatangan River towards Lahad Datu is the 'Green Heart' of Sabah, an extensive network of protected forests that include some of the finest rainforest in Borneo. These pristine forests, including the renowned Danum Valley Conservation Area and to the east, the Tabin Wildlife Area, are home to the highest number of plants and animals ever recorded in Southeast Asia. You can trek through the towering lowland forest, swim in crystal clear rivers and cascading waterfalls, and explore the mysterious stunted forests that blanket the high ridges. And, while the scenery is truly spectacular, it is the wildlife that you'll remember after your trip – spend a few days here and you have a real chance of spotting pygmy elephants, wild orangutans, an amazing variety of birds, snakes and frogs, and even the elusive Sunda clouded leopard.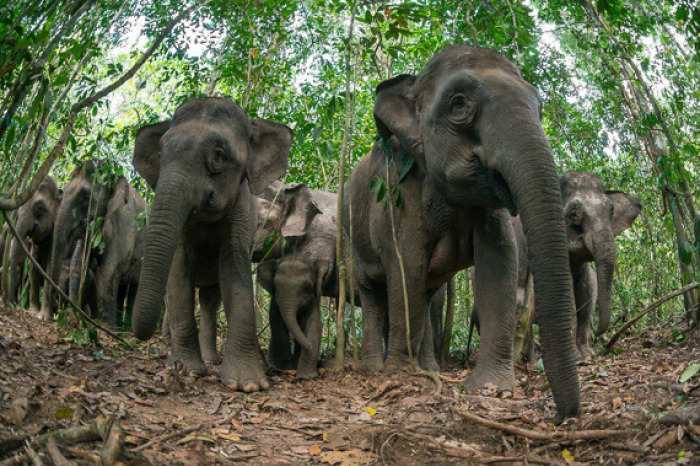 Ready to start planning your dive holiday in Malaysia?
Search, compare and book from our hand-selected resorts.
What is the best itinerary?
Given there is some much to do in Sabah, we recommend you book at least a week if not more to make the most of your trip. The easiest way to put together an incredible combination of jungles and reefs is to first fly from Kota Kinabalu to Sandakan, the gateway to Sepilok Nature Reserve and the Kinabatangan River. From here you can also travel out to Lankayan and the Turtle Islands.
From Sandakan it is an easy road trip to Lahad Datu, the gateway to the protected forests of Sabah's 'Green Heart'. You can head inland to the Danum Valley or east to Tabin – or visit both if you have the time. Once finished in the jungle, it is another easy road trip to Semporna, the gateway to the islands of Sipadan, Mabul and Kapalai. A easy alternative if you have less time is to fly to Sandakan and visit Sepilok and the Kinabatangan River for a few nights, then fly to Tawau and transfer by road to Semporna.
How do I get to Sabah?
Sabah's capital city of Kota Kinabalu is the main entry point for most visitors and is now an important hub for flights across the region. You can fly to KK directly from Japan, Hong Kong, China, Indonesia, Singapore, Philippines and Taiwan, and from the rest of the world via Kuala Lumpur.
What is the best way to get around Sabah?
Once in Sabah, you can fly across to Sandakan or Tawau to visit the islands and nature reserves of the east coast. For those with a little more time, buses run regularly services up and across the Crocker Range and past Mt Kinabalu, then across to the east coast. You can also head up to the northern tip of Borneo or to the interior around Tenom and Keningau – the heartland of Sabahan Kadazan-Dusun culture.
When is the best time to visit Sabah?
Sabah is nicknamed the 'Land Below the Wind', referring to its location just south of the typhoon belt. Most tropical storms that develop in the Pacific Ocean track towards the Philippines, sparing Sabah their full force. However, Sabah will sometimes catch the tail end of any bad weather and can get some rough seas and winds in the main typhoon season, particularly in August. The east coast can also experience storms in the middle of the wet season, especially in January.
Sabah has a typical equatorial climate – air temperatures are normally 27-32C, humidity is high and the sea temperatures are 26-29C, with some colder upwellings in deeper water. Sabah doesn't have a well defined monsoon like that of South Asia. Instead it typically rains all year round with more rain in the Northeast 'wet' season between November and March, and less in the Southwest 'dry' season. On the west coast, the wet season typically starts a little earlier and January and February can already be dry. But be prepared for rain whatever time of year you visit.

Can I stay on Sipadan?
Divers are no longer allowed to stay on Sipadan overnight but the nearby islands of Mabul and Kapalai have plenty of great resorts to choose from. ZuBlu's partner resorts offer a wide range of accommodation that will match your budget if you are traveling on a budget, or looking for some luxury. These resorts will also book a Sipadan dive permit for you – normally guaranteeing a day of diving on the island if you stay 3 nights or more – but when you book your trip to Sabah, we'll check the availability of permits and make sure you can dive Sipadan.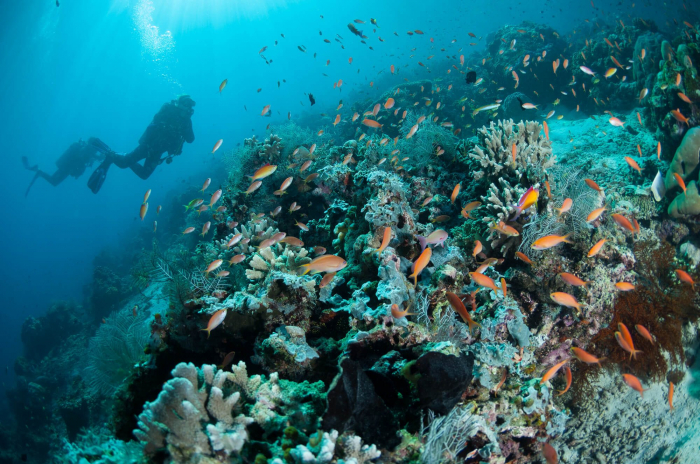 How do I get to Mabul, Kapalai and Sipadan?
Mabul and Kapalai are just an hour by boat from the nearby port of Semporna and to make life even easier, all of the resorts have their own scheduled transfers to and from the resorts. If you are arriving from Kota Kinabalu, you will fly into Tawau where you will be picked up by the resort bus or can simply jump in a taxi to Semporna. From Mabul or Kapalai, Sipadan is just 45 minutes by boat – and remember to keep an eye open for whales and dolphins on the trip over!
Can I learn to dive in Sabah?
The shallow reefs and sandy patches that surround both Mabul and Kapalai make them perfect for doing your Open Water course, or doing some more training. If you decide to stay on Mabul, we recommend doing your course with Scuba Junkie who have a well-earned reputation for high standards and safety. A great alternative is to book your stay at Seaventures Dive Rig. This converted platform makes for a unique holiday experience and you'll love doing your training right beneath the rig.
The islands of the Tunku Abdul Rahman National Park, just off Sabah's capital Kota Kinabalu, are also a great choice if you would like to learn to dive. The calm seas and gentle currents are perfect for training and the islands also have some great reefs for you to explore, some surprisingly good muck diving and even the possibility of an encounter with a whale shark during the season.
---
Need help planning your dive trip?
Contact one of our award-winning travel experts today!

---
---
---
Join the ZuBlu community to receive the latest insights and unmissable adventures
Don't worry, we'll only send you really good stuff - and we never share your details
---