The Maldives is one of the world's best liveaboard diving destinations and promises some truly unparalleled itineraries. Learn more about classic voyages with our expert overview of liveaboard itineraries in the Maldives.
Why the Maldives is ideal for liveaboard diving
The Maldives is renowned for being one of the world's top destinations for liveaboards. Perhaps the most obvious reason to choose a liveaboard is a simple case of logistics, as the Maldives is made up of hundreds of islands spread across dozens of atolls. This spectacular landscape is what makes the Maldives so tempting to divers, but it means that travel within the country is a little tricky at times, often requiring multiple boat trips or plane journeys.
Liveaboards combine both accommodation and transportation, allowing divers to wake up to new dive sites each morning feeling well rested. It also means they are seeing more of the country – and its exceptional diving – without losing time to domestic travel.
What's more, the Maldives' iconic one-island-one-resort experience doesn't necessarily appeal to everyone. Liveaboards can offer a unique perspective to this island nation and liveaboards often work out at great value for money when compared to many of the luxury resorts, with meals, accommodation and dives all together.
The best liveaboard itineraries in the Maldives
If you've never been to the Maldives, it can be difficult to know which liveaboard itinerary will be right for you - particularly when you're not sure what each atoll offers underwater. The good news is, while liveaboards often call similar trips by different names, the vast majority of itineraries follow several standard routes. 
Looking for the perfect liveaboard itinerary?
Search, compare and book from all liveaboards
Classic central atolls liveaboard itinerary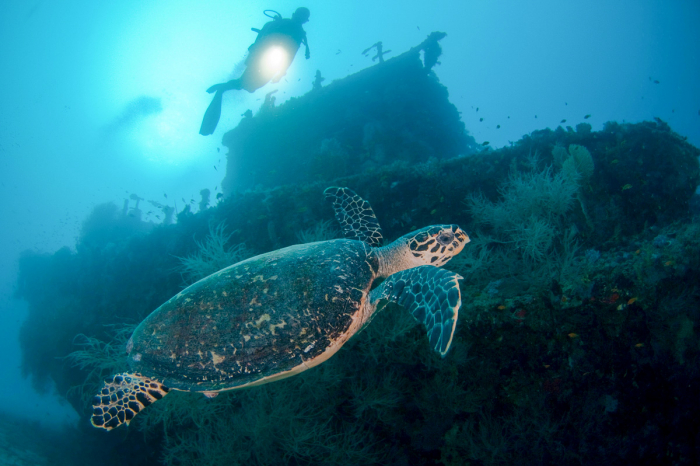 This circular loop around the Maldives' central atolls is not only one of the most accessible options, it also includes iconic underwater experiences. From multicoloured reefs and marine megafauna to drifts and world-class wrecks, the central atolls have it all. These atolls also offer plenty above water as well, including luxurious island excursions and exceptional surf breaks.
Safari boats operating this itinerary embark and disembark in Hulhule, North Male, within easy reach of the international airport, making it a great option for an easy liveaboard dive holiday in the Maldives. Trips tend to last around a week, although longer and shorter variations can sometimes be found, and can travel in either direction around the circular route.
During these voyages, divers will get to experience some of the best scuba diving in the Maldives. Highlights include the manta cleaning stations of North Male, shark-filled channels of Vaavu and the near-guaranteed whale shark encounters of Maamigili, South Ari. Other world-famous experiences include Guraidhoo Corner, Alimatha Jetty, Fesdu Lagoon and the Machchafushi Wreck. 
Likely stops: North and South Male Atoll, Vaavu Atoll, South Ari Atoll, North Ari Atoll, Rasdhoo Atoll
Highlights: Manta ray cleaning stations, near-guaranteed whale sharks, simple logistics
Best season: Year-round
Maldives' northern highlights liveaboard itinerary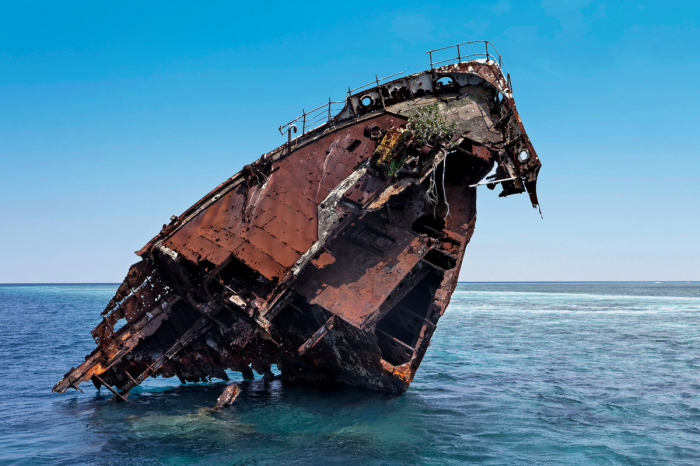 Separated from the central atolls by the Kaashidhoo Kandu, the Maldives' northern atolls offer the same appeal, with a slightly more secluded atmosphere. Despite lying closer to Male than the remote southern sites, few liveaboard itineraries venture to the Maldives' most northerly atolls. In fact, vessels operating this itinerary only rarely visit the atolls of Noonu and Shaviyani, and virtually never venture beyond into Haa Alifu and Haa Dhaalu. Instead, the diving focuses on the more accessible atolls of Baa, Raa and Lhaviyani located closer to the Kaashidhoo Kandu.
The northern highlights liveaboard itinerary is another circular route which embarks and disembarks in Hulhule, North Male. From here, vessels either head directly north, or travel west towards North Ari and Rasdhoo before crossing the Kaashidhoo Kandu. Manta rays are the main reason liveaboard vessels venture north, as they head to the cleaning stations of Lhaviyani Atoll, Raa Atoll, and the UNESCO World Biosphere Reserve of Baa Atoll. Alongside the many manta ray experiences, guests also have a reasonable chance of encountering whale sharks and can explore several world-class shipwrecks.
Likely stops: North Male Atoll, North Ari Atoll, Rasdhoo Atoll, Baa Atoll, Raa Atoll, Lhaviyani Atoll
Highlights: Manta ray encounters, stunning shipwrecks, secluded atmosphere
Best season: Year-round
Maldives' manta ray liveaboard itinerary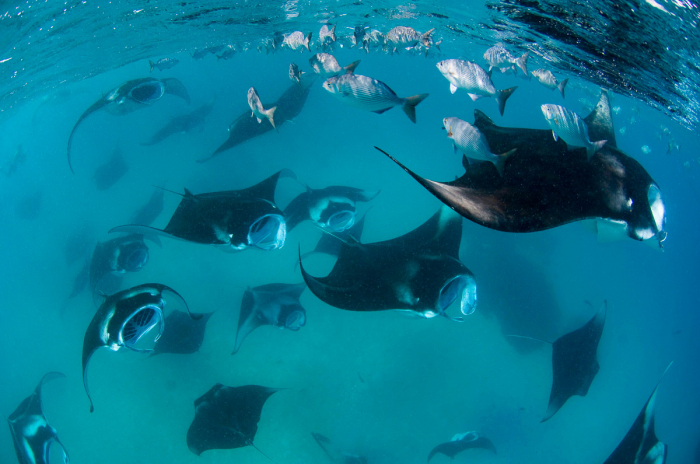 If you're hoping to encounter manta rays, the Maldives is a good place to start. And if you're hoping to encounter more manta rays than you could ever have imagined, then this is the itinerary for you. As you have just read, both the central and northern atolls are home to some exceptional manta experiences, and this route combines the very best into one incredible expedition. Liveaboards always aim to deliver the best overall experience and crews will endeavour to get guests to the right place at the right time, meaning the exact route of this itinerary can vary slightly each week.
Departing from Hulhule, this itinerary incorporates the cleaning stations and current-swept channels of North Male, Lhaviyani, Raa and Baa. The protected Hanifaru Bay in Baa Atoll is home to some of the world's most impressive manta ray congregations and is a marquee stop during this voyage. With huge numbers of rays reliably returning to this bay to feed throughout the season, sometimes performing their famous cyclone-feeding behaviours, guests are in with a high chance of enjoying a once-in-a-lifetime experience. 
Likely stops: North Male Atoll, Lhaviyani Atoll, Raa Atoll, Baa Atoll
Highlights: Unparalleled manta ray experiences
Best season: July to October, around the full and new moons
Sharktastic liveaboard itinerary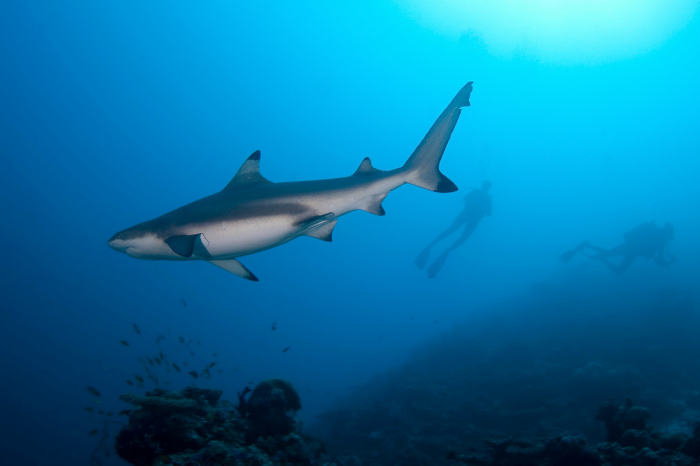 Much like the manta ray itinerary above, this trip is focused on finding some of the best shark diving experiences within easy reach of Male. However, rather than heading north, this route combines the central atolls with one or two destinations further south, where the diving is focused on the eastern channels. For a few months at the start of each year, currents push oceanic water through the channels along the eastern edge of the atolls, attracting large numbers of reef fish and creating an irresistible opportunity for sharks.
From Hulhule, North Male, the vessels will head south stopping at sites such as Kandooma Thila in South Male where grey reef sharks roam. Vaavu is next, and is one of the best shark diving destinations in the Maldives, offering encounters with numerous grey and whitetip reef sharks at Fotteyo Kandu and Miyaru Kandu. This atoll is also home to a popular night dive at Alimatha Jetty, amongst large numbers of blacktip sharks and nurse sharks. Further south, Meemu Atoll's Malaku Kandu drops to depths of over 100-metres and attracts whitetip and grey reef sharks, as well as hammerheads in the early morning hours. Then it's time to head back north, crossing to South Ari along the way to encounter the biggest of them all - whale sharks. 
Likely stops: North and South Male Atoll, Vaavu Atoll, Meemu Atoll, South Ari Atoll
Highlights: Reliable reef shark encounters, whale sharks, current-swept channels
Best season: January to April
Maldives' south central liveaboard itinerary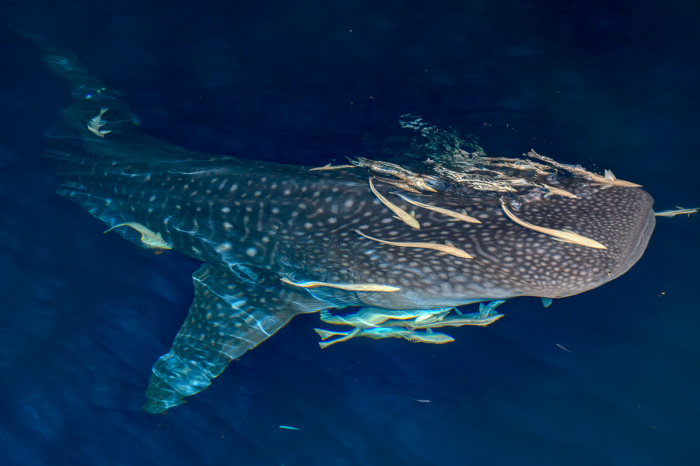 For divers looking to travel a little further off the beaten track, the Maldives' south central liveaboard itinerary is a great way to do it. With more atolls to visit and so much to see, these voyages are often a little longer, with different operators offering trips lasting anywhere between seven and 14-days. Again, it is the eastern channels that provide much of the excitement during this itinerary, as strong currents push through the channels and into the central lagoons. The trip can be done in both directions, either starting in the north and heading south, or vice versa.
Departing from Hulhule, North Male, this route heads directly south, stopping in South Male, Vaavu and Meemu to search for reef sharks in the channels and marvel at the colourful soft coral overhangs of the outer walls. From Meemu, vessels usually head to Thaa, where hammerheads can occasionally be seen and whale sharks feed beneath the boats at night, before moving on the Laamu for fast-flowing drifts and year-round manta cleaning stations. Finally, after crossing the 97-kilometre-wide channel, this itinerary ends in the isolated atoll of Huvadhoo, known for under-explored reefs and possible encounters with a dozen different species of shark. 
Likely stops: North and South Male Atoll, Vaavu Atoll, Meemu Atoll, Thaa Atoll, Laamu Atoll, Huvadhoo Atoll
Highlights: Adventurous atmosphere, multiple shark species, manta rays and whale sharks
Best season: January to March
Maldives' deep south liveaboard itinerary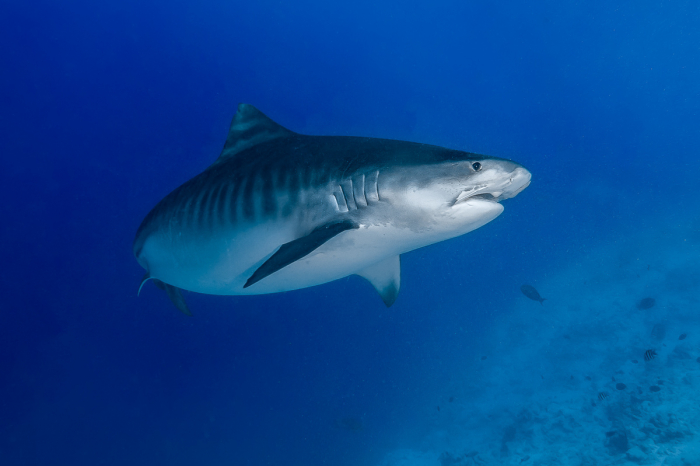 For many, it would be a source of deep regret to travel to the Maldives' southern reaches and miss out on diving the infamous island of Fuvahmulah. Thankfully, this deep south itinerary is almost identical to the south central trip, but continues across the 49-kilometre-wide Addu Kandu to stop at both Fuvahmulah and Addu Atoll. As you'd expect, these action-packed voyages require plenty of time to make the most of so many world-class dive destinations, with trips typically lasting between 10 to 14-days. As with most one-way itineraries in the Maldives, this trip can be done in both directions.
Starting in Hulhule, North Male, liveaboards embark on a long journey south, stopping at around seven or eight atolls along the way. The pelagic-packed channels of Vaavu, Meemu, Thaa and Laamu and common inclusions, followed by the remote Huvadhoo Atoll. On the way to Addu, a day will be spent at Fuvahmulah, where powerful pelagics rule and tiger shark sightings are practically guaranteed. The itinerary will finish in Addu, with the possibility of a local dive or two - inclduing on the world-famous British Loyalty shipwreck. 
Likely stops: North and South Male Atoll, Vaavu Atoll, Meemu Atoll, Thaa Atoll, Laamu Atoll, Huvadhoo Atoll, Fuvahmulah, Addu Atoll
Highlights: Extended adventures, powerful pelagics, unparalleled shark encounters
Best season: January to March
Southern sharks itinerary in the Maldives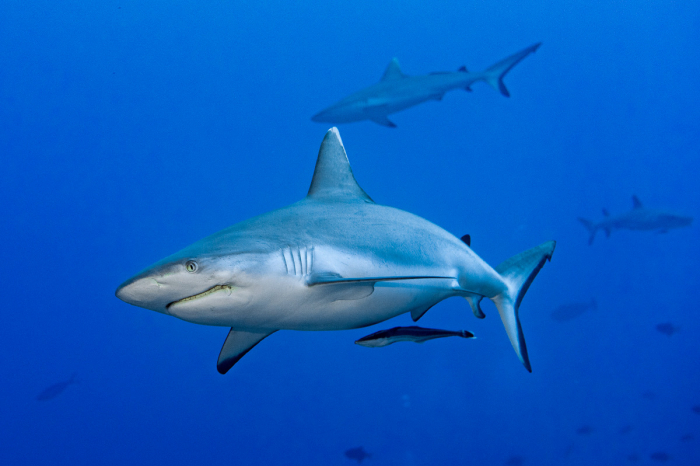 This itinerary perfectly encapsulates what diving in the Maldives' deep south is all about - sharks. These isolated southern islands and atolls act as beacons for large pelagic species venturing in from the open ocean, with Fuvahmulah and Huvadhoo in particular delivering some of the best shark experiences on the planet. Voyages generally last around a week and offer at least one full day of diving around Fuvahmulah. Of course, this trip can also be done in either direction.
Departing from the island of Kooddoo in Huvadhoo Atoll, vessels usually spend a couple of days exploring the vast lagoon and searching for the many shark species which reside here. Possible encounters include silkies, silvertips, and nurse sharks, as well as threshers and hammerheads. Then, it's on to Fuvahmulah, one of the only places with guaranteed tiger shark encounters. The trip then ends in Addu Atoll, where sites such as Shark Point offer dozens of grey reef sharks.
Likely stops: Huvadhoo Atoll, Fuvahmulah Island, Addu Atoll
Highlights: Unparalleled shark encounters, remote and adventurous atmosphere
Best season: January to March
---
Ready to book your liveaboard in the Maldives
Contact the travel team today

---