Scuba diving in
Tulum, Akumal and the Riviera Maya
Take the plunge in Mexico's hottest up and coming dive destinations, famous for its coral reefs, marine life and exceptional underground exploration in the Yucatan's famous cenotes.
Highlights
Reef diving with turtles, eagle rays, and powerful species like tarpon and barracuda
Underground exploration in the Yucatan's limestone caves known as "cenotes"
Stunning dive sites with views of ancient Mayan ruins
Conditions for all with easy-going currents, excellent visibility, and coral gardens
Tulum is fast becoming Mexico's top destination for scuba diving. Bordered by Akumal and the Riviera Maya, this once tiny town has developed into a paradise for adventurers, boasting a hot dining scene, eclectic nightlife, and accommodations for all. Plus, you'll have the one-of-a-kind opportunity to explore the ancient world of the Maya, with beachside ruins and underground passageways once believed to be the gates to the underworld. Scuba diving around the Riviera Maya is also exceptional, thanks to its vibrant fringing coral reefs clouded by colourful fish. These dazzling coastal destinations are also home to outstanding tourist facilities and stunning scenery with dense jungles, sparkling white sand beaches, and beautiful turquoise waves.
Diving in Tulum, Akumal and the Riviera Maya
Schooling reef fish

Year round

Healthy corals

Year round

Caves & caverns

Year round
The entire Riviera Maya offers incredible opportunities for underwater exploration, with the Mesoamerican Reef - one of the world's longest barrier reefs - right offshore. Take the plunge here for a chance to dive with squadrons of eagle rays, three species of sea turtle, and reef fish schooling by the thousand. Lucky divers might also spot gigantic barracuda and tarpon, nurse sharks, and hard to find creatures like splendid toadfish and seahorses.
Exploring the Mesoamerican Reef
The Riviera Maya spans hundreds of kilometres along Mexico's Caribbean coast, bordered the entire way by a fringing barrier reef. Much of this region lies exposed to the open sea, with nutrient-rich upwellings from the Gulf Stream fueling incredible coral growth. You can expect to dive alongside giant colonies of hard and soft coral and stunning formations, with coral gardens beginning in just a few metres of water and extending well beyond recreational diving limits. These massive coral fields attract all kinds of marine life, drawing vast schools of snapper, grouper, and even sharks and rays. Many of the sites around Akumal and Tulum offer shallow and deep exploration, with two reefs to choose from, one inner and outer barrier, with depths suitable for all skill levels.
Diving Tulum's cenotes
The cenotes are easily Tulum's number one attraction. And, you don't have to be an advanced diver to enjoy this unique underground experience. Many of these formations are suitable for divers of all skill levels, with both cavern and cave exploration - some even offer opportunities for snorkelling! These limestone formations were once regarded as the gateway to the underworld known as Xibalba by the Mayans and some, more complex cave systems, even house incredible archaeological findings, including human remains and tools of ritual sacrifice. Other amazing submerged sights include swirling haloclines - where fresh and saltwater meet, and bizarre scenes like fossils, petrified trees, and hazy clouds of hydrogen sulfide gas.
Day trip diving
If you're planning to take in all the best sites around the Riviera Maya, don't miss out on the other top-notch exploration nearby. Mexico's Yucatan Peninsula is home to incredibly diverse diving, with whale shark snorkelling around Cancun and Isla Mujeres, plummeting walls in Cozumel, and seasonal bull shark encounters in Playa del Carmen. Not to mention incredible reefs and wonderful wildlife in the Costa Maya region, found further south. And, all of these dynamic diving areas are within one to two hours transit from one another, ideal for day-tripping!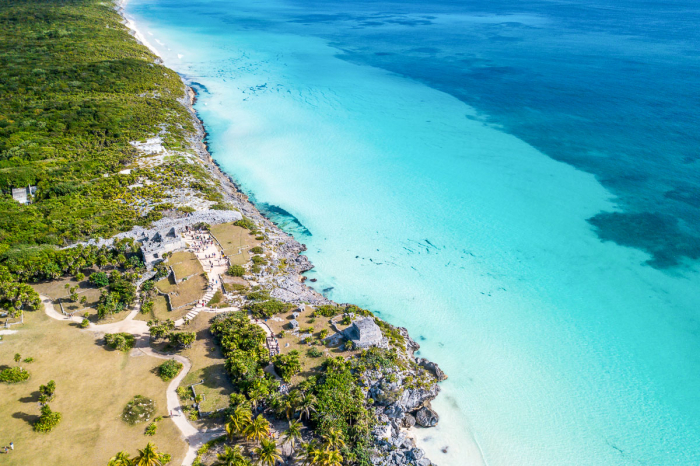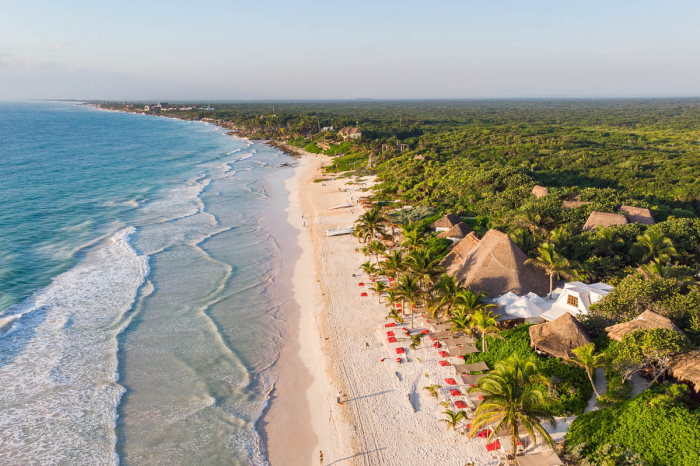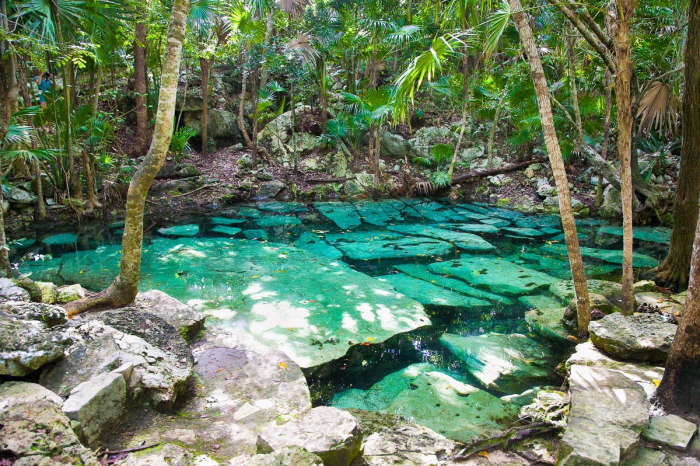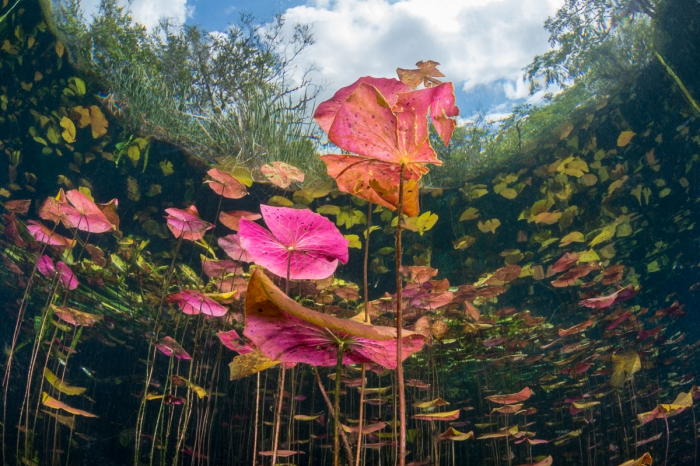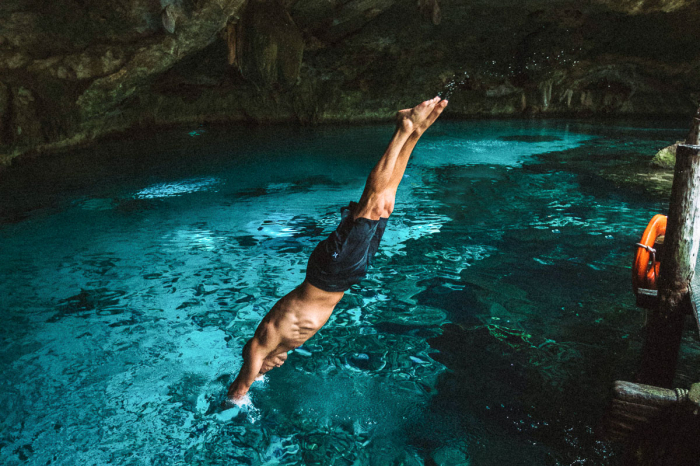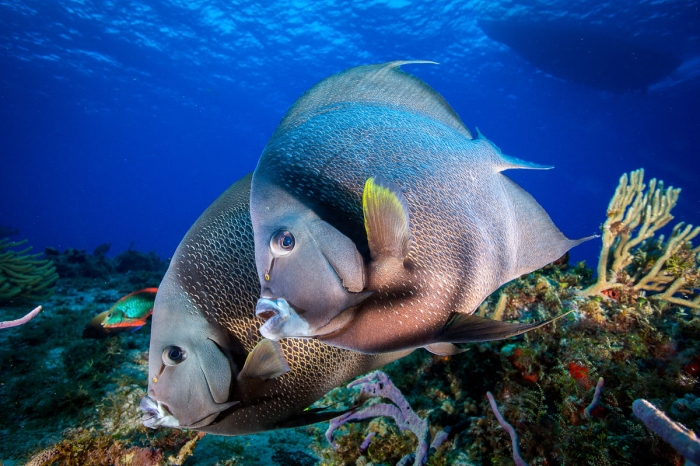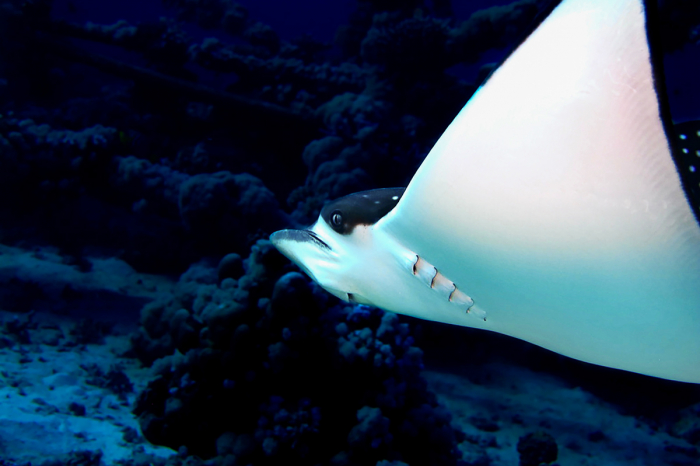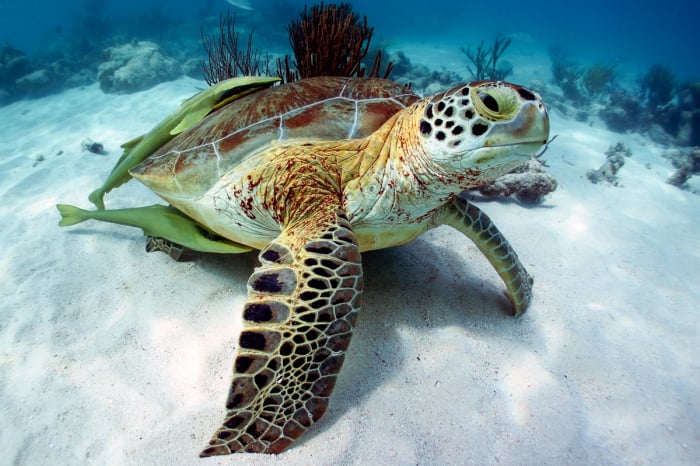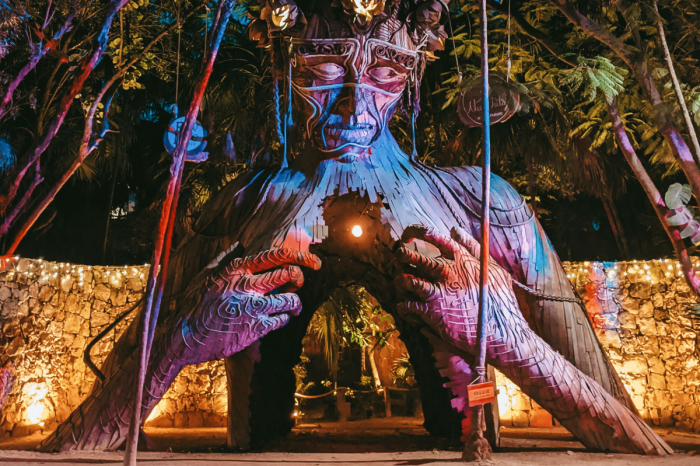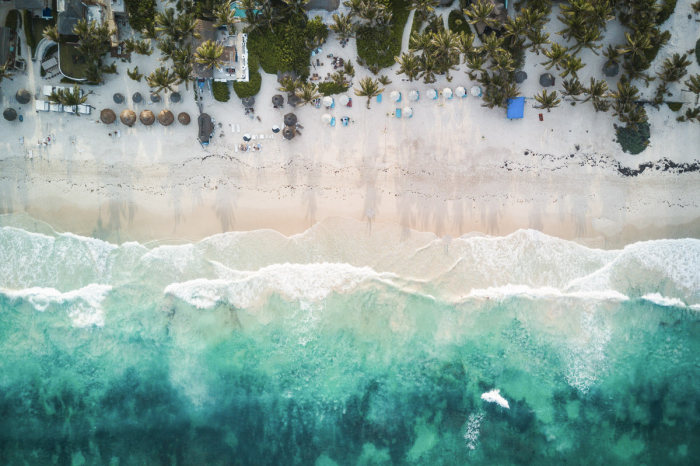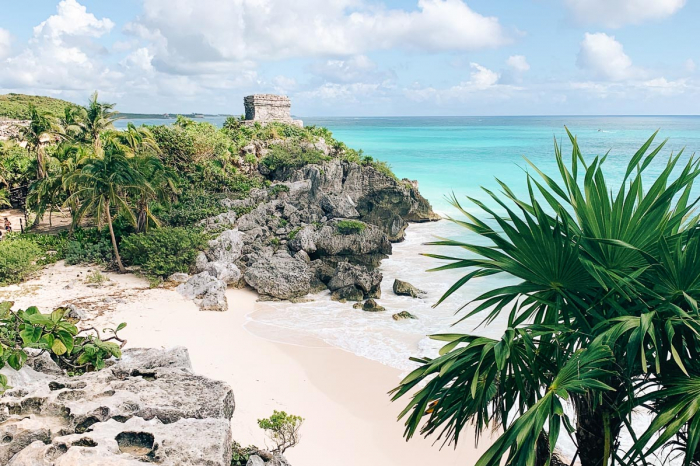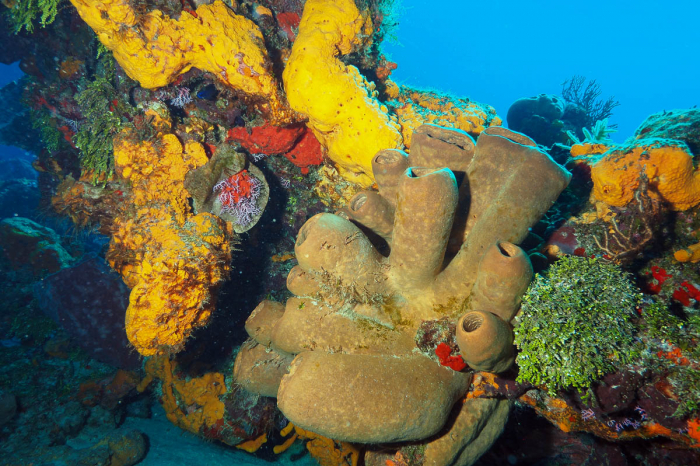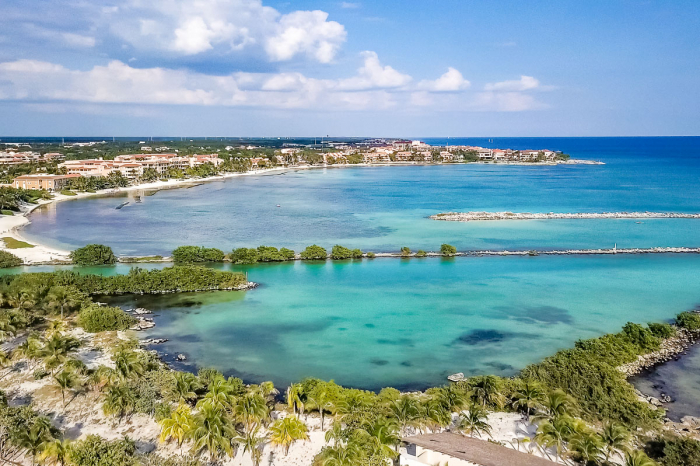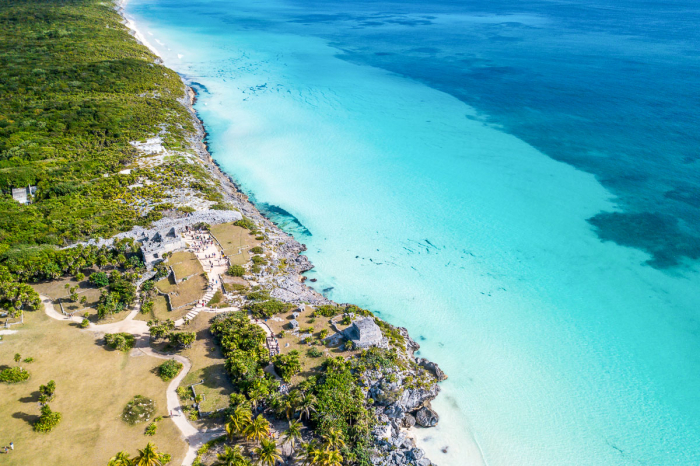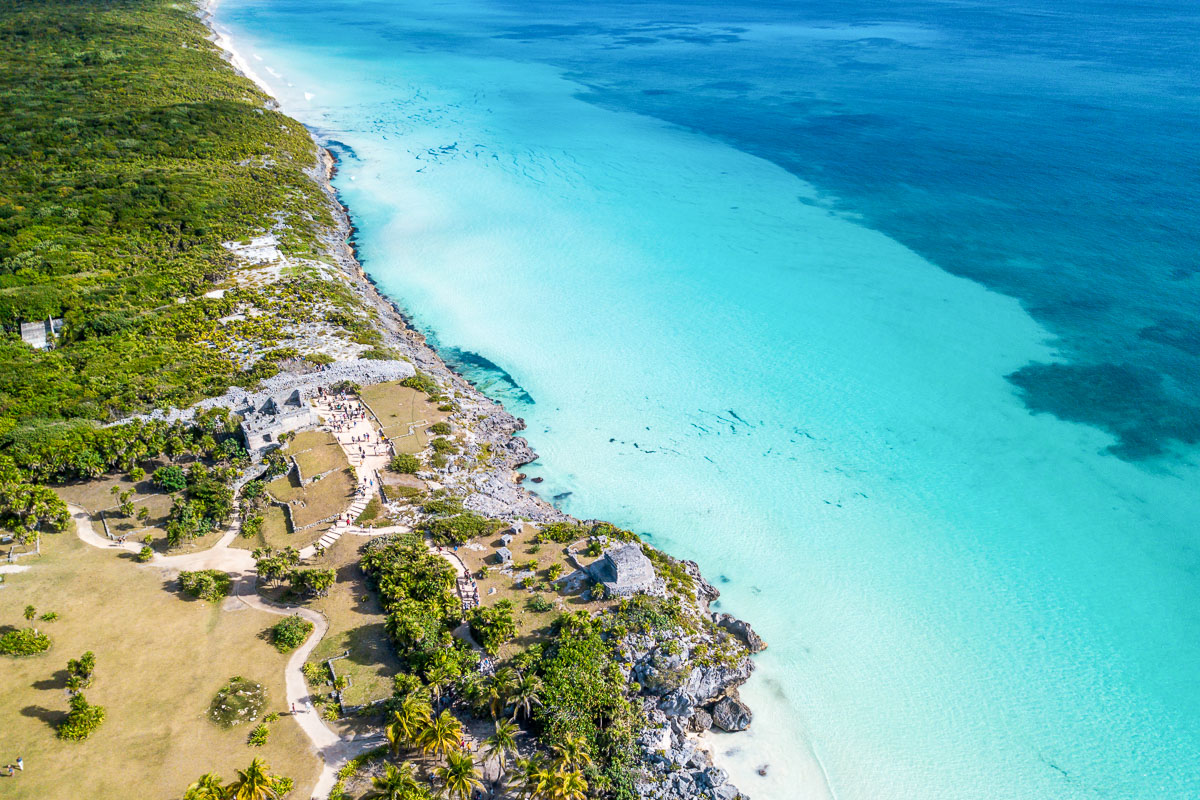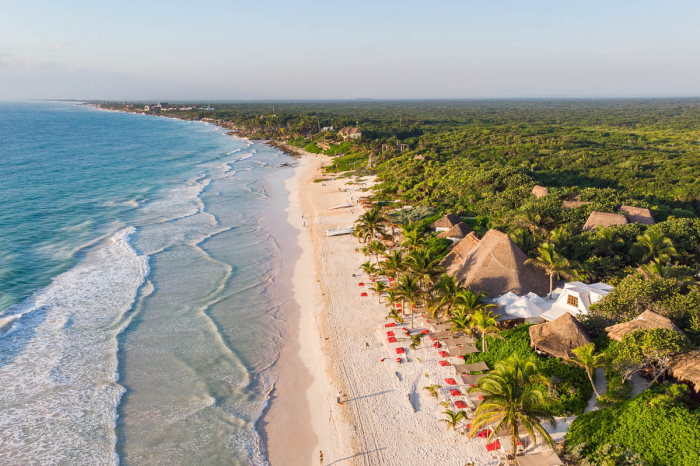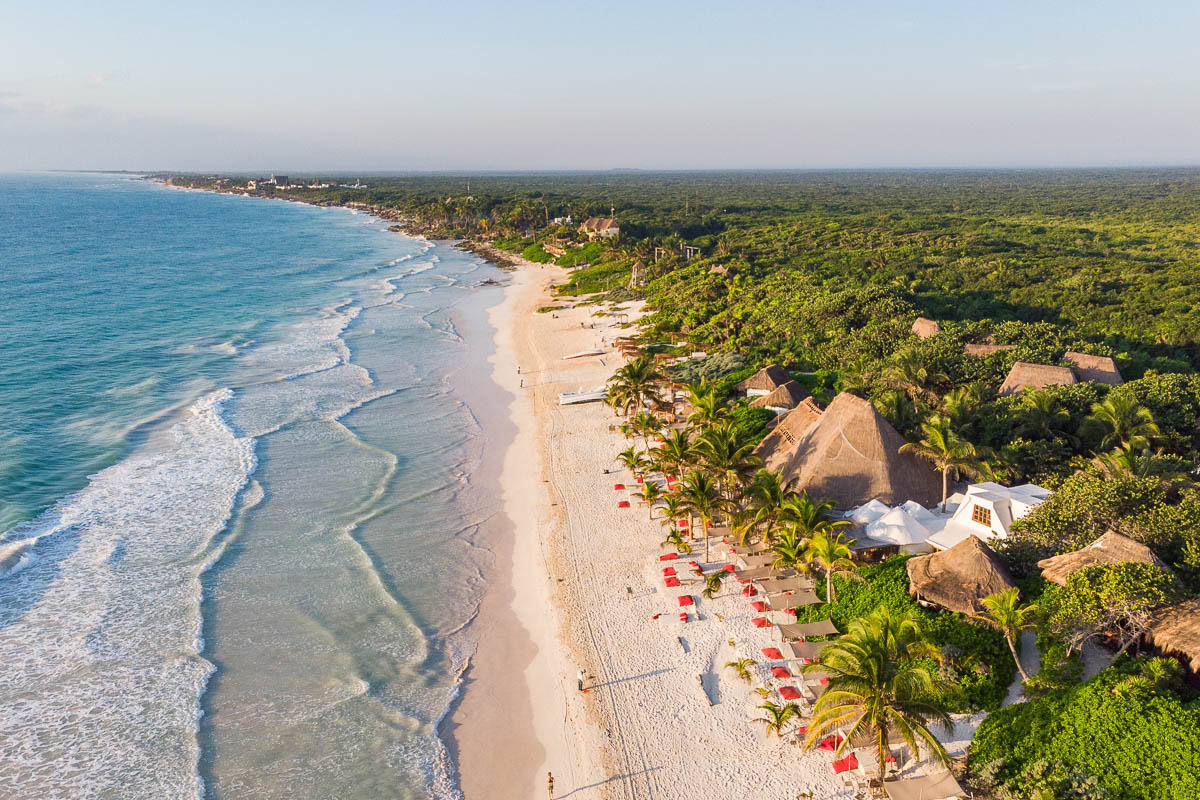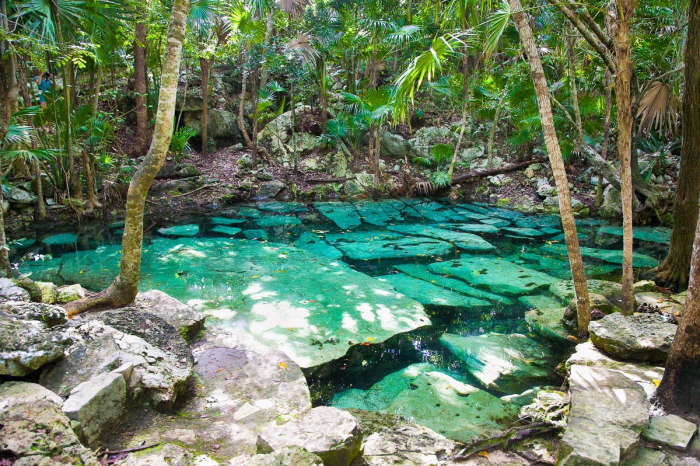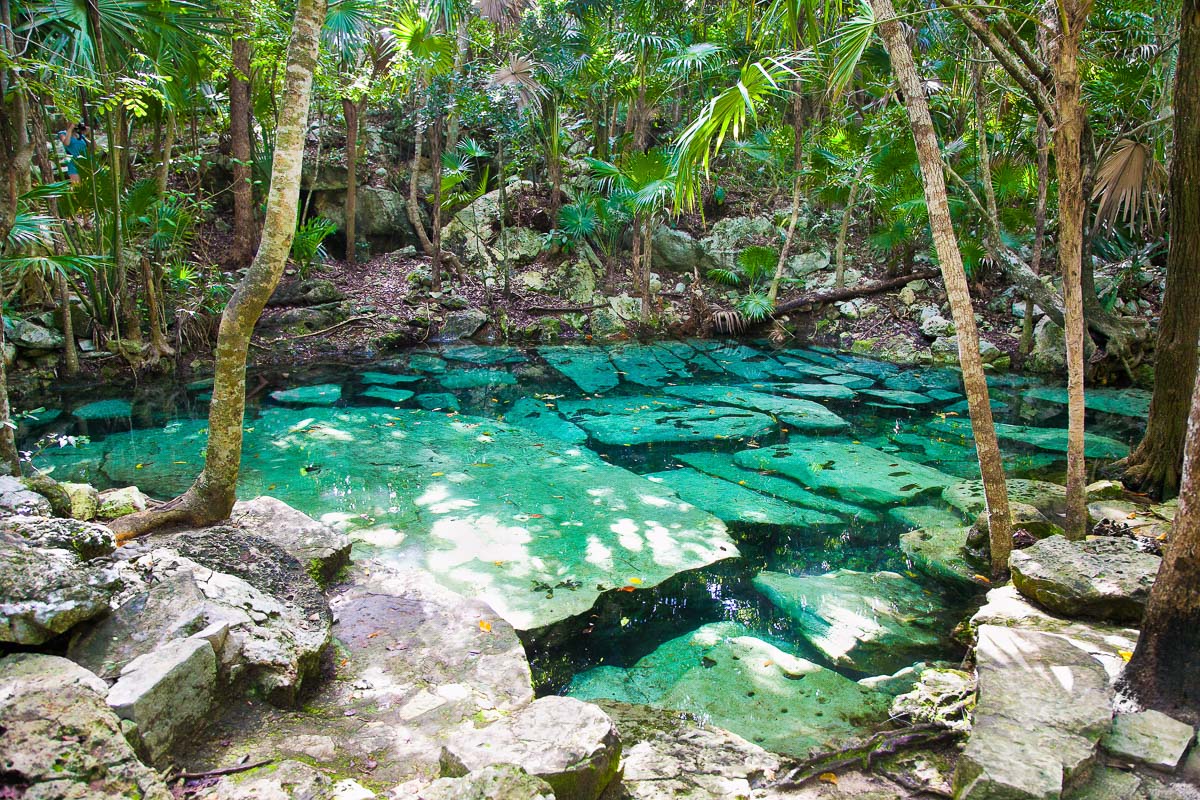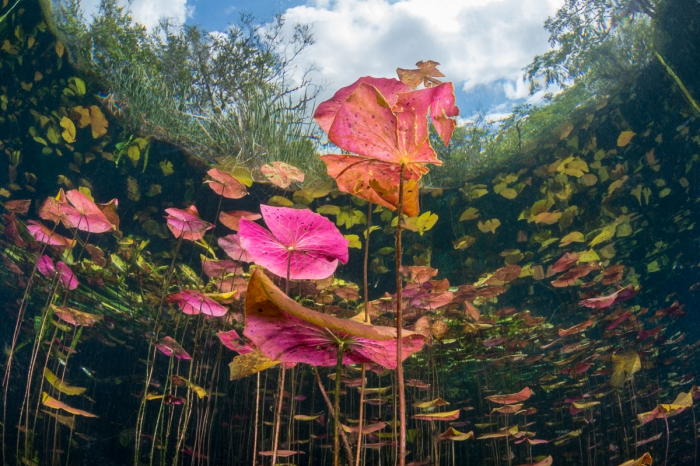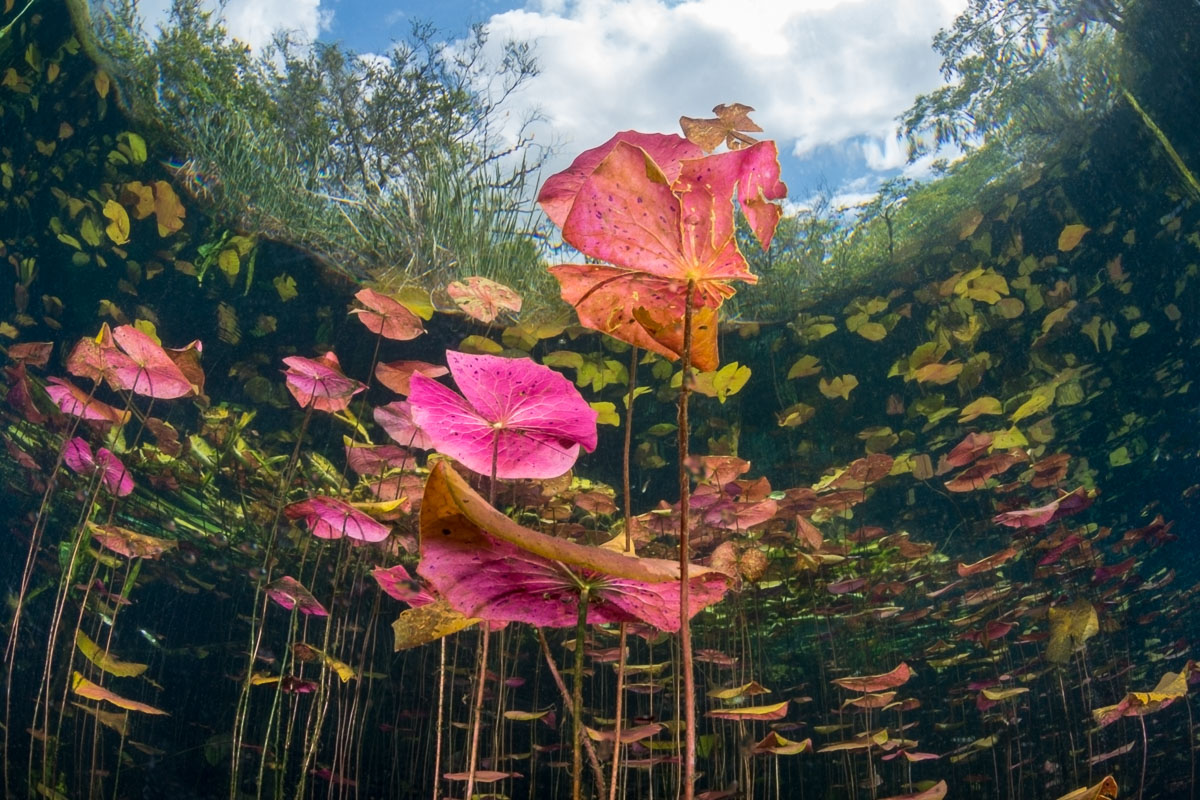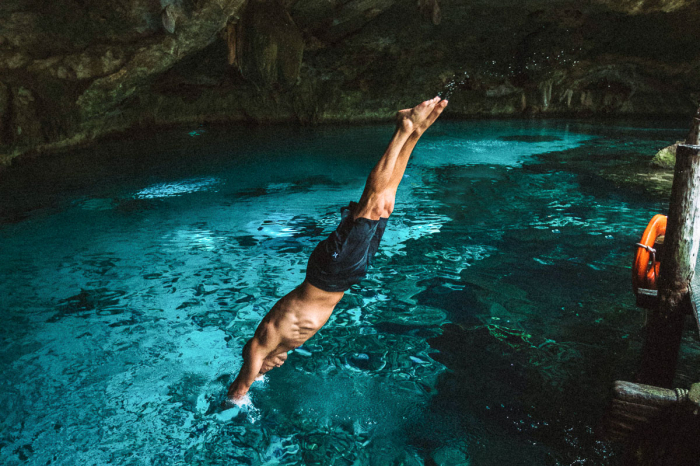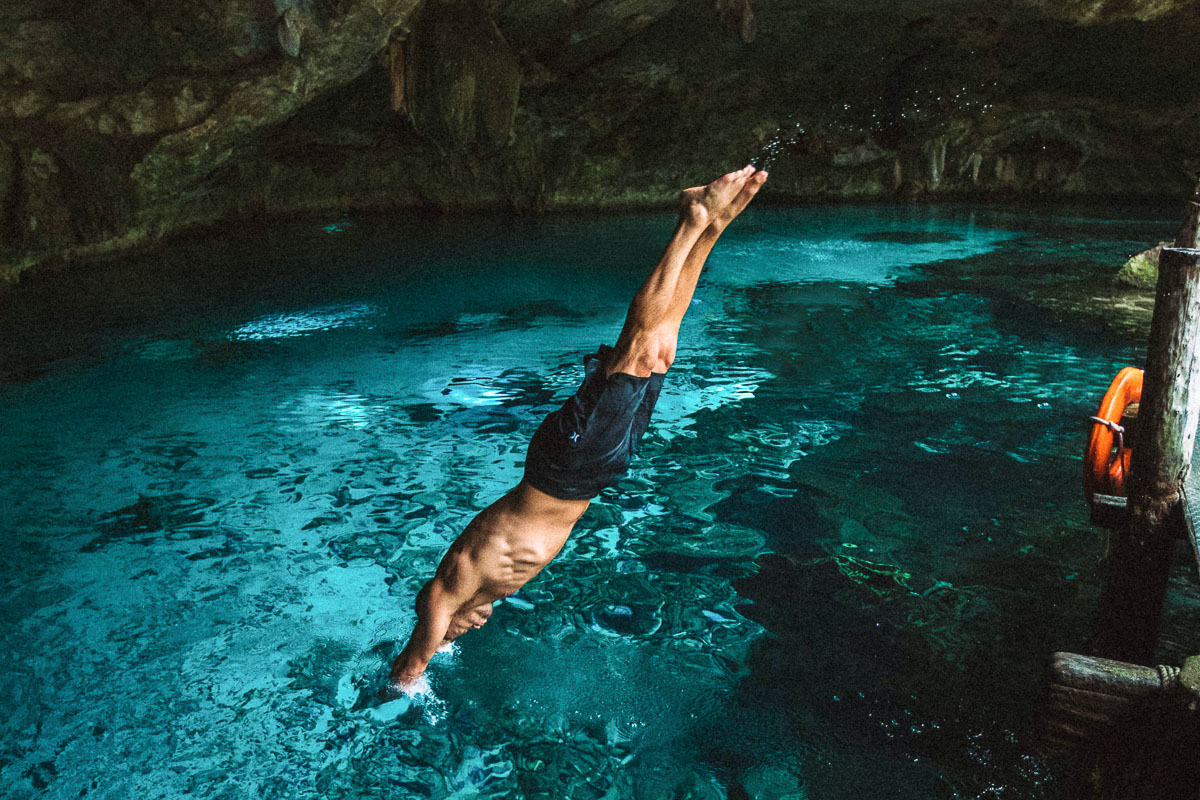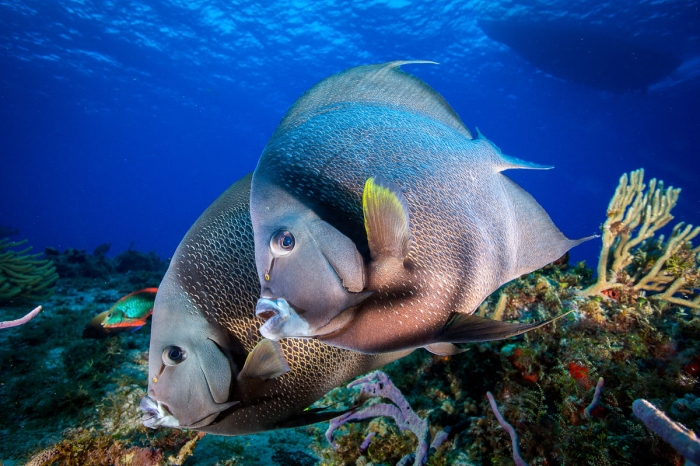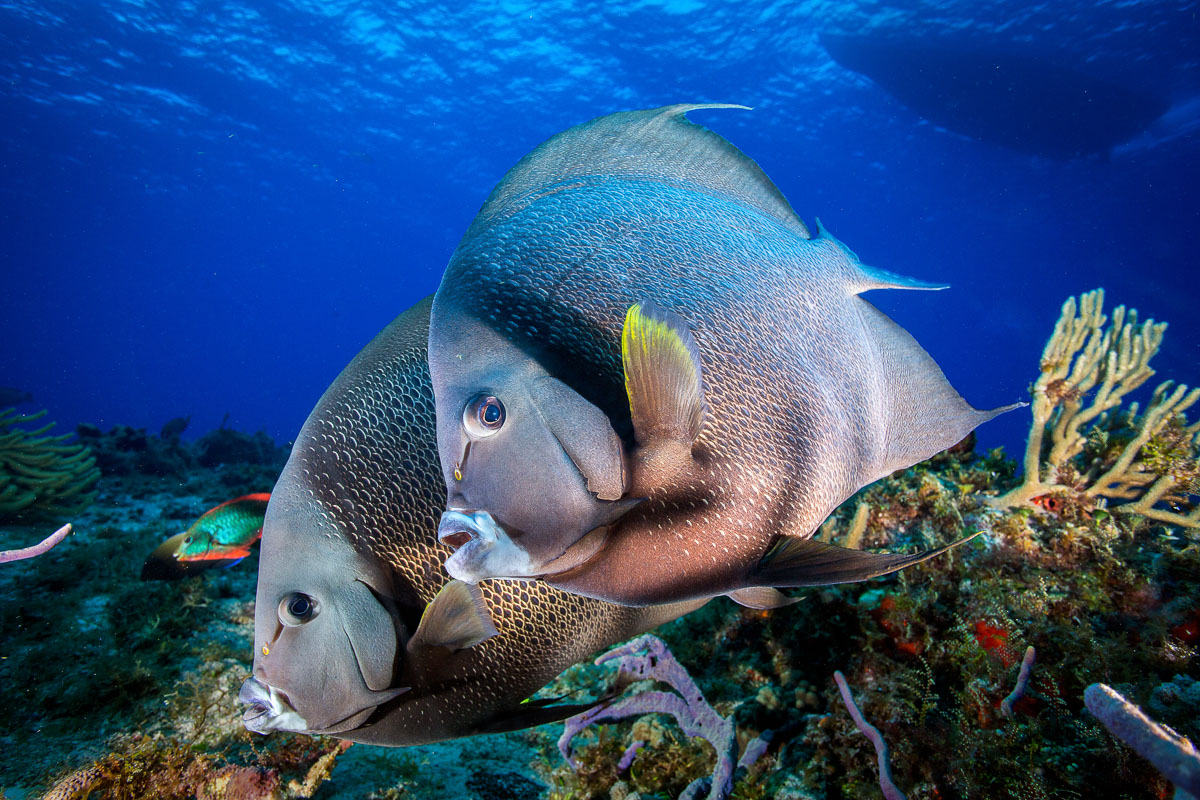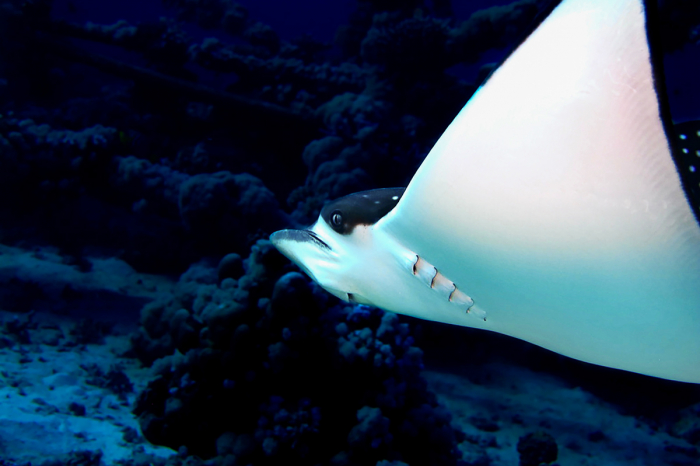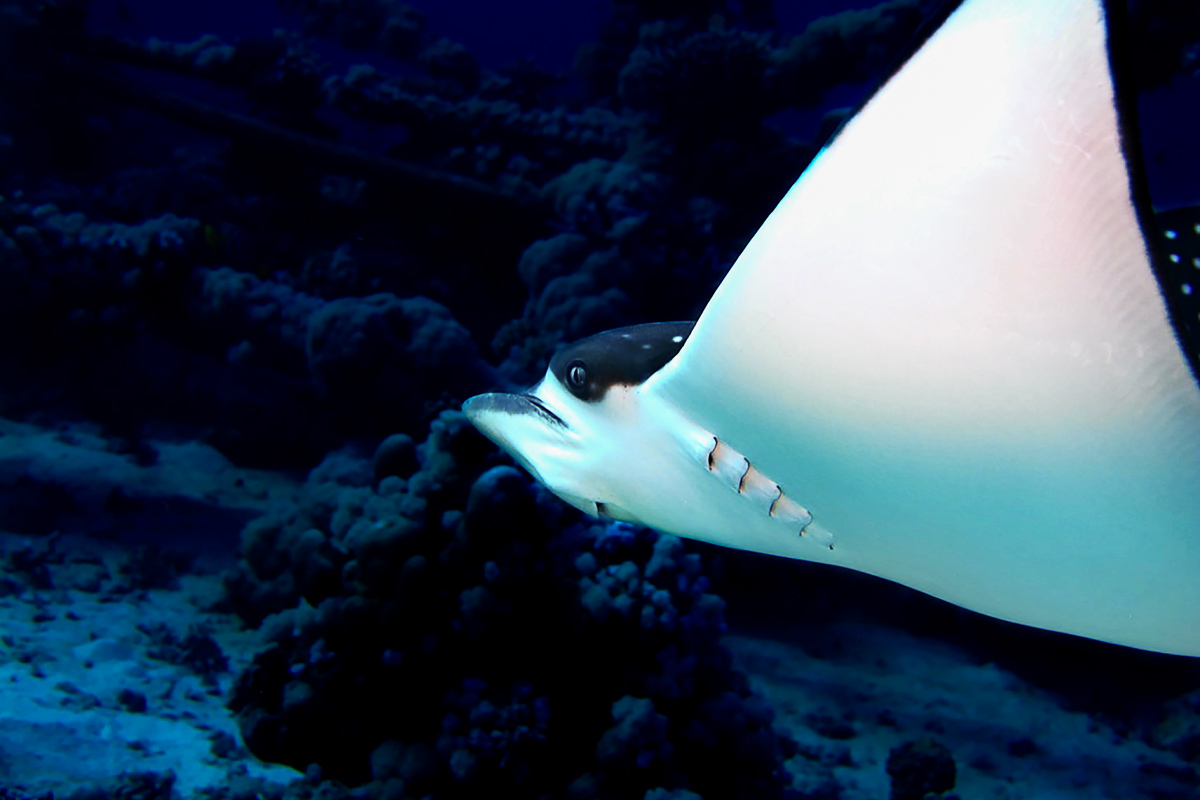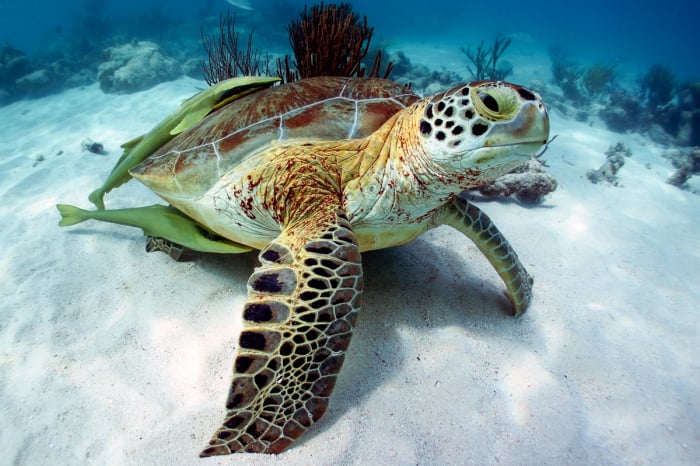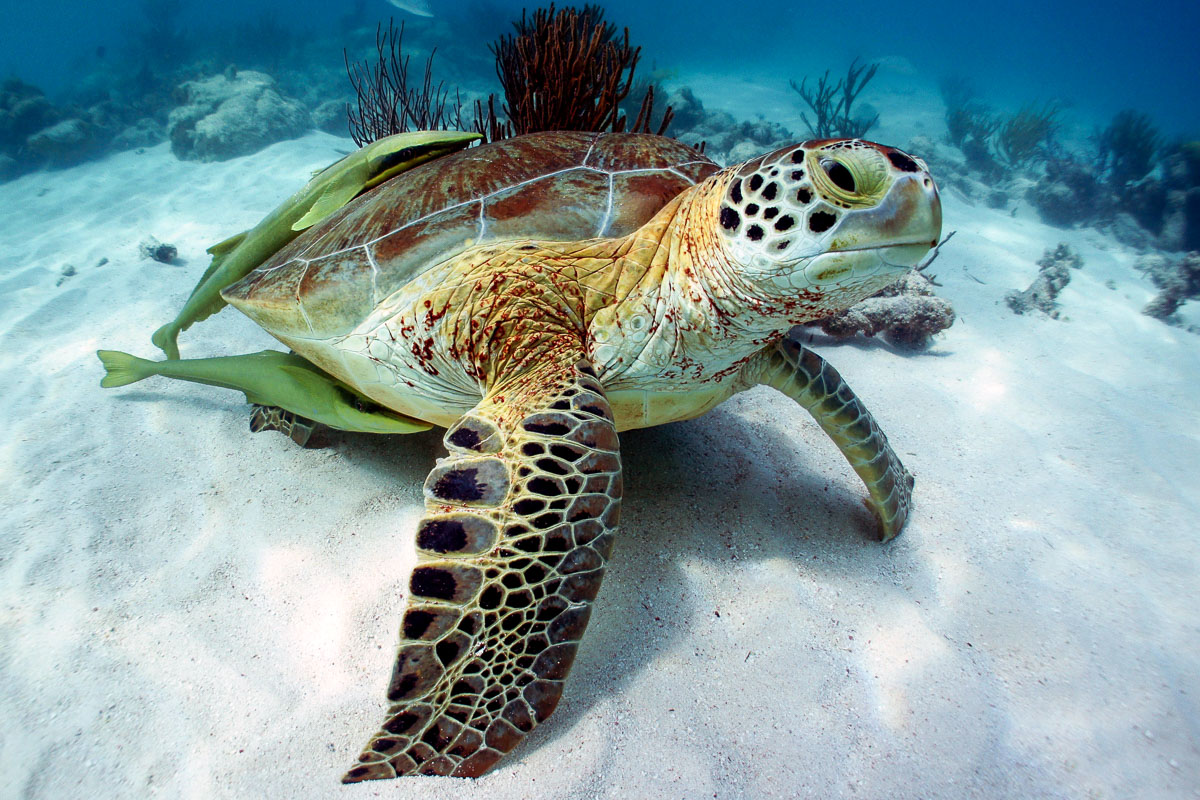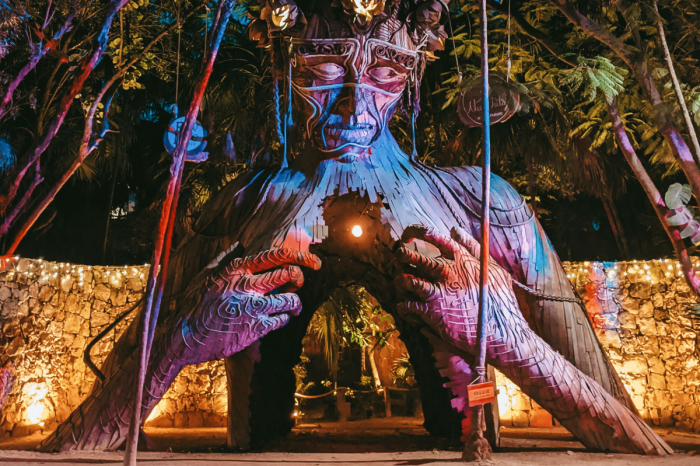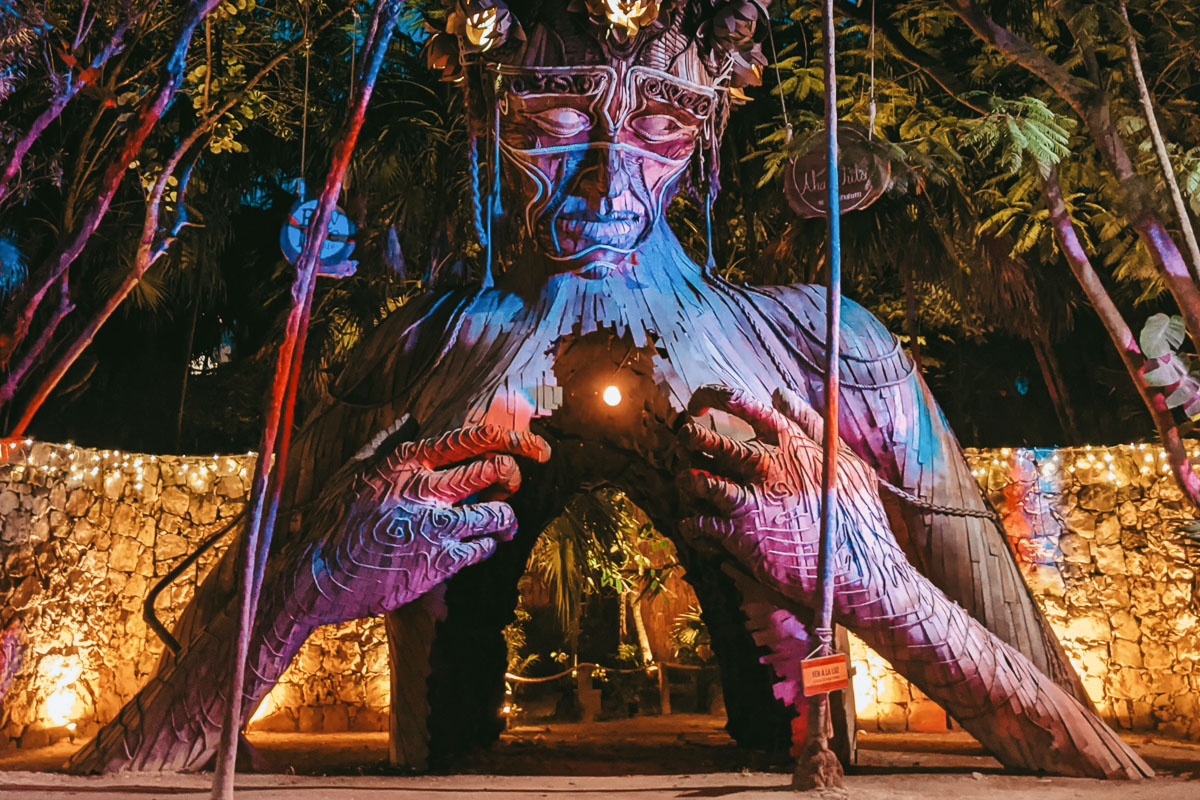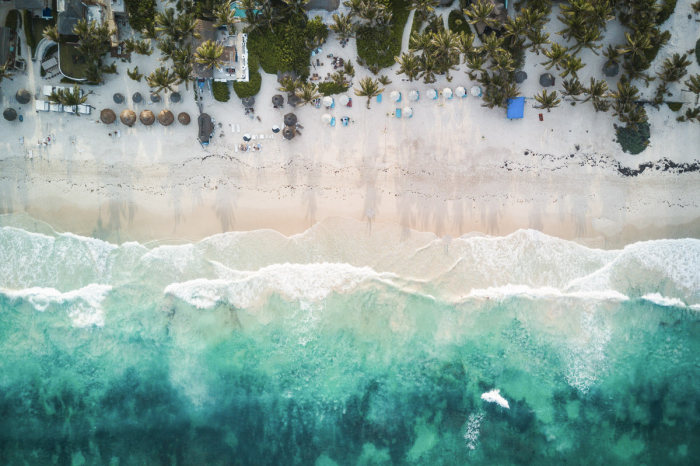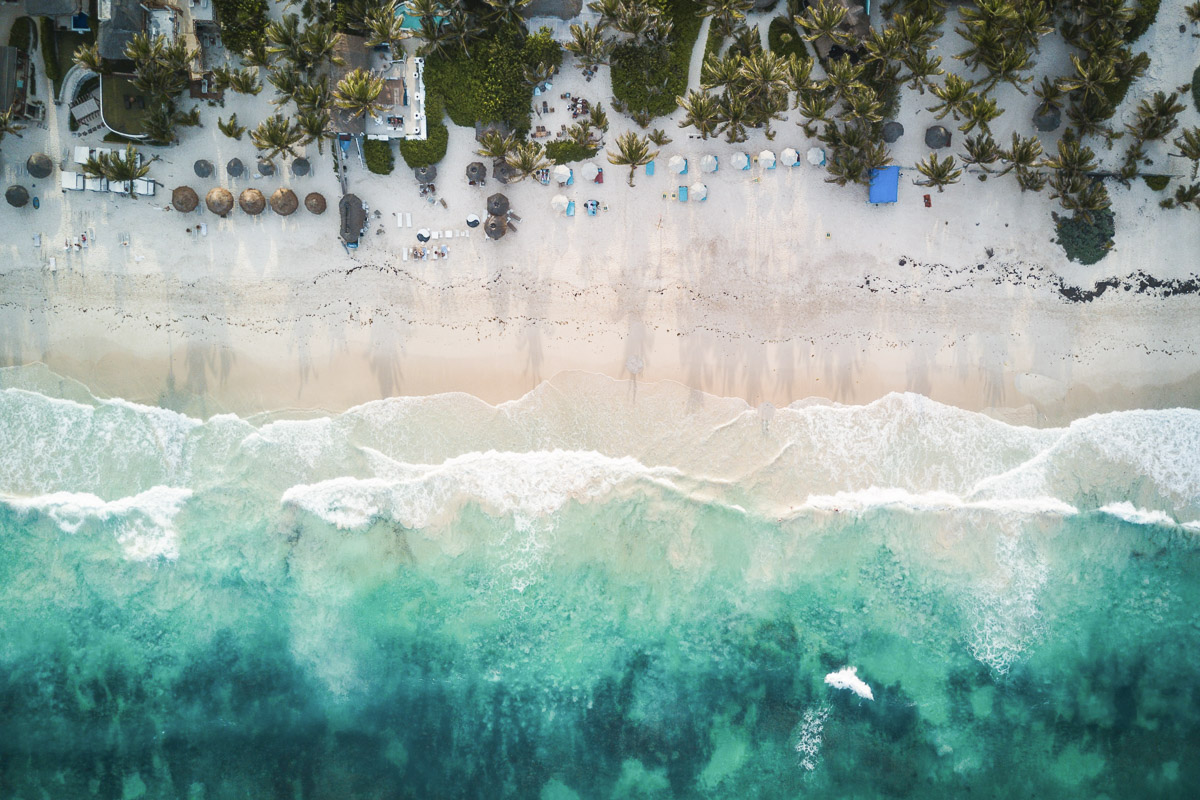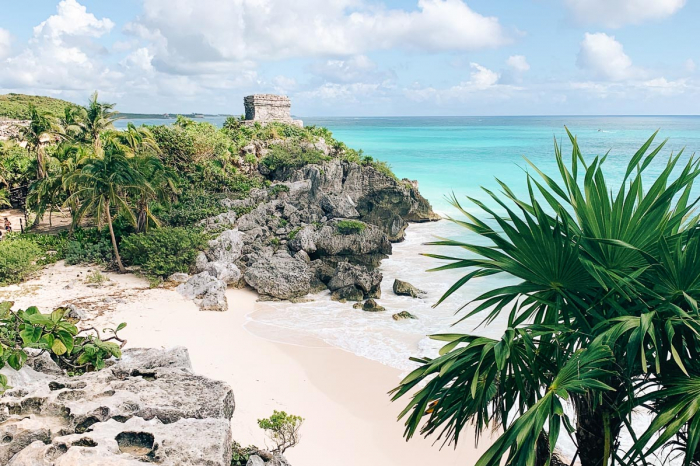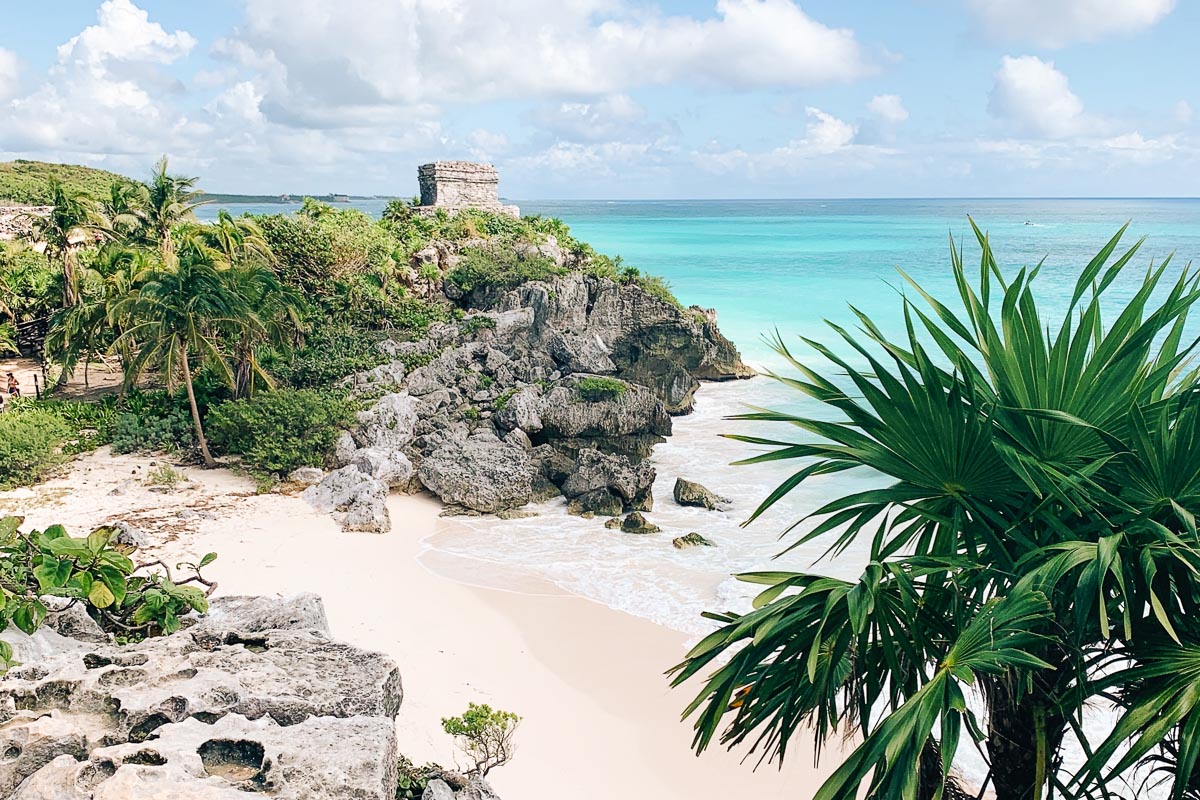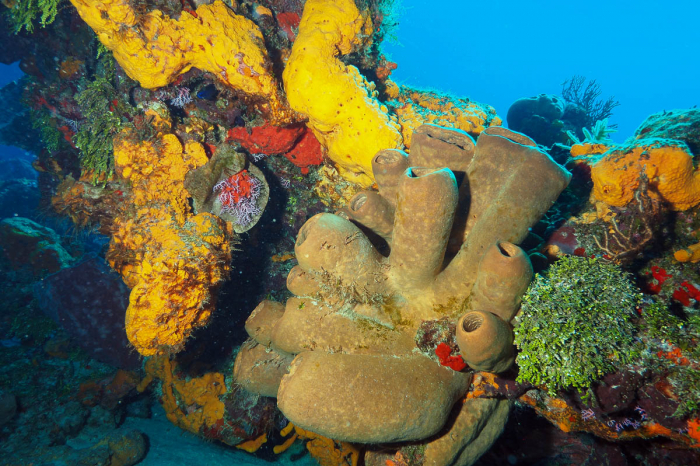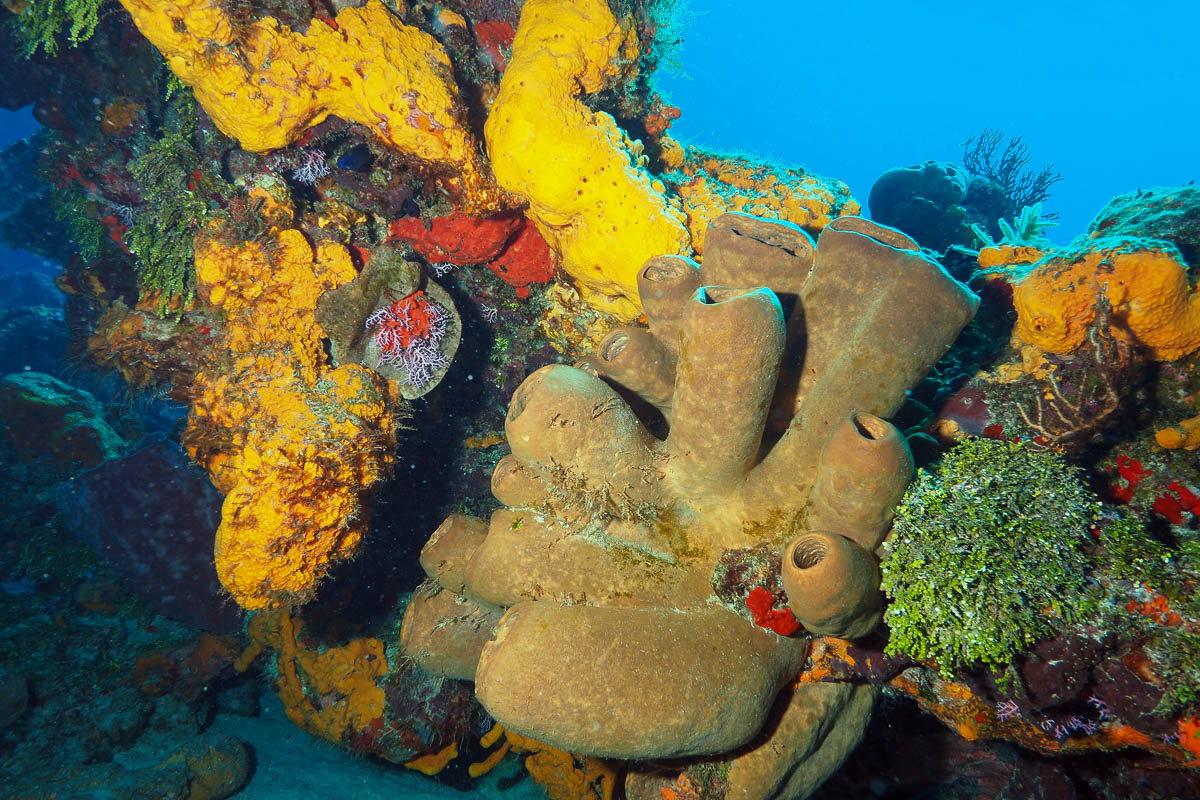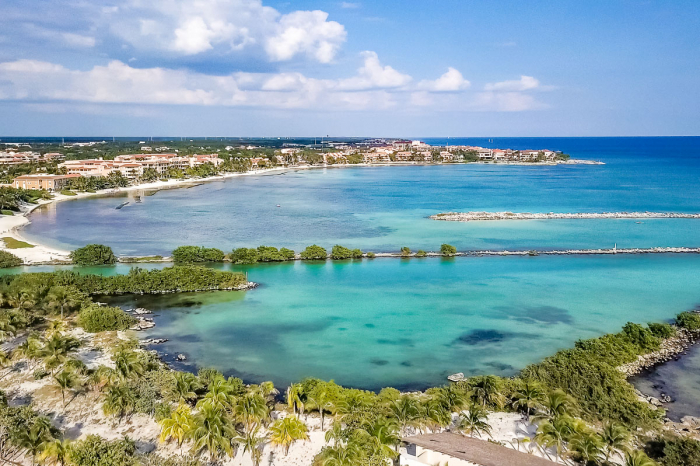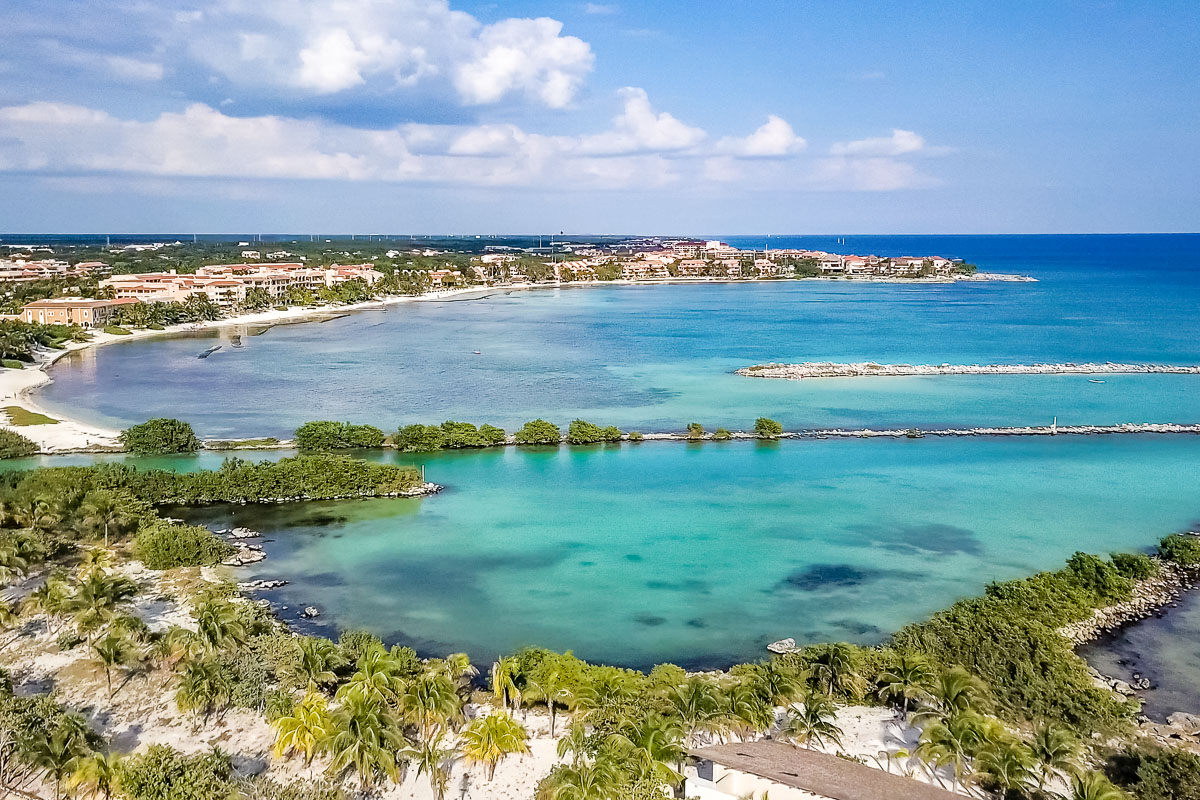 Diving Environment
Type
Reefs, caverns and caves
Level
Beginner to technical
Diving Season
Year round, best November to June
Top tips

Head to this area's outer reefs, cuts, and canyons if you're hoping to score a few deep dives.
Tulum is one of the planet's best places to earn your cavern or cave speciality - don't miss out!
This region is also a top spot for kitesurfing, with prevailing wind all year round.
Visit Tulum's Calle Centauro for exciting eateries, boutique shopping, and vibrant nightlife.
About Tulum, Akumal and the Riviera Maya
While destinations like Cancun and Cozumel once stole the show on Mexico's Caribbean coast, Tulum is now the region's hottest travel destination for divers and non-divers alike. The population in this once sleepy town has nearly tripled in the last decade, bringing radical change along with an influx of residents. But, somehow, Tulum hasn't lost its charm. The town centre is home to a lively mix of hotels and resorts, dining, drinking, and nightlife to suit every taste and a distinctly hippie vibe - with yoga, cacao ceremonies, and wellness offerings at every turn. Just outside the city, you'll find ancient Mayan ruins perched above white sand and sparkling sea, mangrove forests, multiple national parks, and dozens of cenotes to explore.
Unlike Tulum, Akumal has changed little in recent years, remaining a very small town with sprawling all-inclusive resorts on its outskirts. Laid back eateries and beach bars dominate here,  but you'll find fewer visitors overall. Akumal is split in two by a busy interstate highway running north to south, creating two distinct sections. Inland, you'll find an authentic Mexican village complete with local cuisine and shopping, as well as quaint hotels and guesthouses. Closer to shore, Akumal transforms into a lovely seaside resort with some of the region's prettiest beaches and natural areas.
Diving, snorkelling, and Mayan ruins are the main attractions around the Riviera Maya. But, the region boasts plenty to see and do beyond these tourist magnets. Museums, galleries, and golf are top picks, as are mindfulness and wellness centres offering yoga, meditation, and more. Beach bums will also find plenty of relaxation with kilometres of white sand and gently rolling waves.
Getting there
Nearly every trip to Mexico's Yucatan Peninsula will begin at the Cancun International Airport - the region's main transit hub and Latin America's third busiest airport, with daily direct flights to Europe, the US and Canada, Central and South America, and beyond.
If you're staying in Akumal, you can expect an easy 90-minute long commute heading south, with shuttle service, taxis, rental cars, and public busses all departing directly from the airport. Most resorts and dive centres are also happy to help you arrange transfers. Once you arrive, it's easy to get around on foot or via bicycle, with most attractions just a few minutes walk from each other. You'll also notice taxi stands in front of resorts and shopping plazas and at all major tourist destinations.
Tulum lies about 30 minutes further south and has become one of the region's best-connected destinations. Most of the town and its surrounding attractions are easy to reach by walking or biking, but the influx in tourism does equal a bit of traffic, making walking uncomfortable at times. Car and scooter rentals are popular options here, and taxis line the streets throughout the tourist zone at all hours of the day and night, making it perfectly easy to get around, no matter what activities and adventures you've got planned.
If you plan to stay outside of a major tourist hub, you should consider renting a car or booking private transportation to avoid long days of slow-moving local travel.
Where to stay
Despite being situated right down the coast from one another, Tulum and Akumal boast two distinctly different atmospheres. Between the two, the rest of the Riviera Maya features an array of secluded resorts tucked away on white-sand beaches, backed by swaying coconut palms. These all-inclusive getaways often include their own in-house dive centres and facilities, with everything that you'll need to enjoy your stay on site.
Once a single-street town, Tulum has grown up to become Mexico's hottest Caribbean destination, boasting trendy hotels, all-inclusive resorts, and plenty of budget-friendly hostels and guesthouses. Head into town to discover up and coming foodie-friendly dining options, boutique shopping, and vibrant nightlife - with bars and clubs of all kinds and a surprisingly hip live music scene. Or, stick to the coast where quiet and romantic seaside eateries and beach bars reign supreme. No matter where you stay here, you'll be ideally situated within a few minutes' walk from the coast, and its sparkling white sand, Mayan ruins, and calm turquoise sea. Tulum is also the closest town to the region's legendary cenotes, making it a hotspot for cavern and cave enthusiasts.
Akumal is much smaller and less developed than Tulum, with far fewer tourists passing through and a more relaxed pace. This is a perfect destination for families travelling with children and guests who prefer a quieter holiday, with far less nightlife than nearby Tulum and close access to nature - including beautiful beaches, coconut groves, and mangrove forests just a stone's throw from the hotel zone. Most of the hotels and resorts here offer all-inclusive packages, but there are plenty of relaxed eateries and shopping options for those who prefer to self-cater.
Diving seasons and weather in Tulum, Akumal, and the Riviera Maya
The Riviera Maya enjoys a year-round tropical climate with hot, sunny afternoons and temperatures reaching around 32°C. You can expect balmy, humid evenings and light breezes, with the exception of January and February when overnight temperatures plummet and conditions can become quite windy after dark. During the rainy season, you're likely to experience daily downpours, but a little bit of rainfall is normal even during the dry months.
Like the rest of the Yucatan Peninsula, storm season runs from May through November, with a peak in tropical depressions and hurricanes between August and October. At the start and finish of the rainy season, fast-moving weather patterns sweep through the region, bringing rain and wind and sometimes impacting the diving conditions with waves and surge. But, most of the local cenotes are far enough inland that these changes don't affect them, providing a great alternative option when the weather isn't optimal for ocean diving.
The busy season runs from December through April throughout the Riviera Maya, with two main peaks to avoid if you want to skip the influx in tourism. These are the Christmas and New Year holidays and "Semana Santa", the Mexican vacation period associated with Easter week. Divers in the know should plan their trips during summer months like May and June or between the storm and the holiday rush in November.
Conservation
In 1996, Mexico launched a programme to slowly transform much of the Yucatan Peninsula and its surrounding reef system into protected marine areas. Today, much of the Riviera Maya has been incorporated, with multiple cenotes enjoying strict protection in addition to the Tulum National Park - without a doubt one of the country's most stunning nature preserves. These protected areas safeguard a wide variety of environments, including coral reef, beach, mangrove, and jungle, in addition to submerged limestone cave systems and archaeological sites. A surprisingly diverse selection of land and sea animals call these parks home, as do dozens of species of migratory birds.
If you're hoping to get hands-on with conservation during your time in the Riviera Maya, you'll find plenty of opportunities to choose from. Akumal and Tulum are home to multiple coral reef restoration projects, sea turtle sanctuaries, and environmental conservation efforts that accept volunteers.
---