At a local level, SEA Centre's aim is to educate and empower both current and future generations to understand and preserve the extensive reef systems within the Raja Ampat region, upon which community livelihoods depend and are intrinsically linked. On a broader scale, we aim to connect national and international communities with the incredible marine life in Raja Ampat; the most marine biodiverse place on earth and the cradle of marine life.
Yaf Karu
Raja Ampat is one of the last strongholds on Earth where coral reef systems still thrive. This archipelago shelters an incredible abundance of life, and forms what is currently thought to be the most biodiverse marine system on the planet. These stunning reefs provide a rich and sustainable food source to local communities in small villages throughout the archipelago. These reefs also support a healthy tourism economy providing livelihoods to significant portion of the community.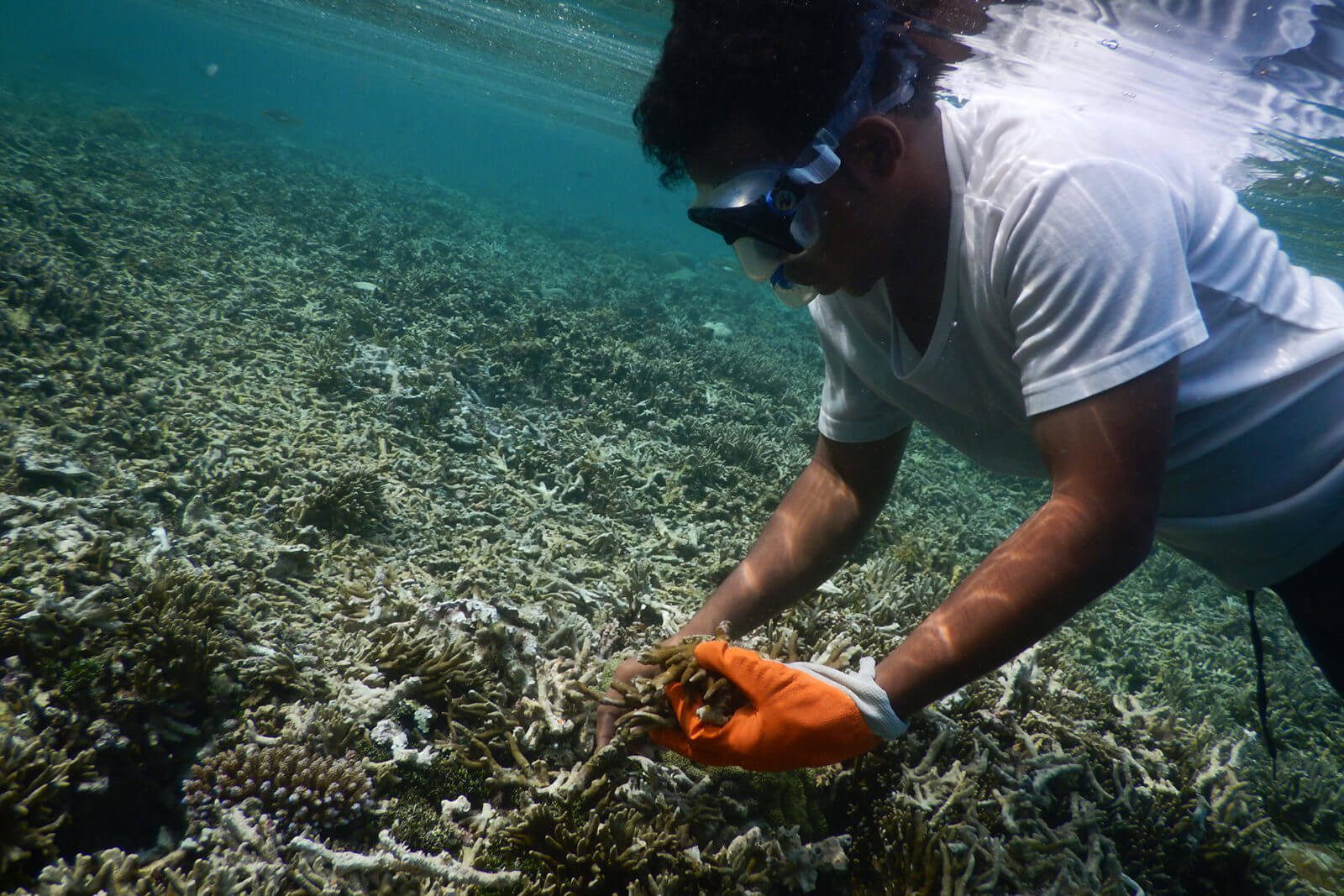 Yet sadly, numerous reefs were destroyed by destructive fishing practices in the 1980s & 1990s, and to this day, they have not yet recovered. Additionally, the current rapid expansion of tourism in the region brings with it new impacts upon the marine environment. At a time where coral reef degradation is occurring worldwide due to human activity, and in response to human induced climate changes, it is essential and common sense to design and develop conservation tools to respond to these current and future degradation issues. Rather than waiting for the local reefs to become damaged or lose their natural resilience, SEA Centre's Yaf Keru project is aiming to evaluate and optimize the current (and remarkable) recovery potential of Raja Ampat's reefs.
Yaf Karu, which means "Coral Garden" in the local language, will see the installation of a number of artificial reef structures on a stretch of degraded reef close to the resort's dive centre. These structures will have coral fragments transplanted upon them, and will provide a stable substrate for the fragments to establish themselves, and thrive, ultimately restoring the damaged area. Within 3-5 years the resort anticipates that the structures will be covered completely with various species of coral, attracting aggregations of fish, invertebrates and macro life that can be seen on thriving reefs elsewhere in Raja Ampat.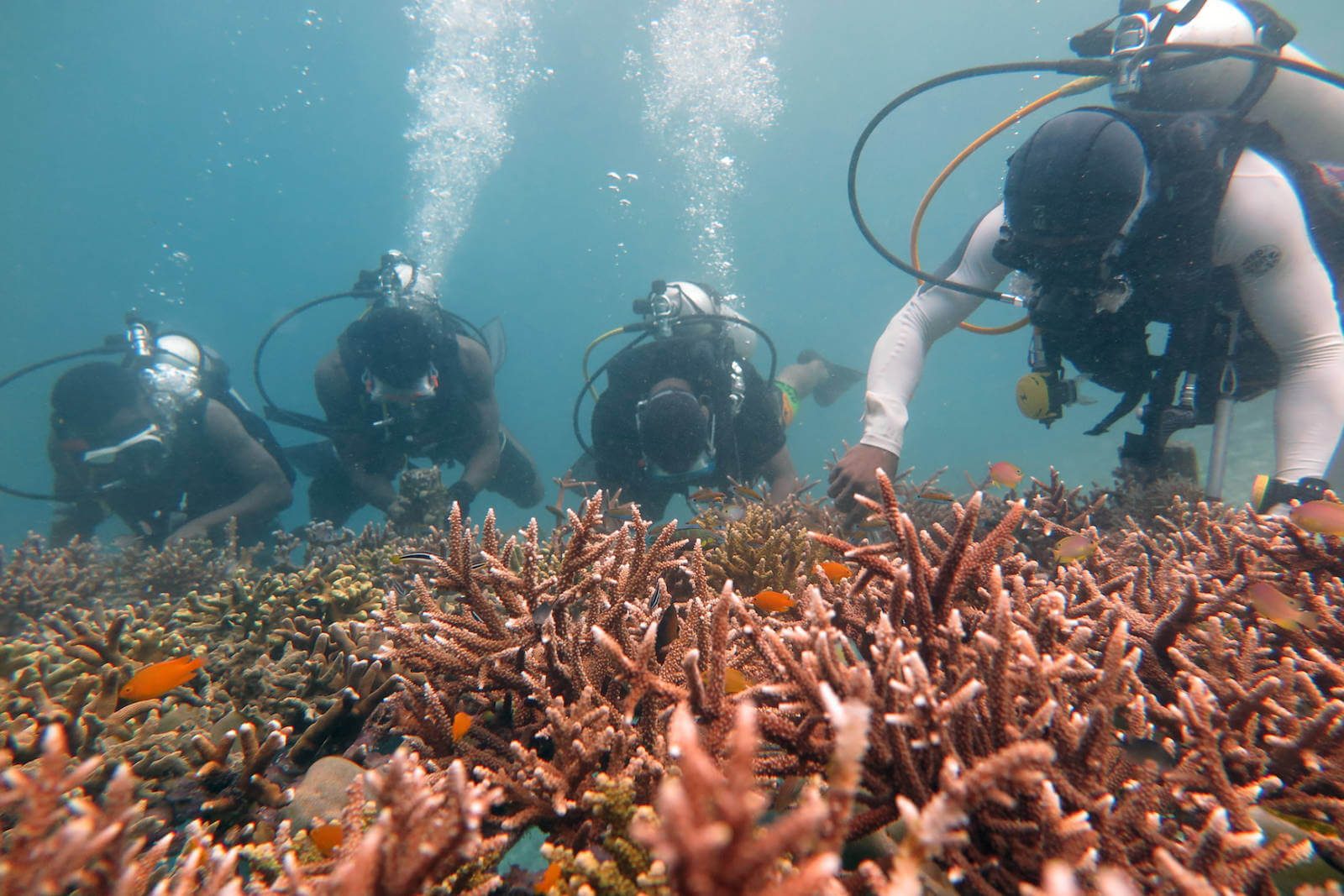 The restoration of the house reef will serve as a pilot project and if proven successful, SEA Centre aims to replicate the restoration techniques in front of local villages and other damaged areas.
Marine Megafauna Sightings Database
The project's location on the southern coast of Gam Island is right at the heart of a Marine Protected Area, and one designated as a shark sanctuary. The establishment of these zones has been so far very successful in protecting the area, and aiding the recovery of those species impacted by unsustainable fishing practices during the 1990s and 2000s.
One of the most effective ways to maintain and sustain these existing conservation efforts is to identify and demonstrate their effectiveness; for example demonstrating ecological improvement, population recovery or increasing biomass within the marine protected area.
SEA Centre's Megafauna Sightings Database successfully demonstrates this effectiveness by using the simple method of recruiting recreational divers as a sampling tool. During the high season, Papua Explorers Resort accommodates up to 30 guests at a time (plus dive guides and crew) diving 3 times a day in and around the Marine Park region. This represents a wonderful opportunity to collect valuable data; at the end of every dive guests are invited to record sightings of key species - including 10 species of sharks and 13 species of rays. This data is then compiled into a database and compared against variables such as location, conditions, and tourism intensity.
This simple and effective system of recording megafauna sightings after each dive enables the project to:
Demonstrate the effectiveness of the marine park/shark sanctuary, and the value of MPAs and 'no take zones'.
Directly link the effectiveness the MPA (i.e. number of sightings) to the main economy in the area – profit generated by dive tourism.
The compiled data is then presented to the local government and Marine Park authorities and serve as a tool to detect abnormal trends or identify areas and sites in needs of better management. For instance, the first 10 months of data (1000 dives) could illustrate well the negative impact overcrowding could have on some of the main manta dive sites found in the region.
Manta Sandy Ranger Station
Manta Sandy is a well-known cleaning station in the Dampier Strait region. Known for its regular sightings of mantas during the season, it has become a 'must see' dive site for all operators, and a location suitable for scientists and film-makers to observe these stunning creatures. However, this high and ever-increasing level of human traffic can see up to 9 boats drop up to 50 divers at a time at this location. Whilst some effort has been made to moderate diver behaviour (a "do not cross" rubble line) these regulations is not always adhered to, or enforced. Poor diver and operator behaviour such as entering the cleaning station or dropping divers right on top of mantas, as well as the sheer volume of divers and boat traffic is having a direct impact upon the number of mantas in the area.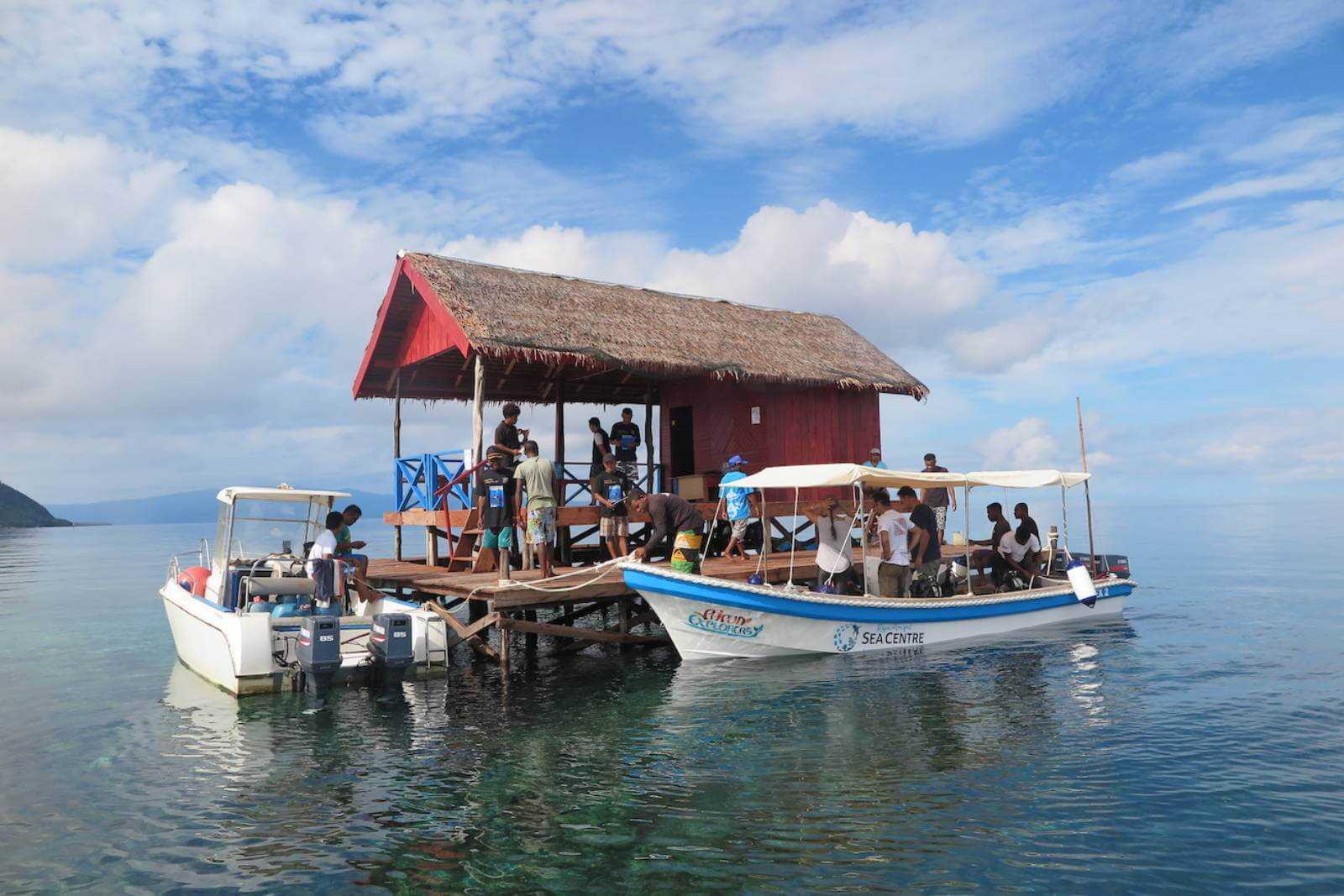 In collaboration with Conservation International, Marine Megafauna Foundation, Papua Divers, Raja4Divers, Raja Ampat Biodiversity, Raja Ampat Liveaboard Association, local government, homesteads and communities, a ranger station - manned by 4 newly-trained staff from local villages - has now been built and standard codes of conduct published to which all visitors to Manta Sandy must adhere. You can learn more about the best way to view the manta rays of Manta Sandy by following the link below:
For more information about how you can get involved, please visit SEA Centre site, or for the latest news follow Raja Ampat SEA Centre on facebook.
You may also be interested by