Our Vision - A sustainable future for the oceans where manta rays thrive in healthy, diverse marine ecosystems.
Manta rays are among the most charismatic creatures that inhabit our oceans. With the largest brain of all fish their intelligence and curiosity make encounters with these creatures a truly amazing experience. However, despite their popularity with divers and snorkelers many aspects of these creatures lives remain a mystery, with only snippets of their life history understood. More worryingly, in recent years, a fishery for these animals has developed with devastating effects on populations of these animals globally.
The Manta Trust was formed in 2011 to co-ordinate global research and conservation efforts for these amazing animals, their close relatives and their habitat. As charismatic megafauna manta rays act as flagship species, helping to promote and engage the general public in the wider message of marine ecosystem conservation. Through this top down approach to conservation the manta ray becomes the catalyst for change, engaging and motivating the general public, governments and local communities alike. A UK Registered Charity, the Trust brings together a number of projects from around the globe, both new and long-standing, including the Republic of Maldives, Sri Lanka, Mexico and Indonesia. By conducting long-term, robust studies into manta populations in these locations we aim to build the solid foundations upon which Governments, NGO's and conservationists can make informed and effective decisions to ensure the long term survival of these animals and their habitat.
Good conservation requires a holistic approach. The Manta Trust researchers and volunteers work closely with tourists, local communities, businesses and governments to ensure the preservation of these amazing animals through good science, education, community based initiatives and government legislation. As the scope of the Trust's work continues to grow our goal is to expand these efforts globally.
Guy Stevens
In 2005 Guy Stevens founded the Maldivian Manta Ray Project (MMRP), with the aim of helping to conserve the Maldivian manta ray population through active research and education. In 2011, Guy went on to co-found The Manta Trust with Thomas P. Peschak, bringing together a collaboration of scientists, conservationists, photographers, filmmakers and communicators. His work with manta rays now takes him to other corners of the world, but for him the Maldives will always be the best place to see and study these amazing animals.
Guy's research on the Maldivian mantas, especially in the famous Hanifaru Bay, has been showcased in dozens of popular articles and several television documentaries aired around the world. Guy's research in Hanifaru contributed to the declaration of Baa Atoll as a UNESCO World Biosphere Reserve in 2011. Guy and the rest of the Manta Trust team were key players in securing a spot for both species of manta, and more recently all mobula rays, on Appendix II of CITES,  and the Convention on Migratory Species - both key pieces of international legislation that have greatly improved the level of global protection for these vulnerable animals.
Sustainable Tourism for Man and Manta
Few experiences can top diving or snorkeling with a manta ray. Every year tourists spend an estimated US$140 million to see manta rays in the wild. As a result, tourism can form part of the solution to combating the issue of global manta fisheries, providing many countries and governments with a strong economic incentive to protect these animals. By going out to swim with a manta, you are helping conserve one of the ocean's greatest treasures!
But manta tourism needs to be sustainable. Mantas are very sensitive to disturbance, and if left without proper measures, tourism has the potential to do more harm than good. There have been occasions where uncontrolled human interactions have negatively impacted local manta populations, driving them away from important areas where they clean, feed or breed. Whilst many dive operators around the world have taken it upon themselves to develop guidelines for manta encounters, none have been validated by scientific studies. The Manta Trust want to address that.
After several years of research conducted in the Maldives, the Manta Team have developed a Best Practice Code of Conduct for Manta Ray Tourism. These guidelines outline how divers and snorkelers should behave in-water, to both enhance their experience and to ensure their presence does not disturb the mantas they encounter. In addition, it includes recommendations for tourism operators on how best to approach and depart manta aggregation sites, and how to help their crew manage a manta excursion.  But we're taking this Code of Conduct one step further.
Through our How to Swim with Manta Rays initiative, we've adapted our Manta Tourism Code of Conduct for use in the real world. We have distilled its contents into a freely-available, multi-language Media Kit, that includes a 10-Step Guide and a short educational film. We've also compiled a growing list of tourism operators that are committed to sustainable manta tourism. Through this dedicated website, our goal is to equip operators and tourists with the tools and information they need, to make their excursions truly sustainable for the gentle giants we all know and love.
Learn more about the How to Swim with Mantas Initiative.
Responsible Shark and Ray Tourism

The Manta Trust, Project AWARE, and WWF have joined together to bring the world's first "Responsible Shark & Ray Tourism: A Guide to Best Practice."
Shark and ray tourism is on the rise globally. If current trends continue, the numbers of shark related tourism could more than double over the next twenty years. The Guide, developed in collaboration with science and industry, aims to create well managed shark and ray tourism operations, conserve species, and benefit local communities.
One in four shark and ray species is facing an increased threat of extinction due primarily to overfishing. Responsible shark and ray related ecotourism can be a powerful, complementary conservation strategy. It can also serve as an important supplementary source of income benefiting operators and the local communities alike.
Our organisations agreed that best-practice guidelines were urgently needed. We want to ensure that sites are established and managed in a manner that benefits sharks and rays, as well as local communities, whilst also inspiring awe, respect and a greater appreciation of the need to conserve these animals amongst tourists.
When you commit to best practice, you help build a better future for sharks and rays as well as your local community. You can help minimize the adverse impacts of tourism on shark and ray populations and raise awareness to protect shark and rays in your local community!
The Guide, Responsible Shark and Ray Tourism – A Guide to Best Practice, provides a suite of FREE, practical, downloadable tools that can be used by operators, NGOs, local communities and resource managers. It helps you create specific guidelines appropriate to your local circumstances, in order to achieve best practice. It helps you make choices based on the latest scientific research and pave a route that is right for you.
Download the Responsible Shark and Ray Tourism guide.
IDtheManta
If you have seen a manta anywhere in the world you can contribute directly to the global research and conservation of manta rays by submitting your images and sighting encounters through our sightings upload form. Alternatively you can email us your images directly to [email protected] but please don't forget to let us know where and when you saw your manta!
Ideally we are looking for images which best show the spots on the underside (ventral surface) of the manta rays. These spots are unique to each and every manta ray, just like a fingerprint they can be used to identify every single individual. Other images which show the top (dorsal surface) of the manta rays, or the tail (ventral) area, can also be used to identify the specific species you encountered and/or the sex of the individual. The more information you provide, the more feedback we can give you on your encounter, so please take a few minutes to send us your sightings.
By cataloguing photo IDs of manta rays, we can develop a better understanding of how large populations are and how the individuals within populations are utilising certain sites in particular areas and where they travel…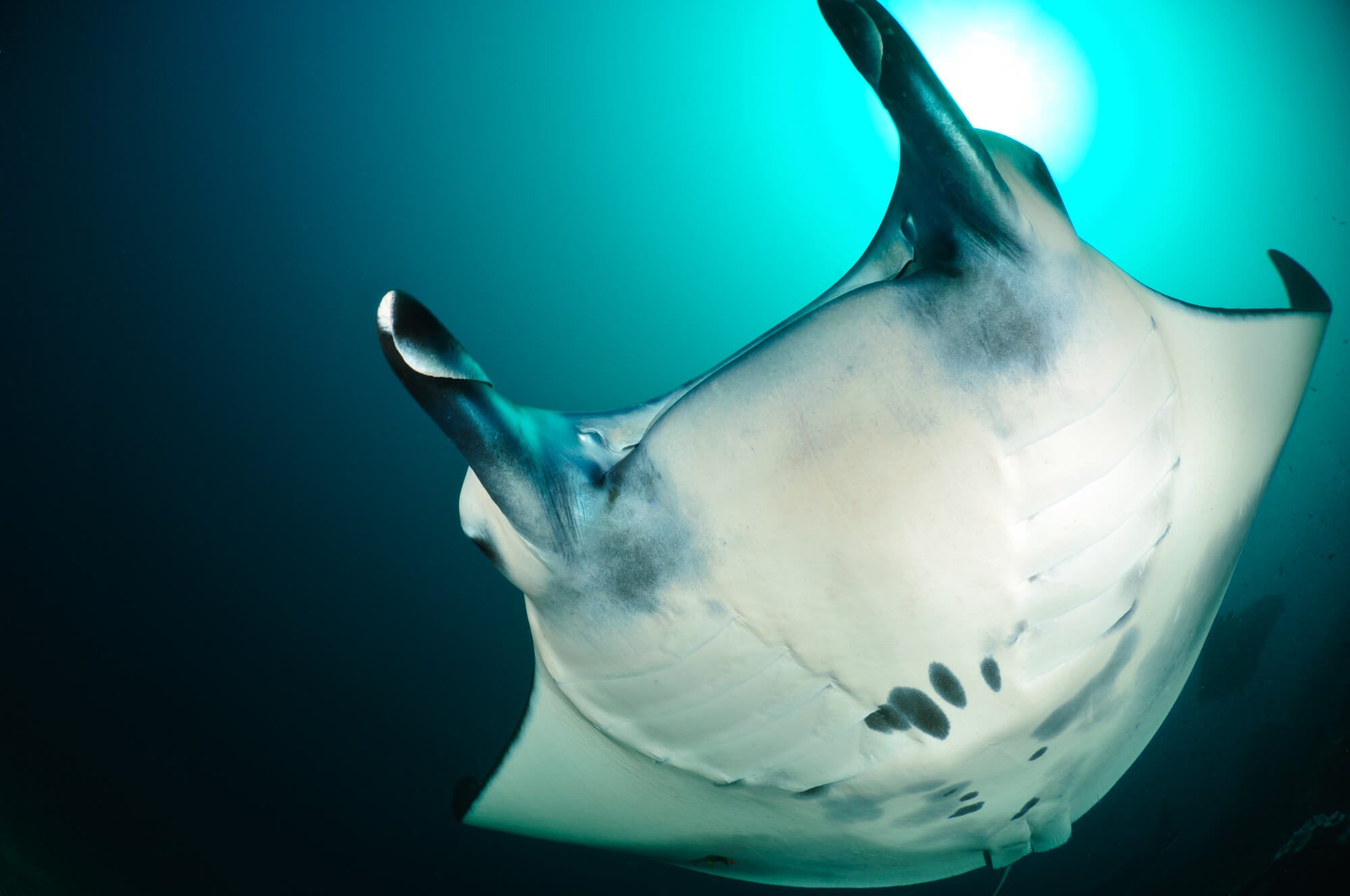 IDtheManta uses automated animal recognition technology to match the unique spot patterns on every manta entered into the global database. With tens of thousands of images entering into the manta database each year, the next step is to match the new images to the existing database and see if we have encountered the pictured mantas before. To do this the Manta Trust, University of Bristol and the not-for-profit company, IDtheAnimal Ltd have come together to produce a piece of software called IDtheManta. Our objective is to create a fully-automated visual biometric photo-ID technology for manta rays which will interface with a global photo-ID database accessible to manta scientists and the general public around the world.
This resource will serve as a massive data source for scientists, enabling research organisations around the world to monitor the migratory patterns of the oceanic manta rays as they roam across the open oceans, and to monitor the smaller scale movement patterns of the more resident reef manta ray populations. IDtheManta will also help to raise awareness and drive the conservation of manta rays and their habitats globally by providing in-depth feedback to every individual who uploads a sighting encounter to the mainframe database via the Manta Trust website. The mission of the Manta Trust is to use research and awareness campaigning to drive the global conservation of manta rays and their habitat.
Learn more about IDtheManta.
Manta - Secret Life of Devil Rays
Manta rays are the embodiment of nature's majesty - they captivate and connect people to our oceans. Marine biologist Dr. Guy Stevens, and National Geographic photographer Thomas P. Peschak, join forces to create the world's first book on manta rays.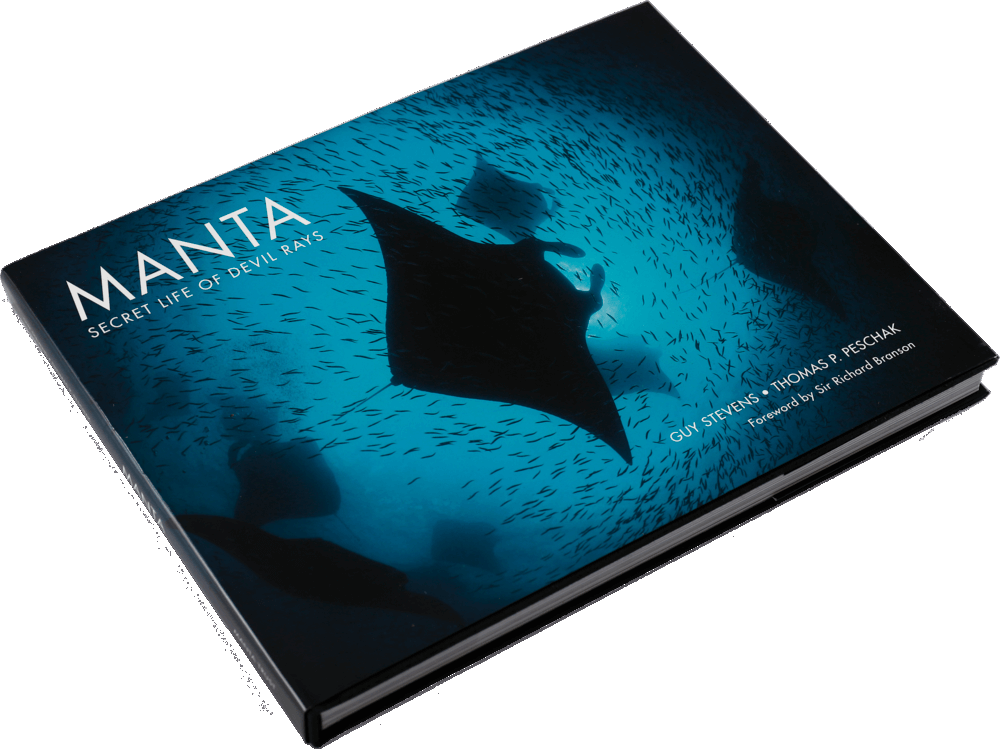 As co-founders of the conservation charity, The Manta Trust, they combine groundbreaking photography and the latest scientific research to create a unique book on these charismatic animals. The authors hope that this definitive publication will convey the grace and inquisitive nature of these threatened rays, capturing what is at stake if we choose not to respect and protect our oceans.
Buy a copy of Manta - Secret Life of Devil Rays.
You may also be interested by