ZuBlu is proud to announce our latest partnership - with The Manta Trust, the world's foremost manta ray conservation organisation. ZuBlu will be featuring the Manta expeditions to the Maldives and Indonesia with all proceeds from these 'citizen science' dive experiences going to support conservation of mantas and other rays.
ZuBlu is a perfect partner for The Manta Trust. Not only does the company offer exceptional diving experiences across Asia but ZuBlu also work hard to encourage awareness and support for conservation efforts. Their company ethos matches ours - linking conservation and tourism and bringing sustainable practices to the fore.

- Guy Stevens, Manta Trust. 2017
The Manta Trust was formed in 2011 by Guy Stevens and Thomas P. Peschak to co-ordinate global research and conservation efforts for these amazing animals, their close relatives and their habitat. As charismatic megafauna, manta rays act as flagship species, helping to promote and engage the general public in the wider message of marine ecosystem conservation. Through this top down approach to conservation the manta ray becomes the catalyst for change, engaging and motivating the general public, governments and local communities alike. A UK Registered Charity, the Trust brings together a number of projects from around the globe, both new and long-standing, including the Republic of Maldives, Sri Lanka, Mexico and Indonesia. By conducting long-term, robust studies into manta populations in these locations, the Manta Trust aims to build the solid foundations upon which Governments, NGO's and conservationists can make informed and effective decisions to ensure the long term survival of these animals and their habitat.
Good conservation requires a holistic approach. The Manta Trust researchers and volunteers work closely with tourists, local communities, businesses and governments to ensure the preservation of these amazing animals through good science, education, community based initiatives and government legislation. As the scope of the Trust's work continues to grow their goal is to expand these efforts globally.
Manta Expeditions
Every year, Manta Expeditions runs trips to many corners of the globe - including to Mexico, Yap, Peru and Indonesia. However, the majority of the expeditions focus on the atolls of the Maldives, the birth place of the Manta Trust.
On these expeditions, you'll have the opportunity to experience and participate in cutting edge conservation research to protect one of the ocean's most majestic animals. Manta Trust scientists will be collecting photographic identification images of all mantas encountered throughout the expedition - a task that guests are welcome and encouraged to participate in. All new manta rays will be added to the database and guests will be invited to name these new mantas. Every manta sighting is crucial information in developing effective management and conservation strategies for these increasingly vulnerable animals.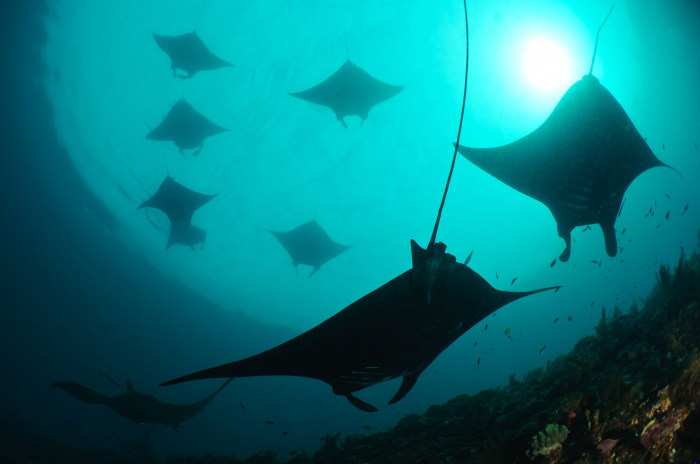 Maldives
The Maldives archipelago stands on the Chagos-Maldives-Laccadive Ridge in the Indian Ocean and spans some 90,000km2. Comprised of over 1000 islands, sand bars and coral reefs, the atolls of the Maldives play host to an amazing variety of fish species, corals and marine megafauna such as turtles, dolphins and whales. But the major attraction in this luxury destination is the huge population of reef manta rays, the largest recorded anywhere in the world…
The manta rays migrate, according to the seasons, around the 26 atolls of the Maldives, allowing manta ray viewing to be possible at any time of year in different locations. As one of the marine realm's most charismatic and inquisitive species, an encounter with a manta ray is almost guaranteed in the Maldives. Manta rays regularly come to the surface to feed, at times in huge aggregations, and can be found hovering over coral reefs acting as cleaning stations, making them relatively easy to photograph. With over 2,750 individuals logged in the Manta Trust Maldives database, an underwater adventure in azure Maldivian waters is your best bet for a manta encounter.
Manta rays are not the only attraction in the Maldives. They share their love of plankton with the giant whale shark which can often be found lazily feeding amongst a congregation of manta rays gulping in huge mouthfuls of food while pivoting on its impressive caudal fin.  Five different species of sea turtle are resident here as well as numerous shark species. In certain areas, grey reef sharks can be seen in the hundreds! The Maldives has all this to offer and more in a comfortable 28-30 degrees water temperature, calm seas and idyllic surroundings.
The Maldivian Manta Ray Project was created in 2006 to learn more about the population of mantas residing here, hoping to improve our knowledge and therefore afford more protection for this vulnerable species. The predictable movements and placid nature of the Maldivian manta rays makes the archipelago an ideal site for studying them. After over 6 years of research, the data collected has enabled a number of conservation measures to be put in place in the Maldives, including the designation of Baa Atoll as a UNESCO World Biosphere Reserve in 2011. As one of the Manta Trusts many regional projects, the research conducted here has been invaluable to seeing manta rays listed on Appendix II of the Convention on International Trade in Endangered Species (CITES) in 2013, a landmark day for manta ray conservation. On board you will have the chance to contribute to this on-going research by adding valuable data to the IDtheManta database.
Indonesia
The diversity of marine life in Komodo National Park is so unique, the park is now a UNESCO World Heritage Site, and considered one of the seven nature wonders of the world! The mix of large and small animals, reef creatures and pelagics, invertebrates and vertebrates, shallow reefs, drop-offs and drift dives, produces exceptional diving, as expected of a key site within the Coral Triangle - the epicentre for the planet's marine biodiversity. While on board we expect to visit multiple, globally-renowned manta ray sites within the marine park, the entrance fee for which directly supports marine conservation and community development projects within the region.
Like all of our Manta Trust Expeditions, part of the money generated from this trip goes back into the charity to fund our charitable aims and conservation initiatives. The itinerary will vary depending on manta sightings, and will be aimed at maximising our encounters with these ocean giants. With one of the largest populations of reef manta rays in the world, resident year round, Komodo National Park is among the best destinations to encounter these inquisitive species. It also offers a chance to encounter the elegant black morph reef mantas that are typical of this region's population! During the expedition we will dive famous manta cleaning stations such as Matak Makassar and German Flag (aka Manta Alley), where mantas often aggregate in large number to socialise. But Komodo offers so much more than mantas, and we will have the opportunity to experience its whole diversity throughout the expedition. Schools of trevally, gardens of colourful soft coral, barracudas, bizarre nudibranches, and of course, a visit on-land to encounter the legendary Komodo dragon!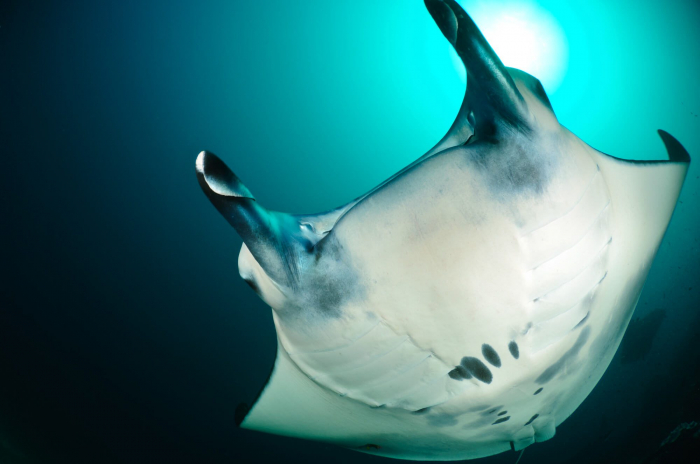 If you wish to experience more of Indonesia's stunning and diverse underwater world, we offer (through our Partner Dune Atlantis), the option of an extra three nights stay in Sanur, either before or after the liveaboard expedition. This add-on package includes a three night stay in a hotel (double or twin room) and two full days of diving (four dives in total) in Nusa Penida. At this time of the year you will have the best chance of encountering the elusive Sunfish (Mola mola) at Crystal Bay, as well as meeting the reef mantas of Manta Point - a shallow cleaning station uniquely set against the towering cliffs of Nusa Penida island. Speedboat transfers are included in this package.
Learn more about The Manta Trust, including their Sustainable Tourism project, IDtheManta, Responsible Shark Tourism guide and incredible 'Secret Life of Devil Rays' book.
Want to learn more about Manta Expeditions?
---
Join the ZuBlu community to receive the latest insights and unmissable adventures
Don't worry, we'll only send you really good stuff - and we never share your details
---