Starting to look towards your next holiday? After a long stint at home, we bet you can't wait to strut your stuff in a new swimsuit. Unfortunately, quick-drying, fast-fashion swimwear is often unsustainable. Not only do fashions change from one season to the next, it is often poorly made from materials that don't help the environment and can create polluting by-products, as well as excessive micro-fibres. 
Although sometimes a little more expensive, sustainable swimwear looks just as good and lasts a lot longer. It also often benefits the environment in other ways, such as incorporating and recycling waste in the production processes and donating a percentage of the profits to worthy causes.
So, to save you from any fashion faux pas or sustainability slip-ups, we've compiled a list of stylish and sustainable swimwear brands that you can count on. Get ready to feel green and great.
Slo Active
Founded in 2017, Slo Active has quickly asserted itself in the sustainable swimwear world, winning the 'One to Watch' category in Drapers Sustainable Fashion Awards 2020. And for discerning eco-conscious female divers, Slo Active is certainly worth checking out. Their Clean Lines collection includes wetsuits, one-piece swimsuits and bikinis designed with both activity and aesthetics in mind. And, every piece is made using FSC certified Yulex Pure, a plant-based alternative to conventional, unsustainable neoprene.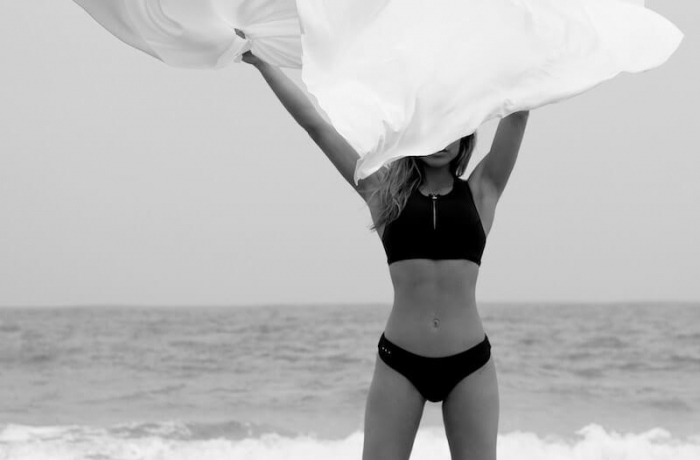 The team boasts strong personal relationships with their manufacturers, guaranteeing ethical processes that cause minimal harm to the environment. Plus, their distribution methods have been specifically selected to minimise carbon emissions and Slo Active will happily mend customer's damaged oceanware free of charge, extending the life of each item.
Their environmentally-friendly efforts don't end there. Each year Slo Active donates at least 3% of its revenue - that's revenue, not profits - to partnered charities and plants a mangrove tree for every item made. And, to encourage a more sustainable and all-round positive future, they also offer a selection of detailed guides on sustainability and regular interviews with inspirational 'fierce females' in the world of conservation, sport, arts, and more.
Davy J
Sorry guys, this is another one for the women. More specifically, Davy J is a swimwear brand for women who like to get out and about in the wild. With a double lined, high-elastane composition to provide extra durability and shape, plus hidden rubber edging and cross-back designs, this swimwear is "designed to survive a dive, pull off a cliff jump or handle a waterfall." Or, if you prefer, you can simply swim in it.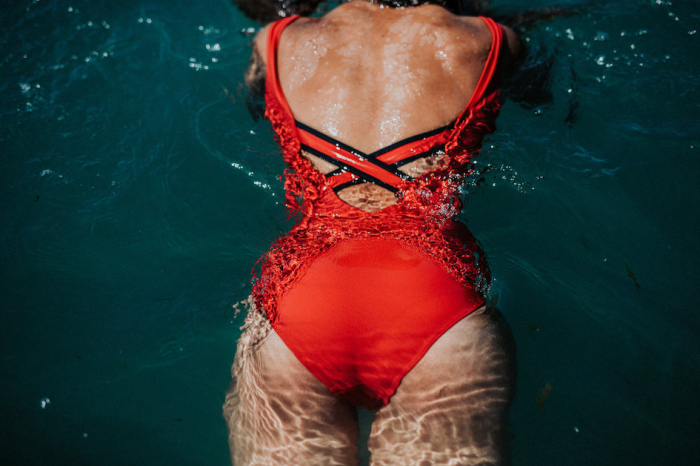 Davy J combats the trend of throwaway fashion by combining durability and style, creating swimwear that can tackle all conditions, time and time again - and ensuring you emerge from the water as comfortable as you entered it. 
Their swimwear is made from Econyl, a regenerated nylon yarn made entirely from waste - including spent and ghost fishing nets. And to add an extra dose of sustainability, the yarn can be regenerated over and over again! In fact, once these suits finally reach the end of their lives - which could be some time - customers are encouraged to send them back to be repurposed. One life ends, another begins.
Riz
Inspired by London's rich heritage of Savile Row tailoring, Riz creates 'old school' boardshorts that won't go out of fashion - blending a classic gentleman's aesthetic with prints designed by a small collective of artists. While these boardshorts certainly embrace the retro, their use of the latest recycled fabrics and digital print techniques maintains a contemporary edge. Throw in a rich palette of vibrant, uncompromising colours and Riz have truly defined their own unique style - one with a distinctly summery disposition.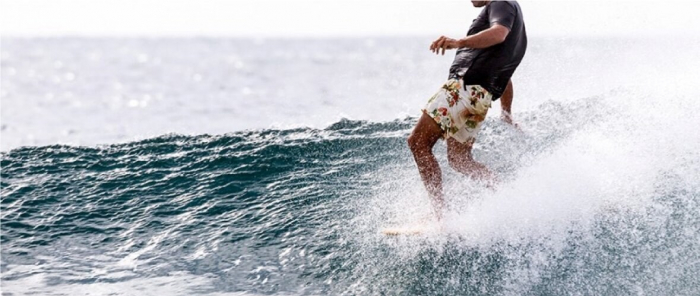 But it's not just about how good they look, it's also about what they do for the environment. And you'll be pleased to know that, for every pair of shorts sold, Riz donate £1 to the Marine Conservation Society (MCS), helping to fund their important ongoing efforts to protect our marine environment.
Riz's boardshorts are designed with sustainability, substance and style in mind, ensuring high-standards of craftsmanship and quality to keep customers happy and the environment free from needless waste. Every pair of shorts is crafted from 100% recycled and recyclable fabric produced from plastic bottles and is digitally printed in the UK using earth-friendly inks. Riz also offers a heavy discount on your next pair of shorts, provided you donate your old pair for repairing, recycling or rehoming.
Waterlust
Waterlust is a small purpose-driven clothing brand run by a family of ocean scientists. Uninspired by the conventional methods of sharing scientific research, the team created Advocate Apparel as a fun and entertaining communication tool to engage the public. With this new approach, the team turns clothing into a canvas, telling scientific stories through marine life prints and empowering the public to become walking, talking advocates for the research their swimwear represents.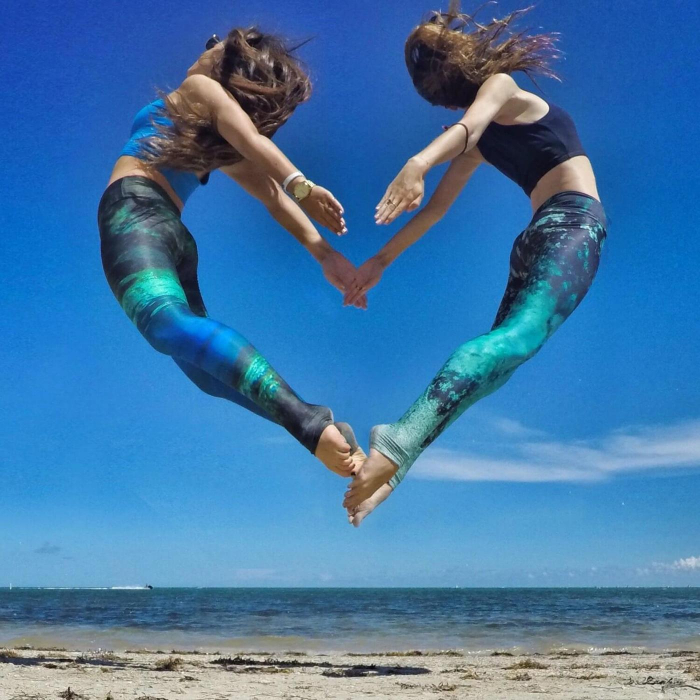 But Waterlust isn't just about communicating, for each marine research topic championed, they partner with researchers and educators that are doing relevant and impactful work. Along with sharing their findings, Waterlust donates 10% of profits to support their efforts.
Besides advocating for marine conservation, the team at Waterlust appreciates that every product they create comes with an environmental cost and are dedicated to minimising the environmental impact of clothing. Items are made from recycled plastic bottles and fabric scraps, carefully wrapped in 100% recycled, recyclable and naturally biodegradable kraft paper, and posted in a poly mailer bag made from 100% post-consumer and post-industrial material.
---
Ready to start planning your next dive holiday?
Contract one of our dive travel experts today

---
Ocean Mimic
This Bali-based clothing brand has been crafting sustainable women's swimwear for two years. True to the name, their swimsuits mimic marine patterns and camouflage, creating bright, and cheery prints that feel right at home in the water. Local manufacturers from around Denpasar are used to cut and stitch the products and waste material is turned into smaller items such as scrunchies.

To make their swimsuits, Ocean Mimic uses Carvico Vita, an eco-friendly fabric made of two yarns woven together. It's 78% Econyl, which is made from 100% recycled nylon yarn, and the remaining 22% is elastane for the ultimate stretch. Digital printing is used to minimise dye and chemical waste, and orders are packaged in a paper envelope and sealed with a paper sticker.
And, of course, their sustainability doesn't stop there. For every suit sold, Mimic donates 10% of their profits to charity and picks up 10 kilos of trash!
RubyMoon
RubyMoon is a one-stop-sustainable-shop for women who want vibrant, high-quality, affordable swim and activewear built around style, functionality and ethics. Designed and manufactured according to circular economy and slow fashion principles, all of RubyMoon's pieces are durable, comfortable and super versatile, allowing you to easily combine separate items into one incredible outfit.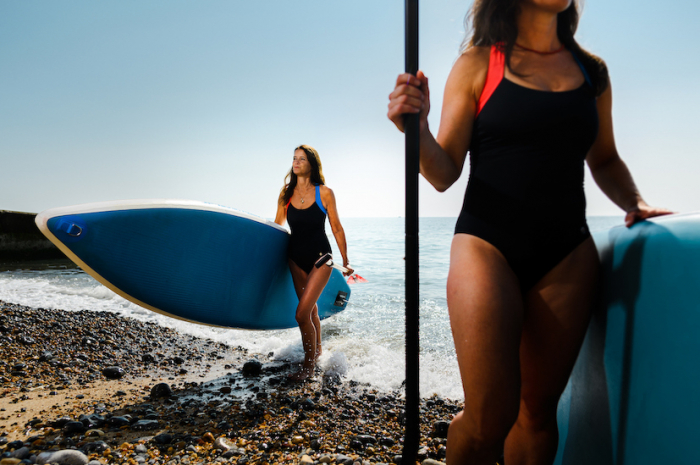 Using Econyl nylon yarn made from spent fishing nets, RubyMoon transforms ocean waste into beautiful Gym To Swim clothing whilst donating 100% of their profit into micro loans for women entrepreneurs globally. In fact, they are the world's only not-for-profit swim and activewear brand and have helped over 1200 women and their families to find a route out of poverty.
Lastly, RubyMoon ensures that all products are manufactured ethically and safely in Europe, with distribution managed by a charity employing working mothers. RubyMoon swimwear is validated to produce 42% less emissions compared to other highstreet swimwear and is sent in 100% recycled and biodegradable mailing bags, never using priority mail. Your summer swimwear really won't get much more sustainable than this!
Fourth Element
Fourth Element's extensive range of sustainable products cater to ocean-lovers of all kinds, from beach-loungers to technical divers. For their swimwear and rashguards, Fourth Element uses the familiar Econyl, combined with Lycra Xtra Life to provide a long-lasting fit and increased resistance to chlorine, heat, and sunscreen lotions. Plus, each of their new range of Hydroskin rashguards recycles between four and eight ocean-bound plastic bottles and are printed using water-based inks, limiting the amount of chemicals used in production.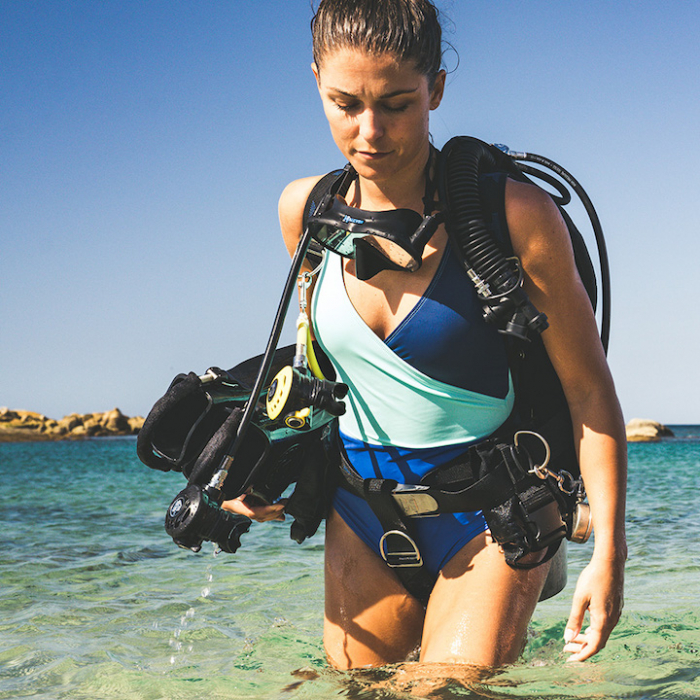 All OceanPositive swimwear, Hydroskins and Hydro Leggings from Fourth Element are packaged in a bio-based alternative to petroleum-based plastic bags. Made from sustainable cassava starch, these bags are biodegradable and compostable in months, certified non-GMO and non-toxic, even to animals. Other packaging is made from recycled card or paper and can be reused or recycled over again. And, the team follows this sustainable ethos in their daily lives, too. Their office runs on solar power, milk for tea breaks is delivered in glass bottles from a local dairy, and they even stock sustainable toilet paper!
Waterhaul
This social enterprise based in Cornwall, England intercept plastic from our oceans and transform it into high-quality, functional products for change… and adventure. The team turns the ghost net issue on its head, suggesting all of the 'problematic' properties of waste fishing gear, such as strength, durability and abundance, infact make it a valuable resource.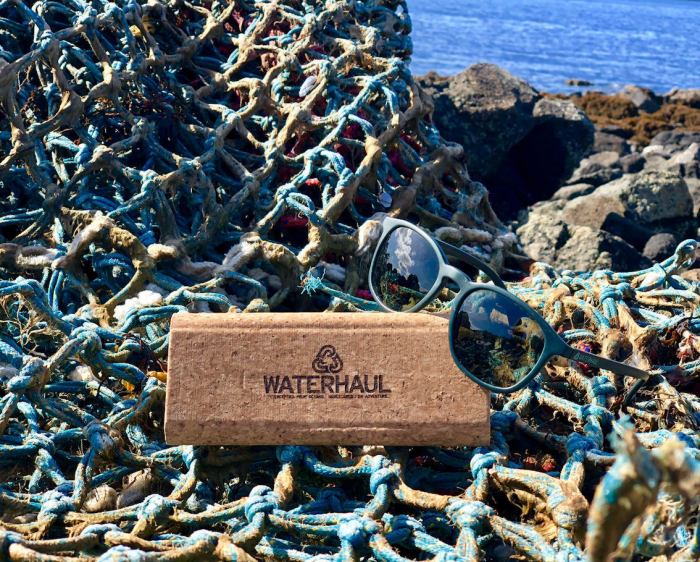 The frames on Waterhaul's stylish sunglasses are produced entirely from 100% recycled fishing nets, without the addition of virgin plastics or chemicals, with the lenses and other finishing touches being done by hand. You can even get a cotton-lined cork case to keep them safe. Alongside their sunglasses, Waterhaul also produces rugged and repairable beach-cleaning knives and litter-pickers from recycled ocean waste - including medical masks resulting from the recent pandemic!
In a bid to be fully accountable for every piece of recycled plastic used in their products, Waterhaul happily offers customers a lifetime warranty. While each item is built to last, by offering the free repair or replacement of any damaged products, Waterhaul hopes to capture every broken or unwanted item before it is discarded - achieving a 100% recycling rate. The team also hopes to work with fishers to provide free net collection facilities as an alternative to expensive landfill fees.
---
Seen anything you like? Why wait? Grab yourself some stylish sustainable swimwear and start feeling great about yourself - both physically and morally.

And, now you've found the perfect new swimwear, it's time to book a sustainable holiday to show it off. Browse our hand-picked selection of dive resorts, liveaboards and Ecoventures from around the world, or check out our guide to marine conservation volunteering abroad for expert advice and inspiration.
---
Join the ZuBlu community to receive the latest insights and unmissable adventures
Don't worry, we'll only send you really good stuff - and we never share your details
---