The island nation of Palau is home to one of the most biodiverse and exciting marine ecosystems on Planet Earth. Divers can encounter everything from manta rays and sharks, to macro and rare species like the nautilus. You'll also find yourself surrounded by vast schools of reef fish and pelagics - all set to a stunning coral backdrop, with out of this world hard and soft formations on every single site. Throw in other attractions like WWII-era shipwrecks and a stingless jellyfish lake, and you've got one heck of a diving destination.

If Palau is starting to sound like your dream destination, you're in luck. We've got a full rundown on the islands, complete with ZuBlu's top tips for travel, which sites you absolutely cannot miss, and what to do when you aren't busy diving. Keep reading for all the details.
Where and what is Palau?
While Palau has grown in popularity in recent years, this diving destination still falls well off the tourist trail, mainly due to its remote location. And, while this tiny island nation is slowly getting easier to reach, it's still a struggle to find on a map, lying hundreds of kilometres from the nearest archipelago. 

East of the Philippines and north of Papua New Guinea, Palau sits smack dab in the middle of nowhere, enjoying a strategic position for trade and military campaigns. Over the centuries, it's been considered a part of numerous neighbouring and foreign countries, including Japan during World War II. Today, Palau is officially a sovereign nation in association with the United States, along with the Federated States of Micronesia.
Palau consists of eight large islands and hundreds of smaller islets and pinnacles of rock - including Ngerukewid and the Rock Islands which sit among Palau's most famous above water attractions. Most resorts, restaurants, and tourist services are found within the central islands, close to the international airport. Many of these tourist areas are connected by road, and further-flung islands are generally reached via boat or seaplane.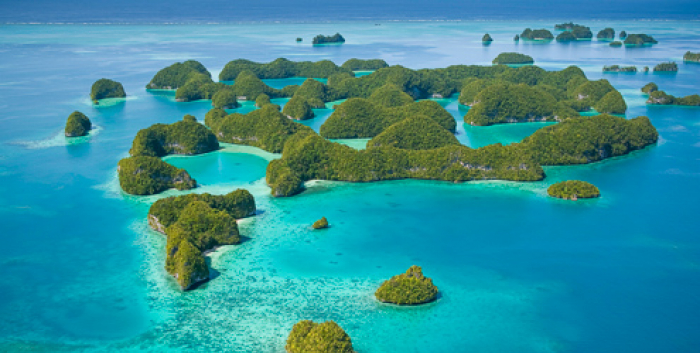 What makes diving in Palau so special?
Palau is famous for close encounters with pelagics, showstopping hard and soft coral formations, and spooky World War II-era shipwrecks. But what makes the underwater world here so special?

For starters, Palau's remote location, bordered by deep water and open ocean currents, makes it an easy stop on the region's superhighway for marine megafauna. Whale sharks, manta rays, and all kinds of marine mammals like whales and dolphins migrate through the area. Plus, it sits at a unique crossroads where three of the Pacific's major currents converge, creating some of the world's most jaw-dropping biodiversity with over 1,500 fish species and 700 varieties of coral and other invertebrates. Each day's dramatic tidal shifts bring a new rush of nutrients to the archipelago and provide some adrenaline-pumping drift dives in the process.
Palau also benefits from its interesting wartime history. These islands are home to some incredible sunken relics, with large Japanese vessels, seaplanes, and just about everything in between found littering the seafloor. But it's not just wrecks. One of Palau's most famous sites, the German Channel, is a man-made cut in the reef, once used for transporting military supplies and troops. 
The diving conditions in Palau are positively spectacular, with crystal clear water and visibility that frequently tops 30 metres. Currents here range from mild to wild, and most of the famous sites are better suited for advanced and adventurous visitors, with heart-pounding drift dives and much to see below the recreational diving limits. Both resort-based and liveaboard diving make for excellent options here, based on which sites you're hoping to see and how much time you have.
Ready to start planning your trip to Palau?
Search, compare and book from our hand selected dive experiences.
Special spawning events
The reefs of Palau are the site of unique events that have earned the country a reputation as being one of the few places in the world where large populations of reef fish can be observed as they gather to spawn together. Huge numbers of snapper, grouper, moorish idol and bumphead parrotfish gather at certain reef promontories around the full or new moon, depending on the species. Some species such as twin spot snapper and parrotfish gather every month, others including Moorish idols and grouper only in certain months of the year. Likewise, manta rays gather from December to March to perform their multiple-day-long spiralling dances and rituals. Reef sharks reproduce around Palau during December, with females often displaying the signs of a struggle with rake and bite marks around their gills. Sea turtles first mate and then lay their eggs on local beaches between April and July.
Palau's also reefs come alive, releasing vast amounts of gametes into the water in mass spawning events. During these spectacular episodes, the water becomes clouded with partially developed coral polyps released for fertilisation. These nighttime mating rituals attract an incredible variety of marine life, as the minuscule polyps create a feast for fish of all sizes - from small and colourful reef species up to massive whale sharks and manta rays.
If you are interested in witnessing any of these events, please get in touch with a ZuBlu travel specialist. The timing of the events are tied to the lunar cycle and dates will change throughout the year.
Conservation efforts
When it comes to conservation, Palau is in a class of its own. This tiny island nation has a strong history of caring for its underwater world, with some areas including the Ngerukewid Islands having enjoyed marine park protection since the mid-1950s. Since then, most of the country has slowly been incorporated into one preserve or another, with over 80% of the country and its surrounding waters currently protected.

In November 2005, Palau's president joined a regional agreement called the Micronesia Challenge, aimed at converting 30% of the region's near-shore coastal waters and 20% of forest land into a protected park by 2020. These goals have been far surpassed! Then, in 2009, Palau announced the creation of the world's first shark sanctuary, protecting nearly 600,000 square kilometres from commercial shark fishing.
Now, Palau is setting its sights on becoming the planet's first carbon-neutral tourist destination, using a multifaceted approach to decrease the country's carbon footprint. Guests will have the power to choose which sustainability programmes they support, and all the guidance they need to make ecologically responsible decisions while vacationing in the region.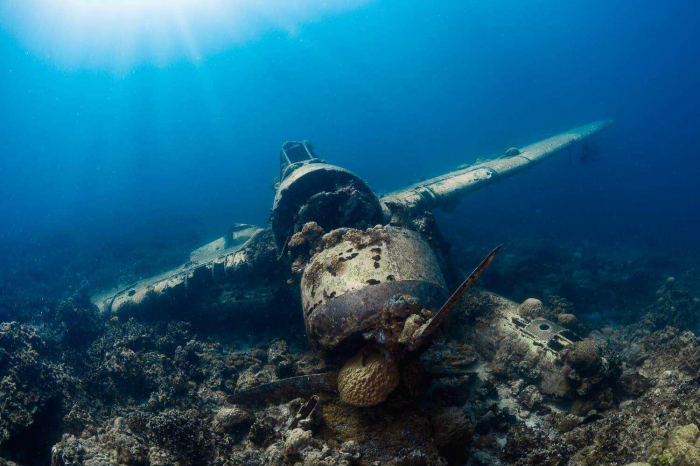 Palau's best dive sites
The dive sites here are incredibly varied, with kaleidoscopic reefs that begin in just a few metres of water before dropping down into the abyss. Almost every solid surface you encounter in Palau is simply crawling with life, but don't forget to keep an eye on the blue - many sites are also famous for manta rays and sharks. And, if you get sick of all that incredible reef diving, there's a graveyard of ships to explore as well. 

Blue Corner
This is a current-swept plateau where massive shoals of fish swirl around you, including snapper, jacks, barracuda and triggerfish schooling by the thousand. Thanks to the fast-moving currents, this is also one of the region's sharkiest sites, with encounters on nearly every dive and surprise appearances from other pelagics like manta rays, sailfish, hammerheads, and whale sharks. 
German Channel
This channel was cut in the reef during World War II, and today serves as a massive funnel bringing powerful tides in and out of the lagoon. In fact, the shift here is so strong that you can't dive inside the channel itself. Instead, you'll be exploring the southwest opening where a sloping reef dotted with cleaning stations eventually drops away into the open ocean. Dive here between December and March to spot the most manta rays, but expect big fish action on every dive, no matter when you visit.
Peleliu Wall and Cut
This is a massive dive site featuring a seemingly endless wall encrusted in hard and soft formations. Some areas are made of steep sloping coral gardens, and others transform into plunging vertical drops with one very large and famous crevasse. You'll likely start this dive in the shallows, where reef sharks and sea turtles patrol the drop-off. Descend along the wall to discover caverns and caves brimming with cryptic creatures, and let the current take you out to Peleliu Corner - where the real action takes place. You'll need a reef hook to stay put in this ripping current as you wait for hammerheads, bull sharks, and even tiger sharks, not to mention manta rays, sea turtles, and surprise cetaceans like dolphins and orcas.
Iro Maru
This is one of Palau's most popular wrecks and one of its most accessible, too, sitting upright with the top deck at just under 30 metres of water.  The vessel's exterior is blanketed in hard and soft coral, and its massive bow and gun mount are among the most interesting outside attractions. Peek inside the superstructure to spot massive groupers lurking in the shadows and glassfish schooling by the thousands. Some of the Iro Maru's companionways are still accessible via the bridge, but there are few viable options for penetration. World War II-era artefacts, including gas masks, can be found inside. Be sure to keep an eye on the open ocean during your descent and safety stop - large schools of batfish, snapper, and barracuda are common.
Choyu Maru
This coastal freighter sank on March 31, 1944 and lay undiscovered until 1989 when it was explored by divers and eventually identified by artefacts found onboard. This vessel sits upright at around 38-metres and boasts an especially dense coral cover, with beautiful black coral trees, swaying sea fans and whips, massive oyster beds, and more. Explore this ship's exterior to spot the now fallen crow's nest, huge winches, anti-aircraft and submarine guns, and large undeployed shells. Because the superstructure suffered extensive fire damage at the time of its sinking, penetrating this wreck is not recommended.
Jake Sea Plane
While Palau is home to many sunken seaplanes, this is the nation's most accessible. Sitting at depths from 13 to 30 metres, the wreck can be explored by divers of all skill levels - and on some days, it's even visible from the surface! The plane went down without its propellers moving, so they didn't bend on impact - this makes for some pretty stunning photos. Inside the cockpit, most dials and gauges are intact, though many of the plane's artefacts have been stripped away by looters. This is a small wreck, easily seen all in one dive and typically combined with exploration of its surrounding reef.
Stingless Jellyfish Lake
While not technically a dive site at all, no trip to Palau is complete without a swim and snorkel in this famous spot, and of course, snap a photo or two while you're there. A short but steep walk leads to the entry point of this saltwater pool fed by the sea. Jump in for a chance to spot golden and moon jellyfish by the millions floating and bumping into you - without a single sting. Each day, a mass migration takes place, with its inhabitants crossing back and forth following the arc of the sun. As the lake itself is quite small, this stop is often combined with other opportunities for exploration like hiking and snorkelling.  
---
Are you ready to take the plunge in Palau's remote and pristine waters?
ZuBlu can help you live the dream! Trust our team of travel experts to help you plan the trip of a lifetime with up-to-date tips and advice, plus pro support throughout your adventure!

---