Home to the largest reef on our planet, and with the open expanse of the Coral Sea beyond, Queensland's east coast has plenty of bucket-list scuba diving experiences. With so much quality diving on offer, and some serious distances between dive destinations, it's no surprise that liveaboards are the best way to explore. 
A wide range of multi-day dive safari liveaboards currently operate throughout this hugely popular destination, spending anywhere between one and seven nights at sea, and catering to guests with a variety of experience levels. But, with so many routes and departure points, picking the perfect liveaboard itinerary to dive the Great Barrier Reef and Coral Sea can pose a real challenge.
To help you plan your Great Barrier Reef dive holiday, we've put together a rundown of some of the most common liveaboard routes in the region. Read on to find your favourite.
To the Great Barrier Reef, and back
Spending just a night or two at sea, and welcoming snorkelers and scuba divers alike, these short itineraries are the ideal option for many visitors to the Great Barrier Reef. Due to their proximity to the reef, Cairns and Port Douglas are the most common points of departure for these speedy trips. Popular stops include the reefs of Flynn, Thetford, Milln, Moore, and Pellowe – all of which are located less than 60-kilometres from Cairns. Vessels embarking in Port Douglas, a little further north, tend to visit the likes of Hastings, Saxon, and Norman reefs, which are a similar distance from the mainland.
All along the Outer Reefs
These itineraries sail past the reefs closest to Cairns and Port Douglas in favour of the renowned Ribbon Reefs. Spanning approximately 100-kilometres from Cooktown to Lizard Island, the Ribbon Reefs are – as the name suggests – a series of thin, ribbon-like coral reefs perched on the edge of the continental shelf. Either travelling north from Cairns or south from Lizard Island, liveaboards will follow this chain of reefs, stopping at some of Queensland's most iconic dive sites along the way, including Cod Hole, Pixie's Pinnacle, Steve's Bommie, Snake Pit, and plenty more.
For the most comprehensive Great Barrier Reef tour imaginable, it's possible to travel around 1,000-kilometres along the continental shelf, between Cairns and the northernmost tip of Australia, Cape York. As you'd expect, this liveaboard itinerary incorporates countless iconic dive sites as it explores almost half of the world's largest coral reef in a single trip. And it still only lasts a week! It's worth noting that these voyages will either embark or disembark at Horn Island, off the tip of Cape York, and guests are required to organise their own domestic flights to, or from, this distant destination.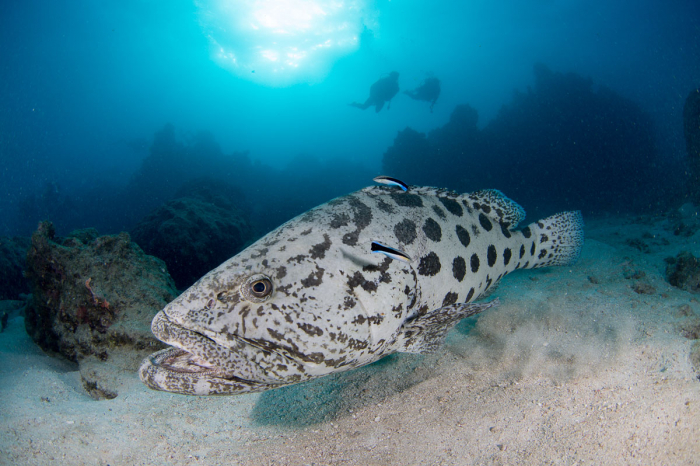 Ultimate Coral Sea combination
Combining the Great Barrier Reef with the Coral Sea's more remote sites, this itinerary is a must for advanced divers looking to experience the very best of Queensland's east coast. These trips last around a week and are, essentially, an extension of the Outer Reefs itinerary above. Not only do these routes showcase the renowned dive sites of the Ribbon Reefs, they will also venture more than 100-kilometres beyond the continental shelf, into the blue expanse of the Coral Sea.
In this remote region, isolated underwater atolls are the highlight – specifically Holmes, Bougainville, and Osprey reefs – where powerful pelagic species patrol coral-clad walls that plummet into the abyss. The exact itinerary will varies depending on the operator and the weather, with adverse conditions making some destinations difficult to access. Bougainville Reef, for example, offers little in the way of sheltered anchorage, and is therefore not a good place to find yourself when the weather takes a turn.
'Fly Dive' variations
Most multi-day itineraries throughout the Great Barrier Reef and Coral Sea can be enjoyed as straight-forward, circular trips. But, visitors that are short of time, or those who fancy seeing the reef from a different perspective, can consider choosing a 'fly dive' variation. This involves undertaking a portion of their journey by air, enjoying a scenic, low-level flight over the Great Barrier Reef. This option is primarily offered during voyages that incorporate the Ribbon Reefs, as nearby Lizard Island has a convenient airport.
Using chartered flights between Lizard Island and Cairns, operators are able to divide the 7 night circular route into two sections, with guests able to embark and disembark somewhere around the midway point. For example, a week-long trip combining the Coral Sea with the Ribbon Reefs will likely make a stop at Lizard Island on day four, allowing divers to disembark and fly back to Cairns, having explored Holmes, Bougainville, and Osprey. Likewise, guests can also fly to Lizard Island and board the vessel, ready to explore the Ribbon Reefs.
Not only do 'fly dive' itineraries allow guests to break up long voyages into shorter trips, they also deliver unparalleled views of the Great Barrier Reef, with much of the flight spent cruising less than 200-metres above the water.
Queensland liveaboard itineraries
Dive the Great Barrier Reef and the Coral Sea
Coral Sea and the SS Yongala
Widely regarded as one of the very best shipwrecks in the world, many divers simply couldn't come to Queensland and miss out on a chance to dive the SS Yongala. Day-trips to the wreck can be a little arduous at times, particularly if conditions aren't optimal, but a liveaboard itinerary like this is sure to make the entire experience a little more enjoyable. And, you'll get to explore some lesser-known Coral Sea sites as well.
Most vessels that offer this itinerary depart from Townsville, as the SS Yongala wreck is located a little further southeast along the coast. On route to the wreck, operators will often factor in a visit to the remarkable Museum of Underwater Art, located on John Brewer Reef. And, once divers have had their fill on the outstanding SS Yongala, it's time to set sail for the exhilarating sites of the Coral Sea. As the famous Osprey Reef is situated over 400-kilometres further north, these trips instead focus on the lesser-known southern sites of Flinders Reefs. One-way trips that embark in Townsville and disembark in Cairns may also visit Holmes Reef before heading back to port.
Great Detached Reef and north
Those in search of an alternative to the classic Great Barrier Reef experience should definitely consider heading north. Several secluded spots in this distant region are known to deliver some spectacular scuba diving, yet remain off the typical tourist radar. The Great Detached Reef is an intricate tangle of coral-covered structures featuring almost 50-kilometres of 'outer-edge', providing endless wall-diving opportunities. What's more, nearby Raine Island is recognised as the world's largest nesting site for green sea turtles. The easiest way for liveaboard vessels to explore this remote northern region is by embarking and disembarking at Horn Island, off the coast of Cape York.
---
Ready for your liveaboard adventure?
Talk to the travel team today

---