Stretching for more than 2,000 kilometres down the coast of Queensland, the Great Barrier Reef is easily one of the most extensive diving destinations on the planet, offering an almost endless list of dive sites to explore. And, believe it or not, the barrier reef is just the beginning, as there's more unparalleled underwater experiences on offer throughout Australia's Coral Sea.
Needless to say, most visitors can't spend months exploring this enormous region. So, to help you plan your trip, we've selected some of the very best scuba diving sites of the Great Barrier Reef and the Coral Sea. Of course, everyone has their own preferences, but these sites are sure to impress, time and time again.
North Horn – Osprey Reef, Coral Sea
Situated at the northernmost tip of a submerged atoll, North Horn is one of the Coral Sea's most famous dives. There are several ways to enjoy this site, but the well-known shark feed is what really draws in the visitors. A natural amphitheatre, at a depth of around 12-metres, provides the perfect staging area for the show with experienced instructors releasing morsels of food to attract the stars. Grey reef sharks, whitetip reef sharks and silkies typically dominate the scene, with the odd potato cod pushing its way in. Silvertips can sometimes be seen beyond the main melee and it's not unheard of to spot a sailfish in the distance.
Importantly, this dive is conducted under strict protocols, imposed by the Queensland government, designed to ensure the sharks do not associate dive boats with food.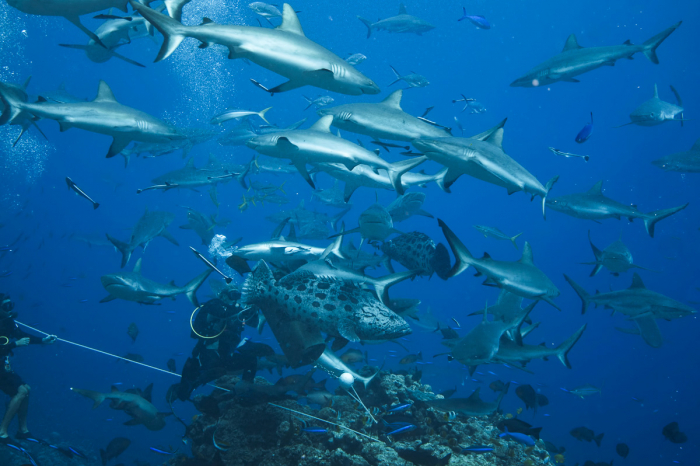 Around the Bend – Osprey Reef, Coral Sea
This site is located on the northwest wall of Osprey Reef and is normally swept by currents, creating an enjoyable drift. One of the focal points of this dive is a beautiful coral-covered bommie which acts as a cleaning station for marine life of all shapes and sizes, including manta rays. After a few mesmerising minutes with the mantas, the dive moves on over a sandy channel where whitetips are often seen resting. Then it's time to drift towards the lagoon, where a kaleidoscope of colour awaits, with a variety of vibrant corals as well as Christmas tree worms, nudibranchs, damsels, and anthias.
Dungeons and Dragons – Bougainville Reef, Coral Sea
Situated on the northwest coast of Bougainville Reef, Dungeons and Dragons thankfully leaves nothing to the imagination. On top of the reef, divers can explore a labyrinth of tunnels and swim-throughs, providing plenty of shadowy nooks and crannies for marine life to lie low. Beyond the shallow section, the coral reef falls away into a dizzying wall that descends to 1,000-metres or more. As you'd expect, this is the ideal environment for powerful pelagic fish, with species such as barracuda and sharks buzzing past in the blue.
The Abyss – Holmes Reef, Coral Sea
With a name like The Abyss, it's no surprise that this site features a dramatic drop-off and deep wall. Schools of mackerel and sweetlips can be found enjoying the nutrient-rich current, alongside larger species such as whitetip and grey reef sharks. The sun-soaked shallow areas offer plenty of attractive hard and soft corals, along with an array of nudibranchs hiding in plain sight. This site is also home to a few giant clams which are always a sight to behold. Unfortunately, The Abyss can only be visited when conditions are just right, but lucky divers who get the opportunity will not be disappointed.
Snake Pit – Lizard Island, Great Barrier Reef
About halfway between Lizard island and Ribbon Reef #10 lies a series of coral bommies, roughly arranged into two separate rows. While this site doesn't deliver the mass of writhing serpents its name suggests, you'll likely spot a number of olive sea snakes during a single dive, making it more than worthwhile. The sea snakes tend to be ambivalent of divers at worst and actively curious at best, occasionally investigating reflections in camera lenses and providing perfect photo opportunities in the process. Besides, the isolation of this reef promises prolific marine life of all kinds, including Napoleon wrasse, coral trout, batfish, and more. Even sharks and manta rays occasionally pass by.
Cod Hole – Ribbon Reef #10, Great Barrier Reef
Cod Hole is one of the most famous dive sites in the Ribbon Reefs, if not the entire Great Barrier Reef. Located in the north of Ribbon Reef #10, there's plenty of interesting places to explore in and around this site, but the real highlight are the close interactions with enormous potato cod. Used to being fed scraps of food over the last decade or two, these docile, diver-sized fish happily hang around visitors in hope of a snack. Of course, there's plenty of other marine life to be spotted, including coral trout, sweetlips, and triggerfish.

As part of the Great Barrier Reef Marine Protected Area, the activities here are strictly regulated and feeding licences are only given to operators that can demonstrate sustainable dive practices.
Lighthouse Bommie – Ribbon Reef #10, Great Barrier Reef
Situated on the south side of Ribbon Reef #10, Lighthouse Bommie is an isolated tower of coral standing some 20-metres tall. The diverse corals, and various invertebrates which inhabit them, are enough to make this site worthwhile. But, divers might find it difficult to divert their eyes from schools of snapper, trevally, mackerel, and barracuda which swirl back and forth around the bommie. Manta rays and eagle rays can also sometimes be seen here as they visit cleaning stations at the top of the reef. And, during the months of June and July, this site delivers decent chances of dwarf minke whale encounters.
Steve's Bommie – Ribbon Reef #3, Great Barrier Reef
Steve's Bommie is located on the southwest side of Ribbon Reef #3 and is another isolated pinnacle rising from a depth of 30-metres to within five-metres of the surface. The bommie itself is a haven for macro-lovers, offering a variety of pipefish, anemonefish, nudibranchs, and flatworms nestled amongst the prolific coral growth. It's also worth keeping a keen eye on the various cracks and crevices here, as these are places that wobbegongs like to lie in wait. Plumes of anthias pass back and forth above the reef, scattering occasionally abruptly as schools of snapper, trevally, or fusiliers come into frame.
Three Sisters – Milln Reef, Great Barrier Reef
As the name suggests, this dive site, located around 50-kilometres east of Cairns, focuses on three large bommies. Coral of all kinds abound, creating kaleidoscopic structures in the shape of overhangs, crevices, and swim-throughs. Two of the three 'sisters' rise to within just a metre of the surface, and the narrow gap between them has become known as Gorgonian Gorge. Schools of snapper and fusiliers frequent this channel and larger pelagic fish sometimes pass through as they transition between the coast and the ocean.
MOUA – John Brewer Reef, Great Barrier Reef
Some 60-kilometres northeast of Townsville, John Brewer Reef is home to one of Queensland's most unique underwater attractions – the Museum of Underwater Art (MOUA). Created by sculptor Jason deCaires Taylor, the MOUA is home to a number of installations designed to highlight the importance of reef conservation and restoration. The exhibits include a nine-metre stainless steel 'Coral Greenhouse', designed to dissipate the ocean's currents, that houses around 20 sculptures of marine science students. Outside this underwater building, stands a series of artworks known as the Ocean Sentinels. These sizable sculptures blend renowned marine scientists and conservationists with eye-catching underwater forms.
SS Yongala, Townsville
The 110-metre SS Yongala wreck is located around 20-kilometres off the coast of Cape Bowling Green, 50-kilometres southeast of Townsville. As the only significant reef formation in the area, this sizable shipwreck has become a beacon for marine life, creating one of the very best wreck dives in the world. The wreck sits between 15 and 30-metres deep and remains largely intact, with a dense carpet of hard and soft corals covering its skeleton. Queensland groupers of immense size are found, alongside Napoleon wrasse, trevally, and more. Various rays and sharks can also make appearances, and it's sometimes possible to hear – or even see – humpback whales as they migrate along the coast.
---
Ready to dive the Great Barrier Reef?
Speak to the travel team today

---