As you begin planning your next dive adventure, you're probably considering where you've always wanted to go – or maybe where you'd like to revisit – and when you can find the time. But how about asking yourself what you'd like to see? Every ocean-lover needs a bucket-list of aspirational marine experiences, and in many ways, the timing couldn't be better to start crossing a few of them off.
But, no matter how hard we wish it, you can't always take the plunge and see something extraordinary. That said, there's a handful of special places around the world offering a little more than chance sightings. In fact, some of these destinations deliver predictable encounters with a few of the rarest, most sought after ocean species on the planet. 
Some of these astonishing marine experiences you may have heard of, but we bet there's a few you haven't. So read on to discover your next 'must-sees' and where and when you can find them.
---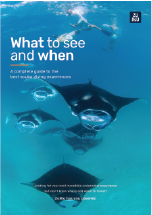 Looking for your next incredible underwater experience? But don't know where or when to travel? Discover the secrets of the blue with this 33 page guide to the best underwater experiences.
---
---
---
---