Luxurious scuba diving adventures are all the rage these days, with many travellers opting for discerning details such as fine dining and spa services, private butlers and tailor-made expeditions. Thankfully, these high-end extras aren't reserved solely for resorts. Plenty of liveaboards are also increasing their onboard indulgences, offering standards of service you'd expect from a five-star resort, rather than a dive vessel. 

And, contrary to common belief, you don't have to sacrifice your environmental ethics in favour of creature comforts. In fact, many liveaboards provide the best of both worlds – pairing lavish facilities with eco-conscious itineraries and sustainable services that can be enjoyed without a trace of guilt. 
Sound like your kind of dive holiday? Ours, too! 
Keep reading for a rundown of ZuBlu's favourite luxury eco liveaboards or find out more about liveaboard scuba diving. 

Tiburon Explorer – Galapagos
Best for: Stylish and sustainable voyages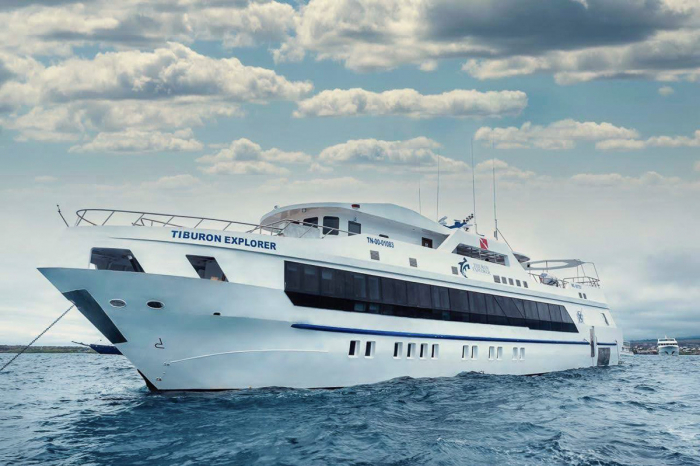 Part of the world's first Green Fins approved liveaboard fleet, Explorer Ventures, Tiburon Explorer perfectly pairs action and adventure with style and comfort – all with a low environmental impact. This vessel was newly constructed in 2020, delivering all the facilities you'd expect from a modern motor yacht, along with sleek design that epitomises luxury and sophistication. And, with a maximum of 16 guests on board, you'll enjoy an intimate small-group experience packed with personalised customer service both above and below the waves. 
If you enjoy a few creature comforts once the dive day ends, look no further. The Tiburon Explorer's light-filled cabins, complimentary alcohol, and on-deck Jacuzzi are guaranteed to help you unwind. You'll enjoy brand new facilities of all kinds, as well as a generous dive deck, modern camera station, and easy access to the sea via two custom zodiacs. The crew also deliver daily environmental briefings aimed at educating guests on the complex ecosystems that the Galapagos Islands are famous for! And, with a portion of Explorer Ventures' proceeds going to scientific research, you know that you'll be doing your part to preserve the region for future generations of divers.
Jakaré – Indonesia
Best for: Unsurpassed personalised customer service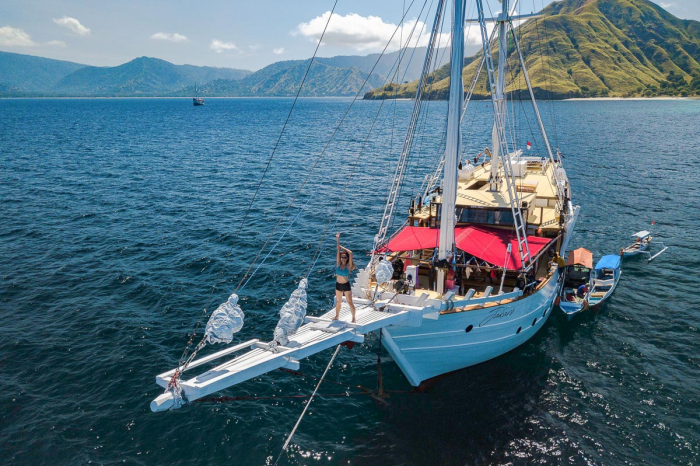 Jakaré boasts a unique ambiance and sustainable operations, including a low-consumption electric system, modern fuel efficient engines, and natural ventilation. This stunning traditional sailing phinisi also operates a zero-plastic policy that eliminates single-use items on board, and free reef safe toiletries for each guest. Jakaré's seasonal itineraries cruise Indonesia's most stunning dive destinations, from Komodo to Raja Ampat and everywhere in between, allowing visitors to experience the region's stunning wildlife and ecosystems completely guilt-free.

When it comes to luxury, this vessel doesn't skip a single detail. You'll feel perfectly at home with spacious teak cabins and bespoke interiors loaded with local art and design elements. And, you can expect outstanding customer service with a nearly 1:1 crew to guest ratio. Jakaré also provides some of the region's best facilities for dedicated divers and underwater photographers, plus free watersports equipment of all kinds, and expert local guides to help you make the most of your diving and snorkelling adventures.  
Black Pearl – Palau
Best for: Adventures in touch with nature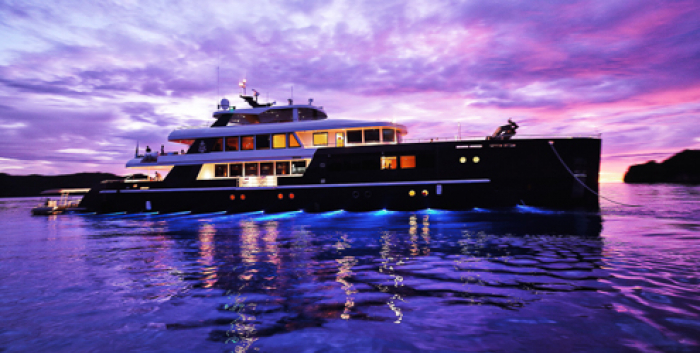 The Black Pearl is a luxury liveaboard boasting eco-conscious operations, state of the art facilities, and industry-leading onboard entertainment – with plenty to see and do for divers and non-divers alike. In addition to world-class diving, Black Pearl includes breathtaking shore excursions in each itinerary, with visits to Palau's legendary Jellyfish Lake and other local landmarks. Throughout your voyage, you'll notice environmentally conscious details all around, with metal drinking straws, reef safe toiletries, and biodegradable trash bags, as well as an onboard water treatment centre to reduce ocean contamination.  
Black Pearl offers unparalleled access to some of Palau's most legendary diving areas, with day after day of easy diving conducted from comfortable skiffs, and expert guiding from some of the region's most highly-skilled local guides. Back on board, you can slip into deep relaxation with indulgent spa services, a fully equipped steam room, and an on-deck Jacuzzi. Nature lovers can take their adventure even further with state of the art camera facilities, free watersports equipment, and other cool features like a high-powered telescope, perfect for gazing into Palau's stunning night skies. 
Coralia – Indonesia
Best for: Extended itineraries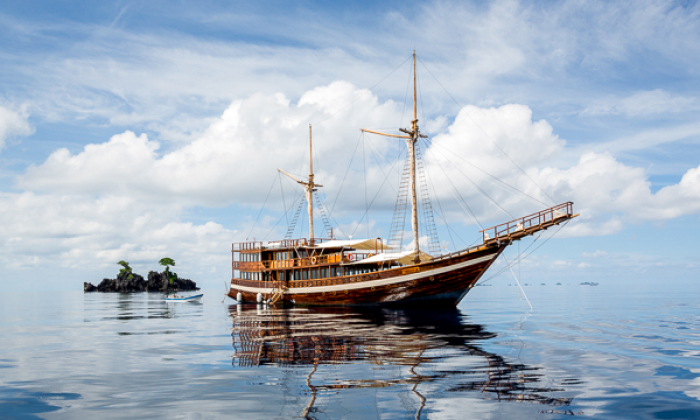 Coralia is a traditional sailing phinisi built with sustainability in mind and constructed with natural materials by the Konju boat builders in Bira, Sulawesi. This vessel cruises the remote waters of the Indonesian Archipelago, with destinations spanning from Raja Ampat to Komodo – and nearly every diving destination between the two. Each teak cabin comes perfectly equipped with all that you'll need to enjoy up to two incredible weeks at sea, with designer inspired furnishings and electronics workstations. And, Coralia's highly trained staff will be standing at the ready, happy to help with whatever you might need before fading into the backdrop and allowing you plenty of room to enjoy the adventure.
This vessel's sustainable service includes complimentary reef safe toiletries, a ban on single use plastics, as well as environmentally focused briefings and collaboration with the Raja Ampat SEA Centre – a local nonprofit aimed at research, restoration, and conservation. You'll have the opportunity to dive up to four times a day, with small group sizes divided by skill and comfort level. Plus, anytime access to a modern air-conditioned camera room, watersports equipment, a full-service spa, and multiple sun and shade decks. 
Emperor Explorer – Maldives
Best for: Groups with non-divers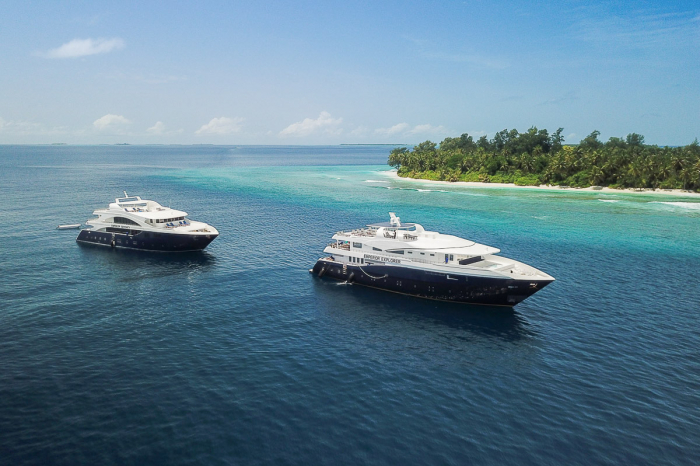 Emperor Explorer is a Green Fins approved liveaboard and is one of the newest additions to the prestigious Explorer Ventures fleet. Visitors will delight in elegant lounges and leisure decks, opulent cabins, a serene spa, and a stylish restaurant and top shelf bar – perfect for five-star relaxation between dives. And, all guests start their adventure with credit to be used toward the soothing extras of their choice, just to kick off their dream diving holiday. Other complimentary onboard perks include wine with dinner, snorkelling equipment, and unexpected experiences like tropical beach barbecues. 
Free nitrox, experienced local guides, amazing shore excursions, special cultural experiences, and world-class snorkelling complete every unforgettable cruise aboard this vessel – making it a top choice for divers and non-divers alike. And, all that excitement comes with a low impact on the incredible channels and reefs that make Maldivian diving so incredible. Emperor Explorer prides itself on incredible service, with a highly-skilled team happy to offer as much or as little hands-on guiding assistance as each guest prefers, plus plenty of personalised attention back on deck. 
Blue Horizon – Egypt
Best for: Dedicated divers and underwater photographers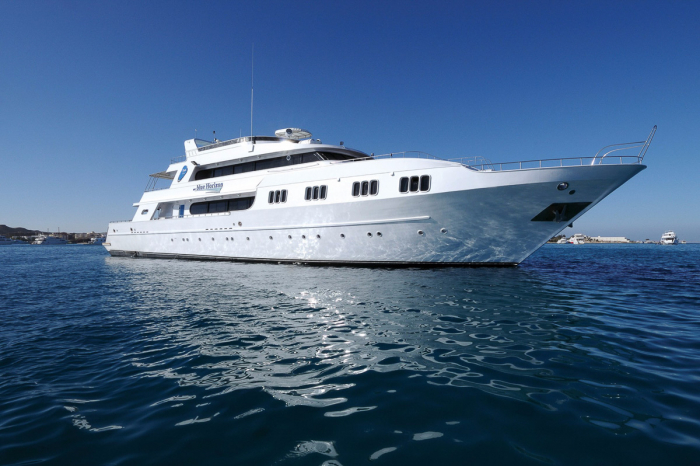 As the flagship vessel of the prestigious Blue O Two fleet, Blue Horizon's dedication to conservation shines through in all of its itineraries. Earth friendly details include a plastic-free policy, detailed environmental briefings, and citizen science expeditions in partnership with local environmental organisations like Shark Project and Manta Trust. These eco-conscious offerings pair perfectly with Blue Horizon's little luxuries, including a chic, modern lounge and on-deck Jacuzzi, generous deluxe cabins, and surprisingly spacious social areas – plus personal service both above and below the waterline.

Blue Horizon was awarded 2015's Liveaboard of The Year by DIVER magazine, thanks to its top-notch facilities for dedicated divers and underwater photographers. You'll enjoy day after day of easy diving with a spacious dive deck, personal gear storage, and two custom tenders. Other outstanding amenities include nitrox, professional-quality rental equipment, a modern camera station, as well as tech and rebreather support with prior arrangement. This vessel also offers a wide variety of itineraries, with voyages through all of the Egyptian Red Sea's most dynamic diving areas, and special trips focused on reefs, sharks, and shipwrecks. 
---
Are you ready to set sail on an environmentally-responsible luxury liveaboard adventure?
Let ZuBlu help you plan the trip of a lifetime! Our team of travel experts is happy to help, offering up all the latest tips and advice to ensure you enjoy a worry-free dive holiday from start to finish.

---