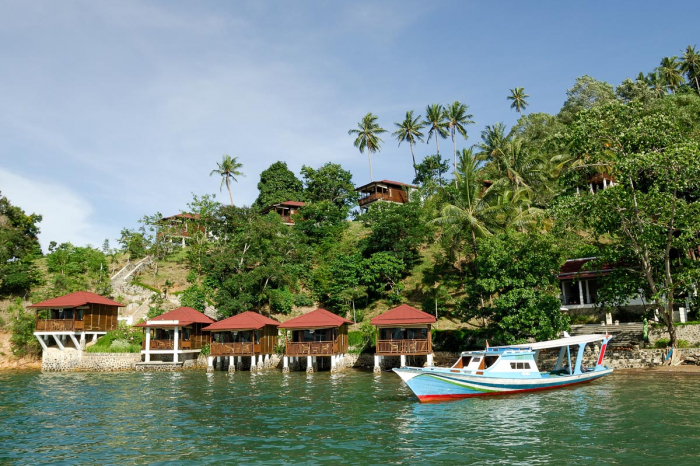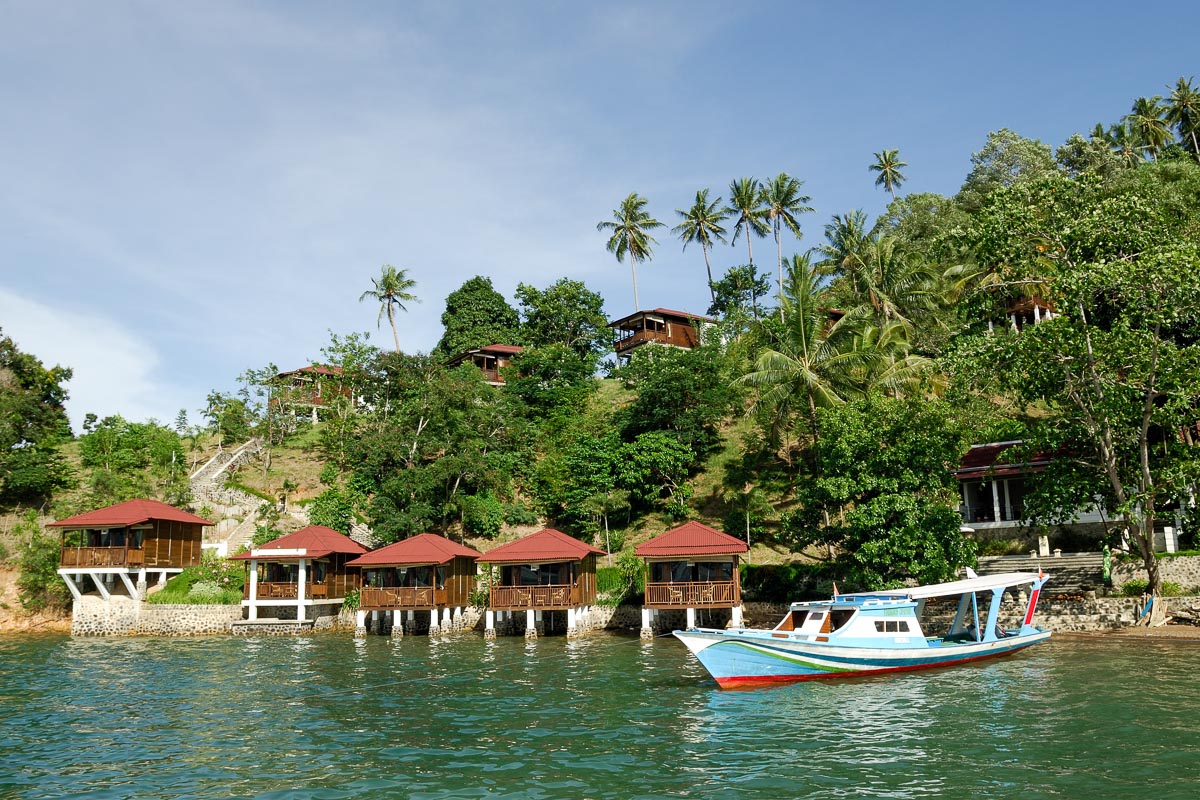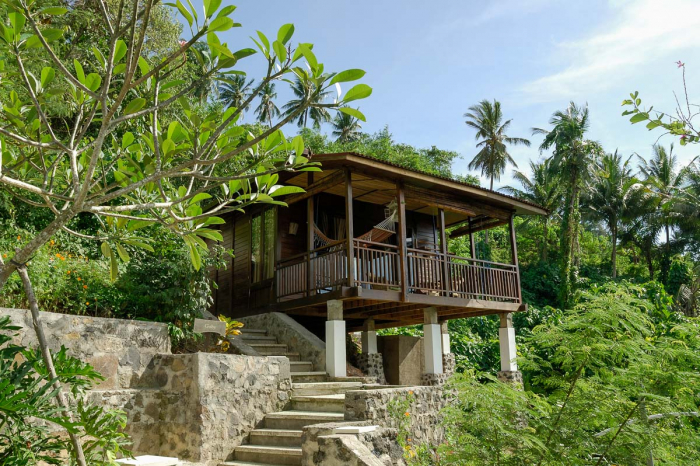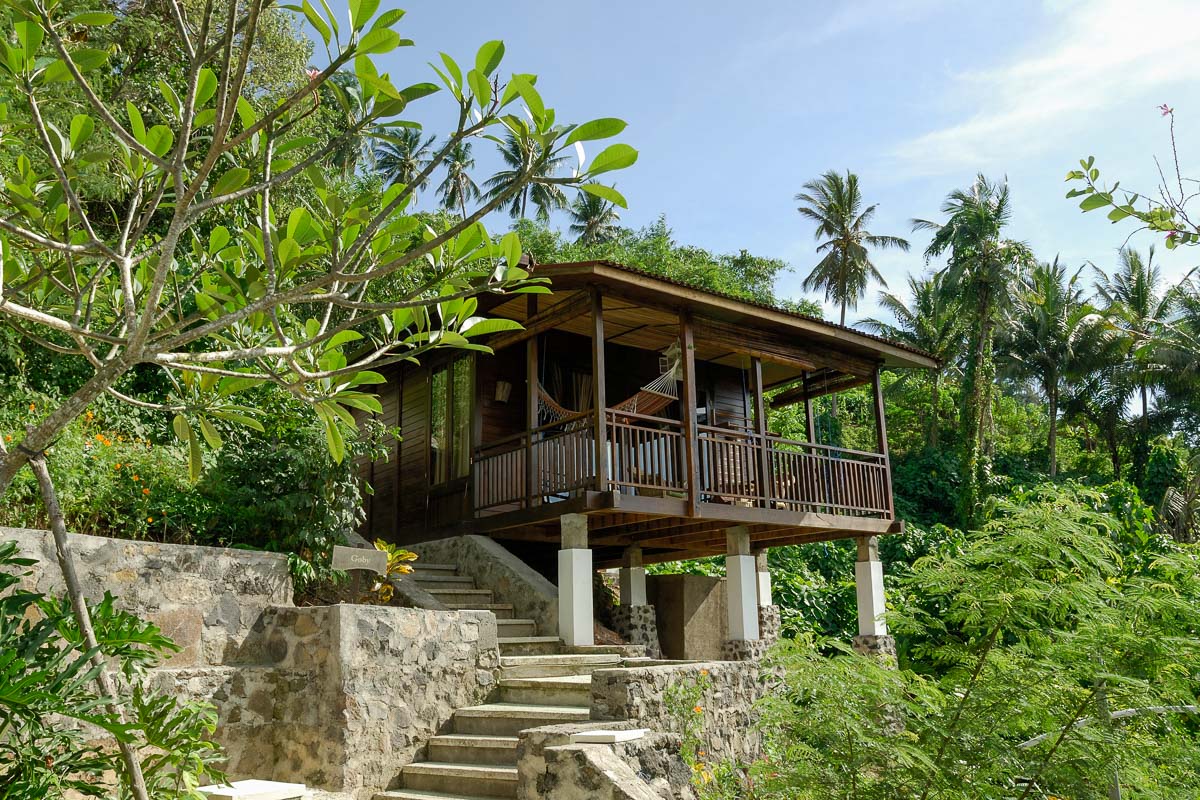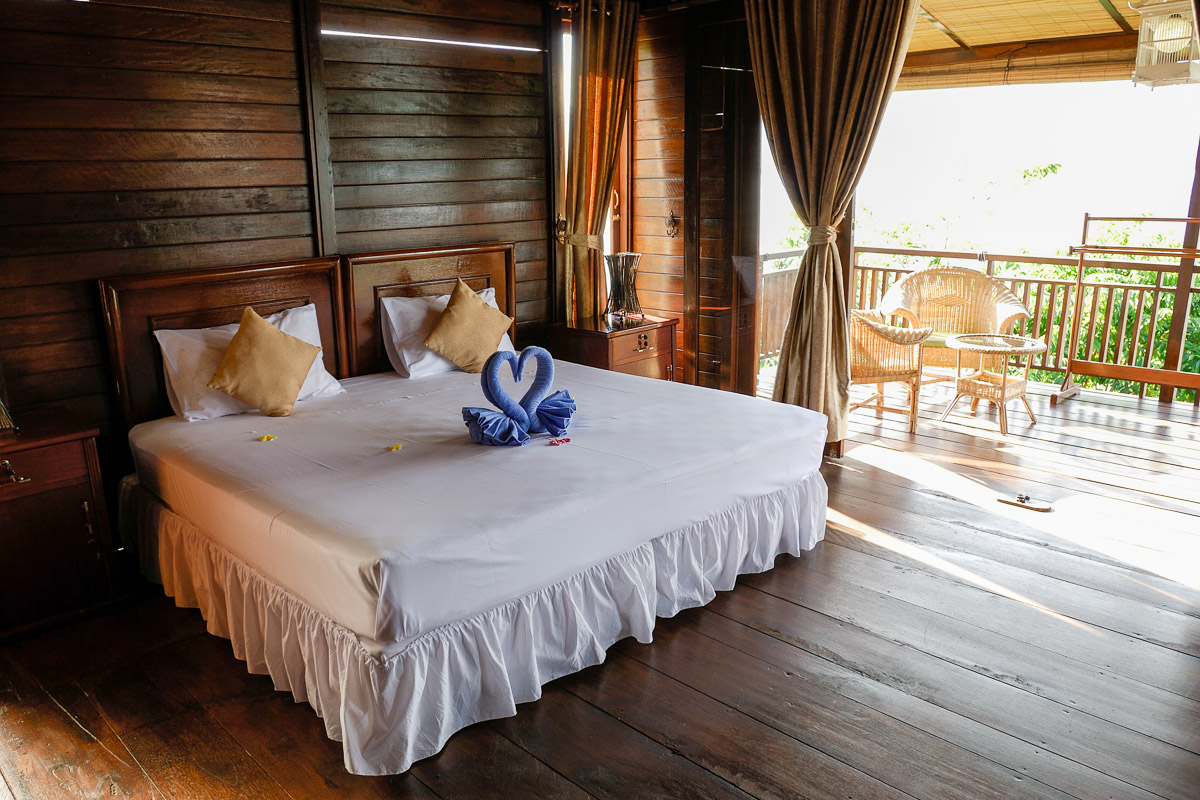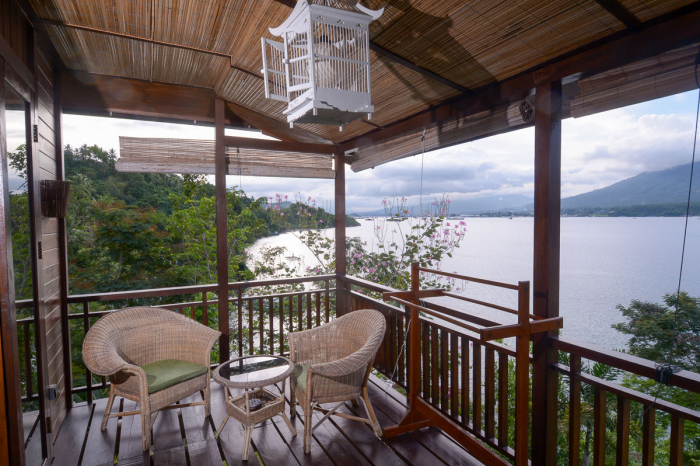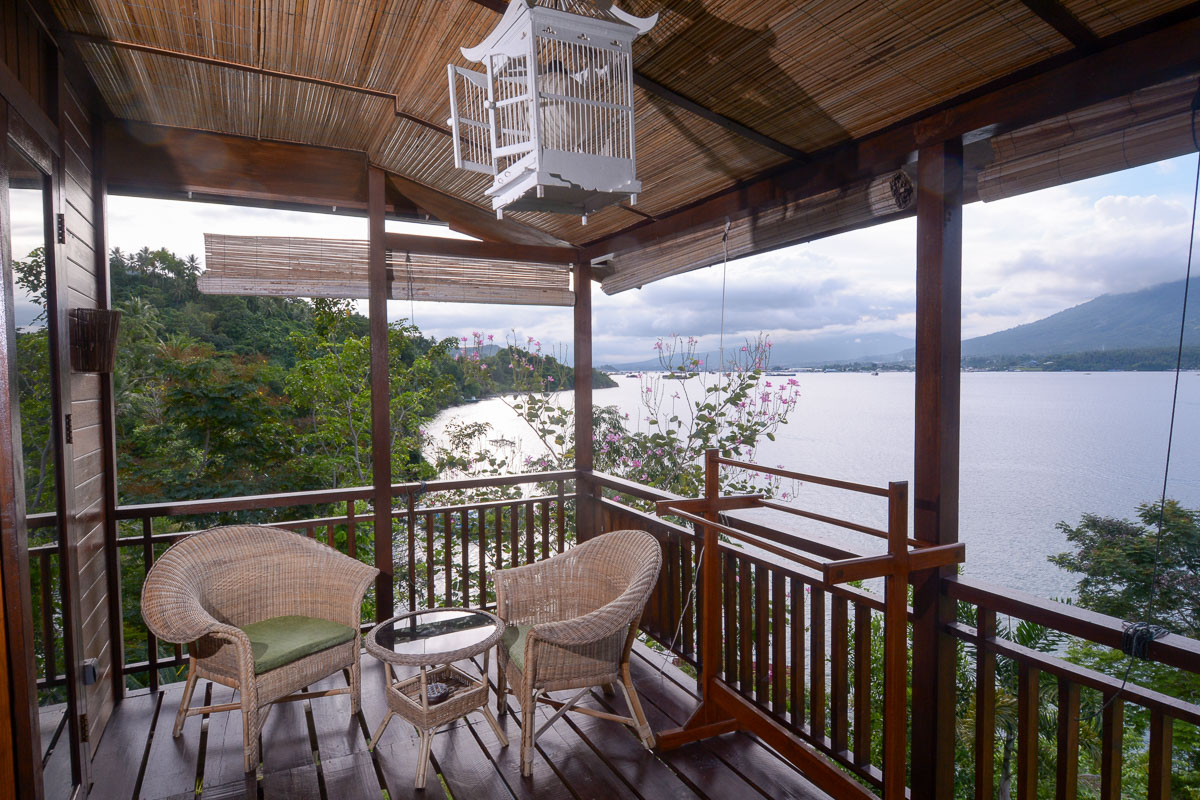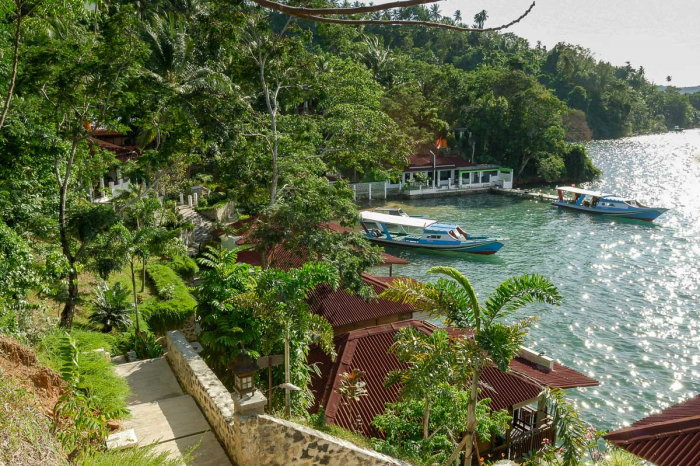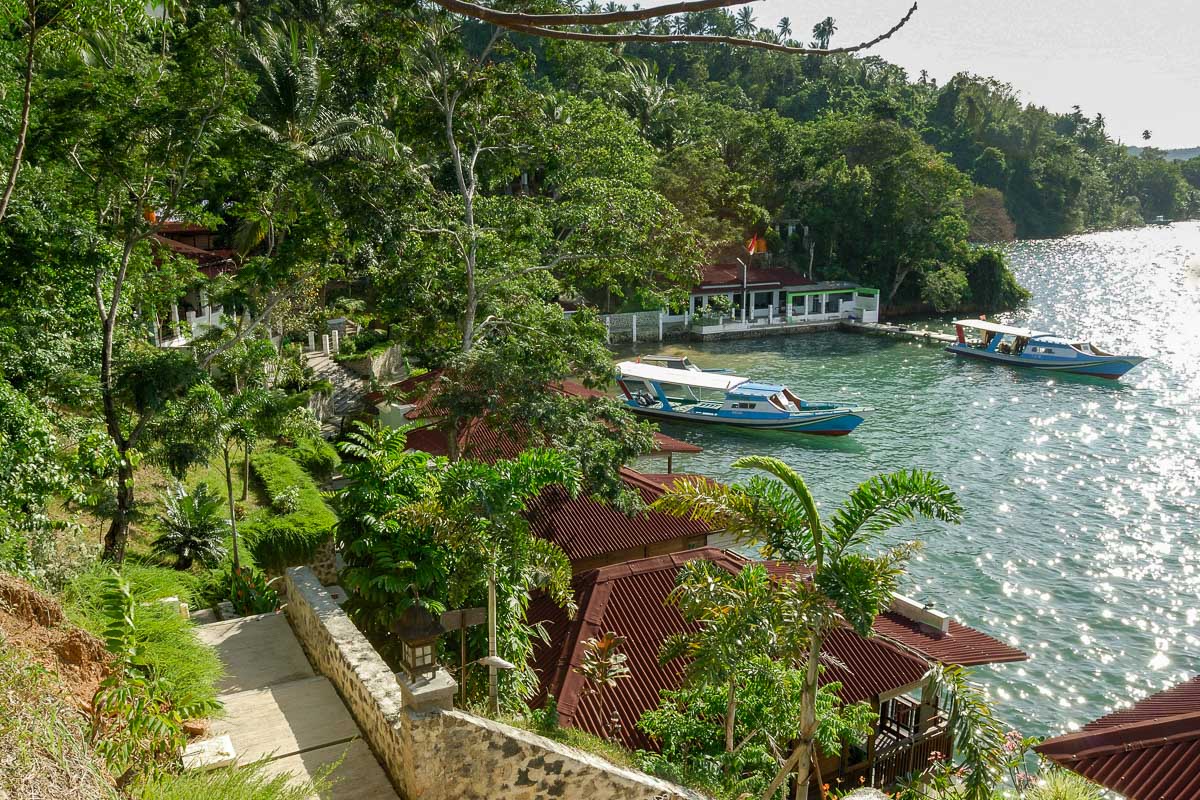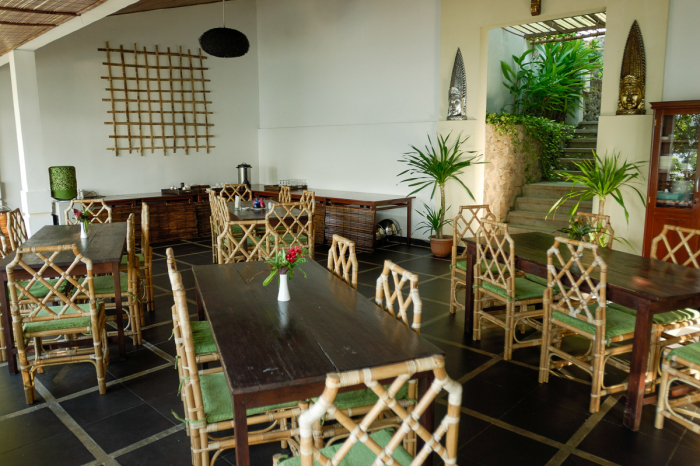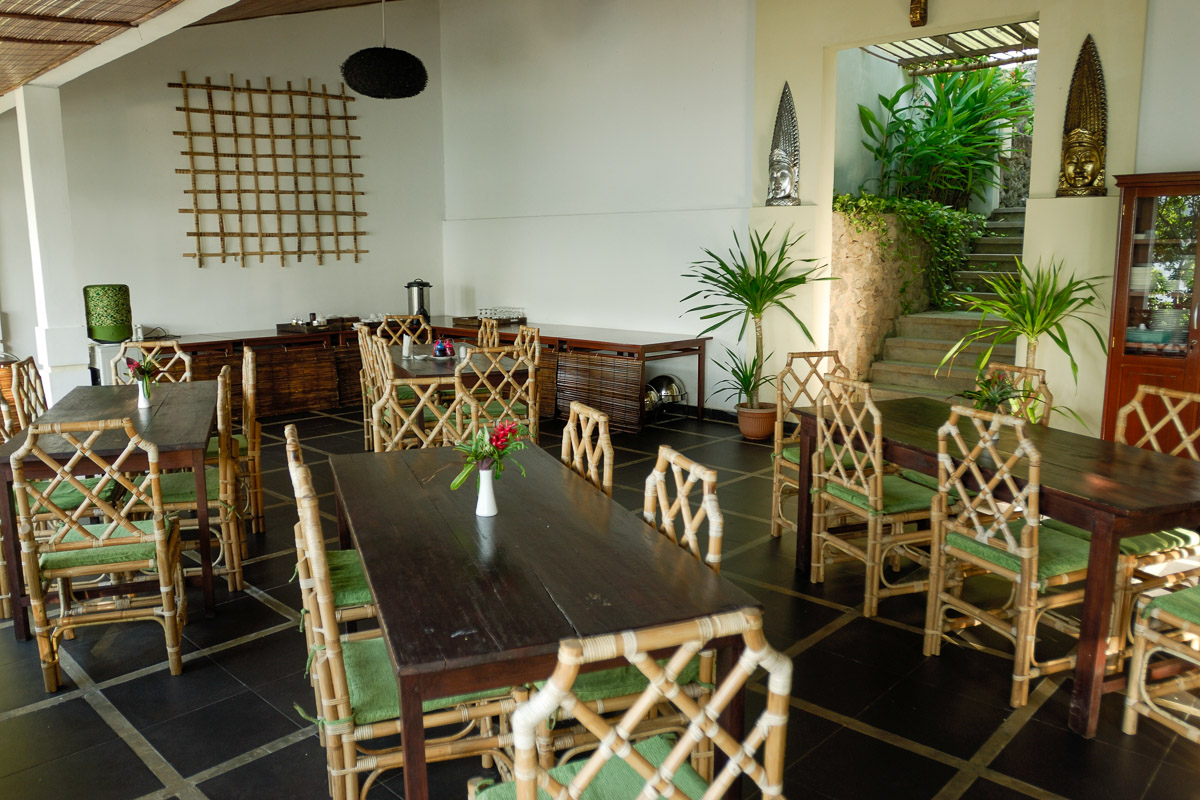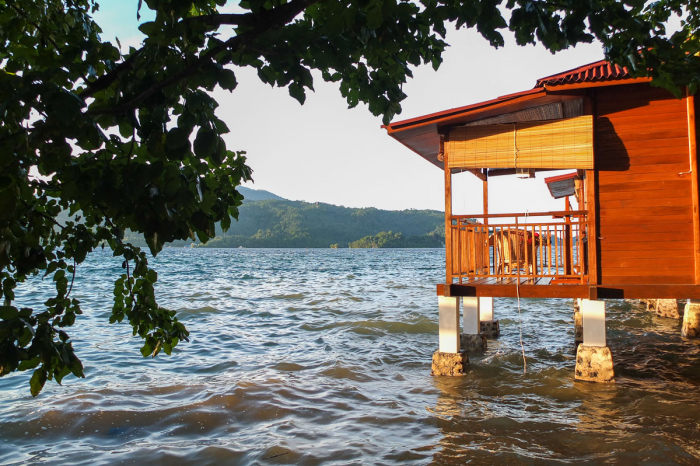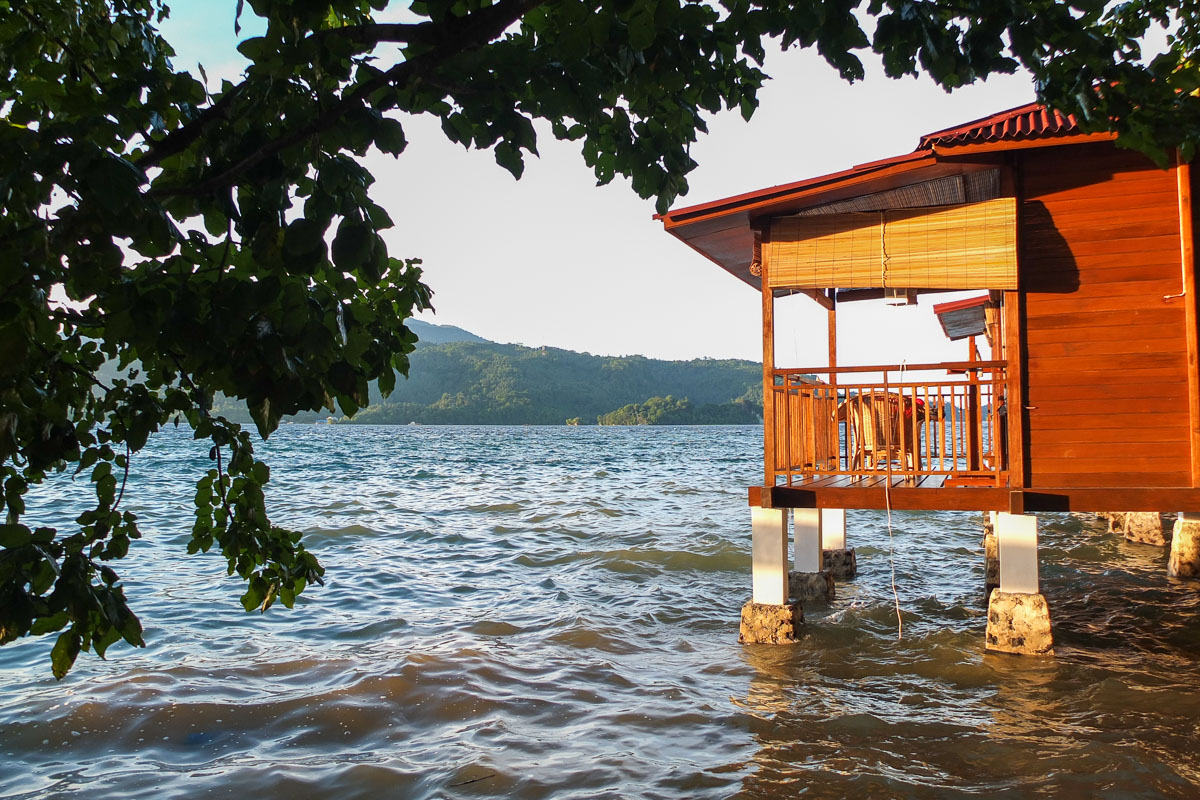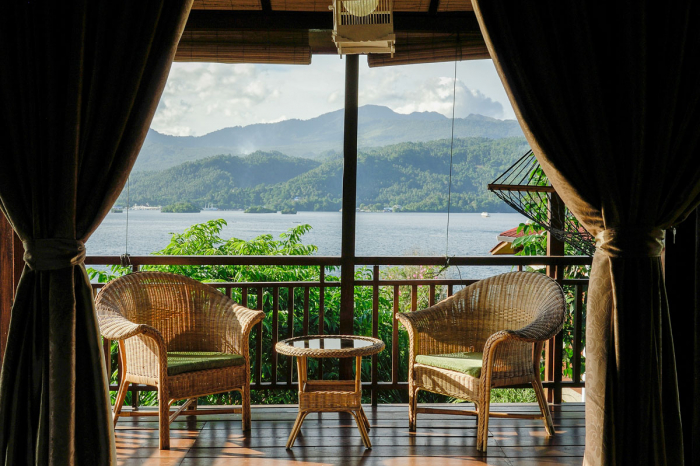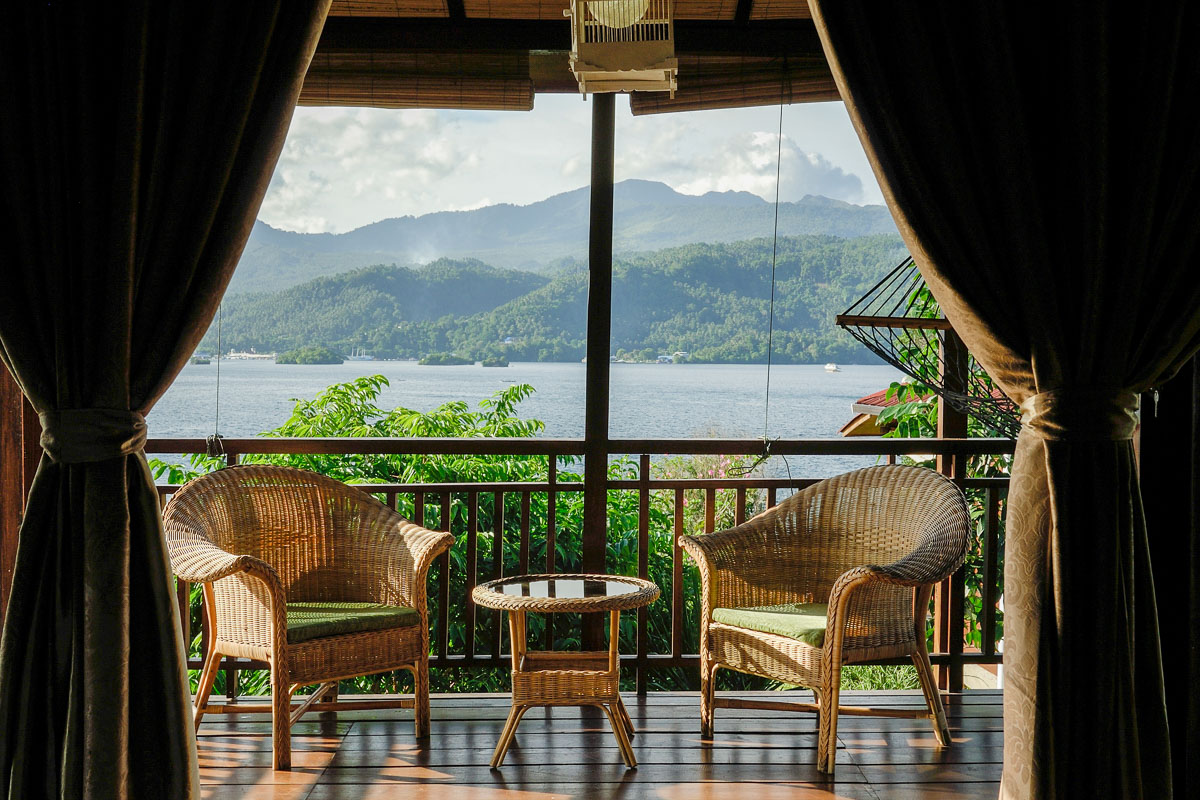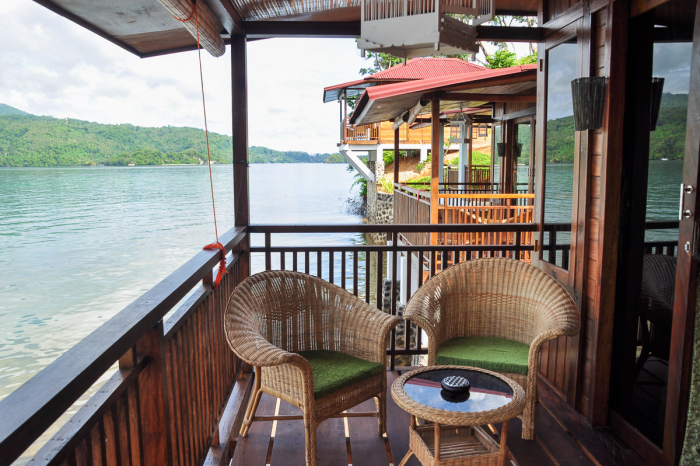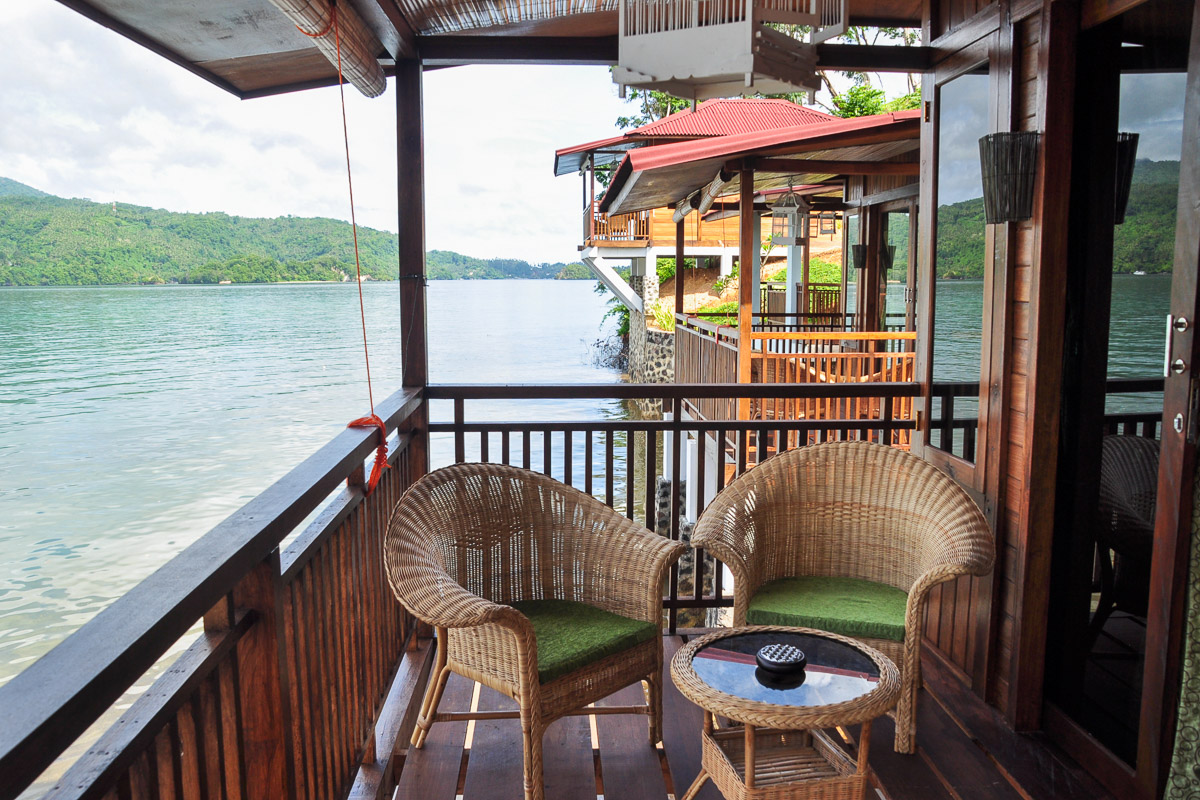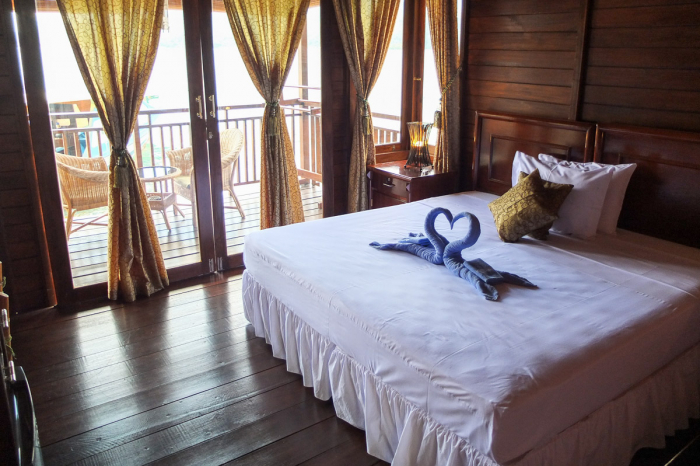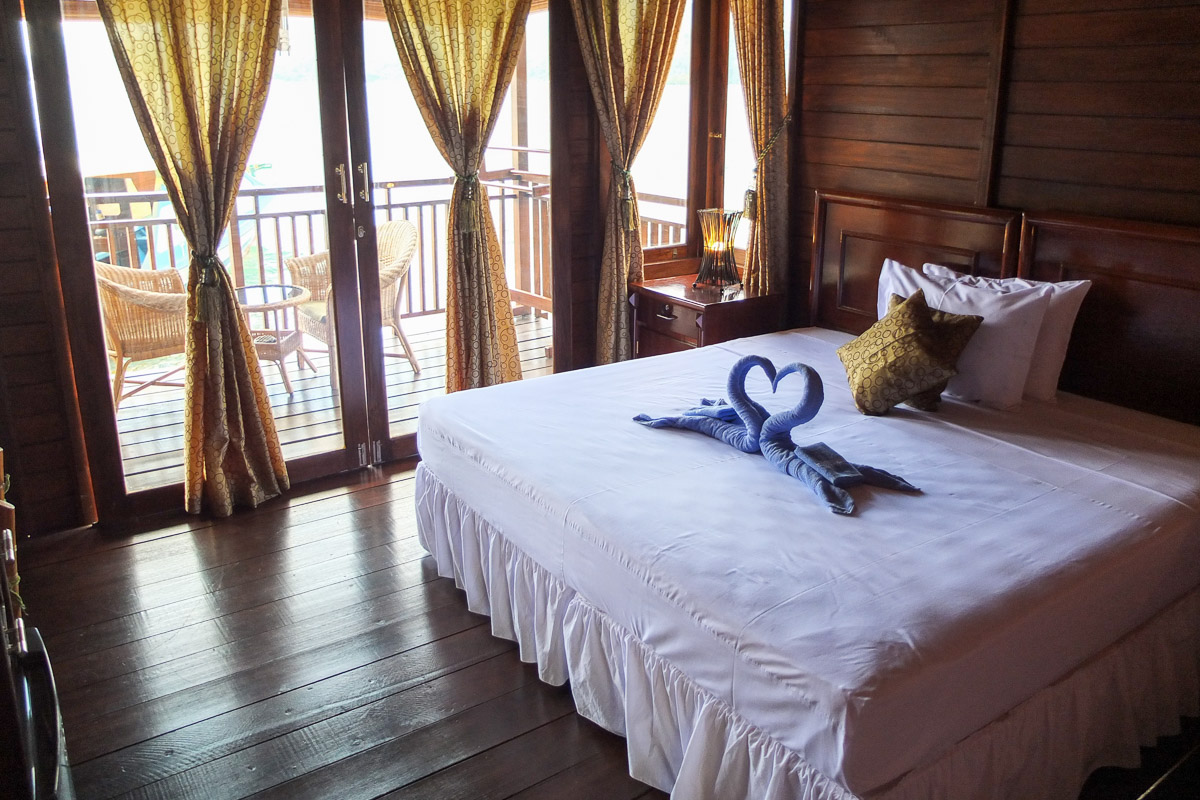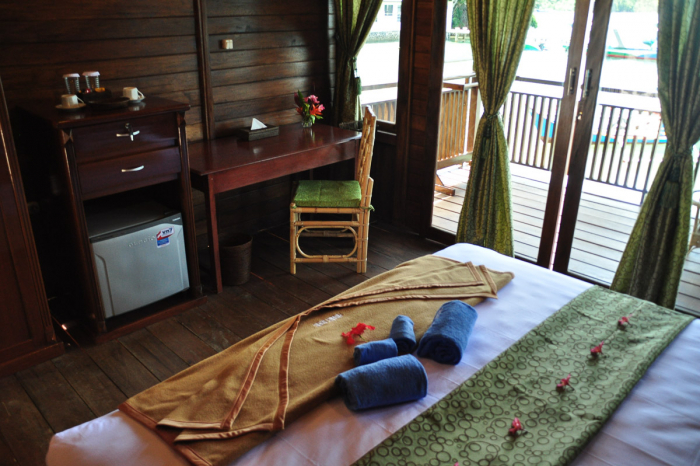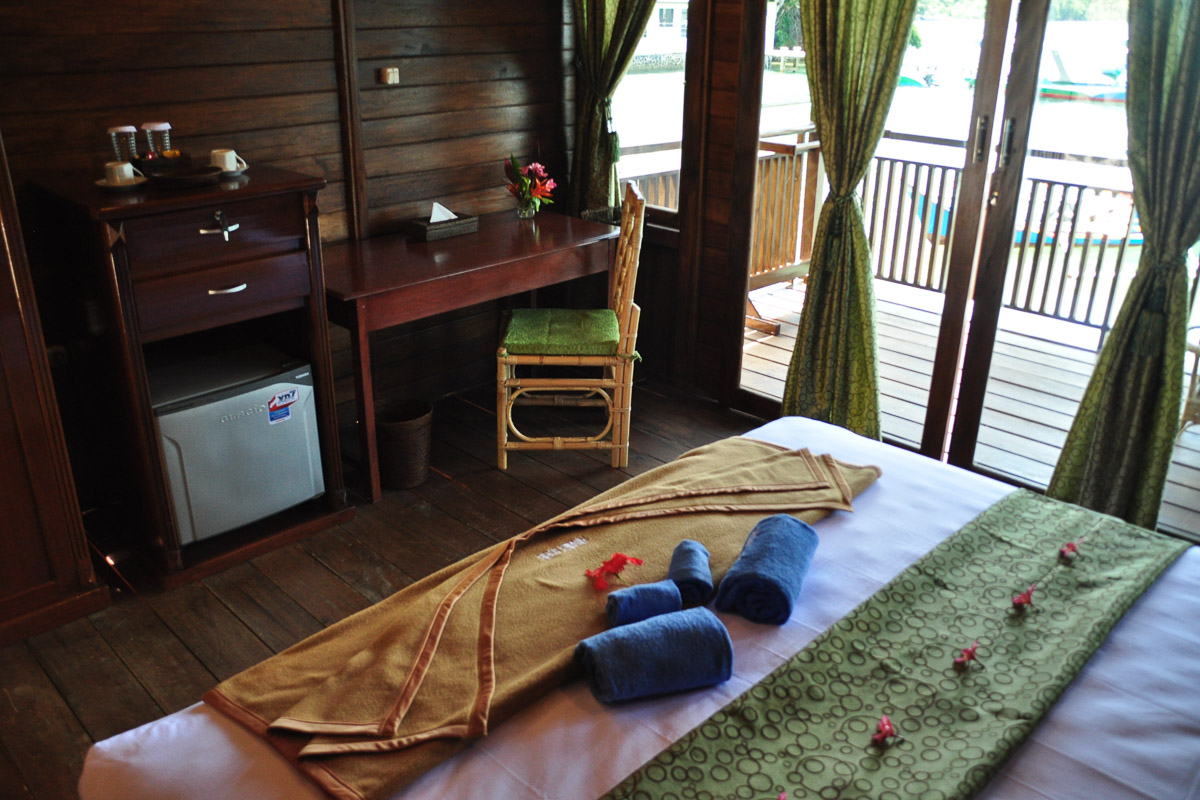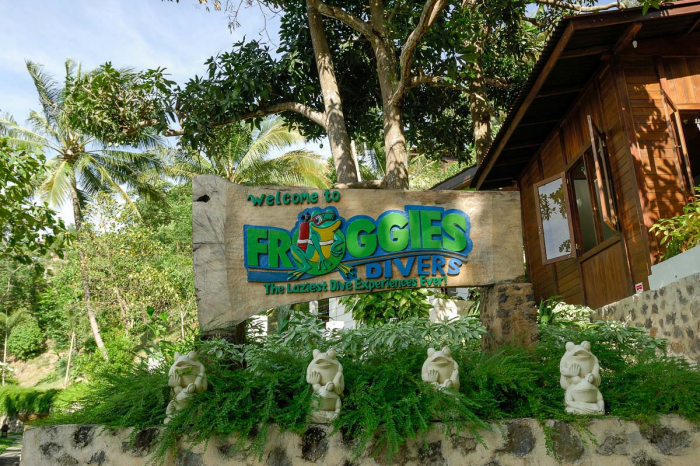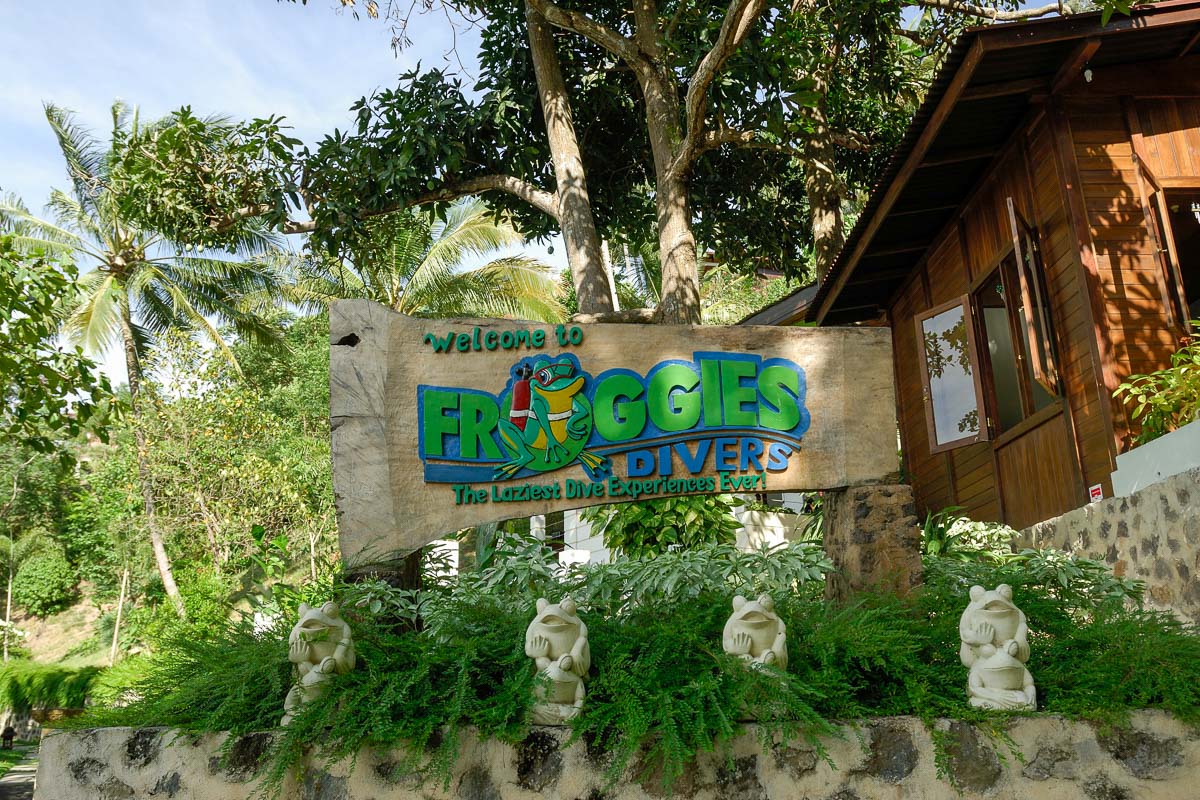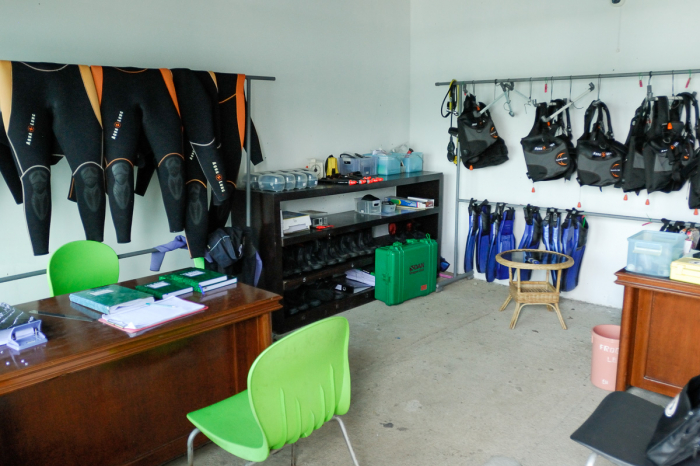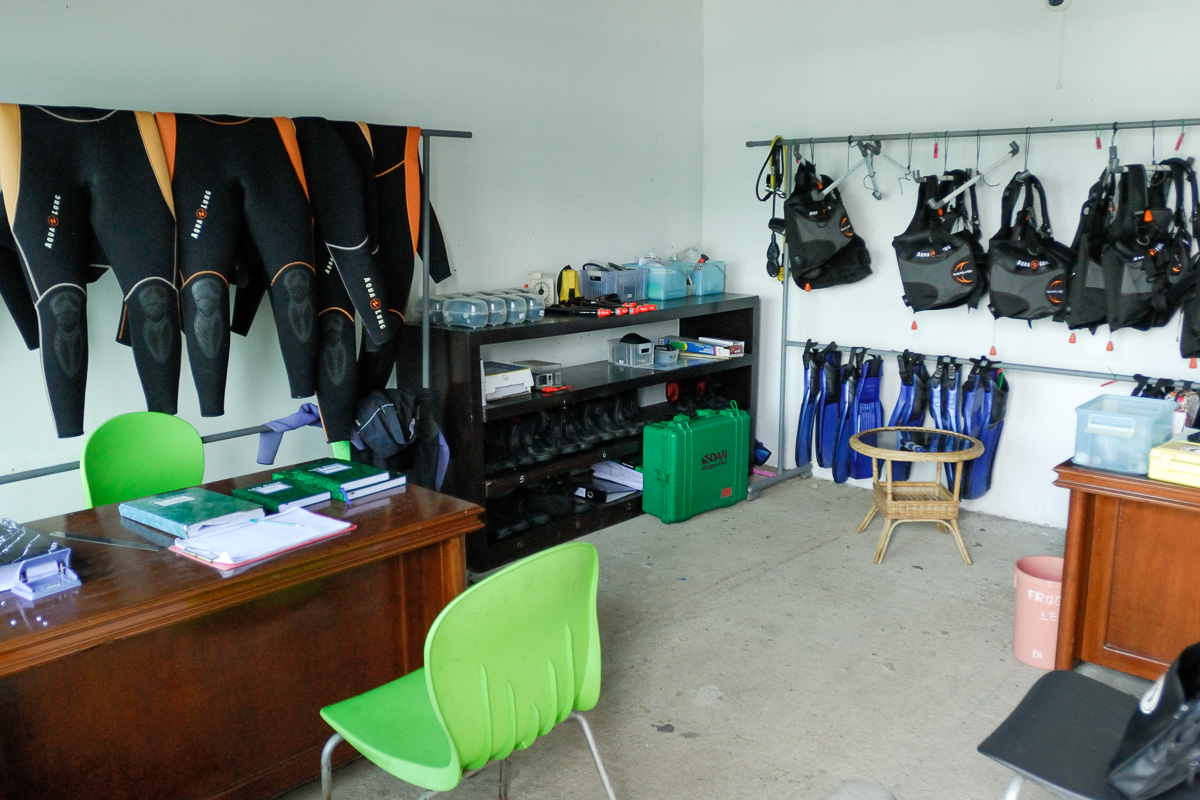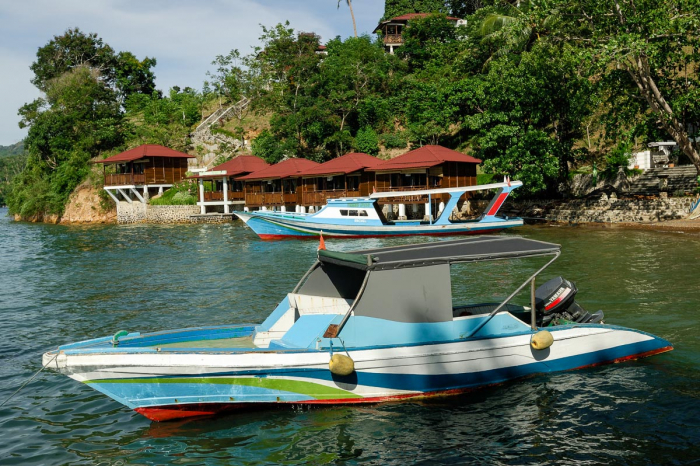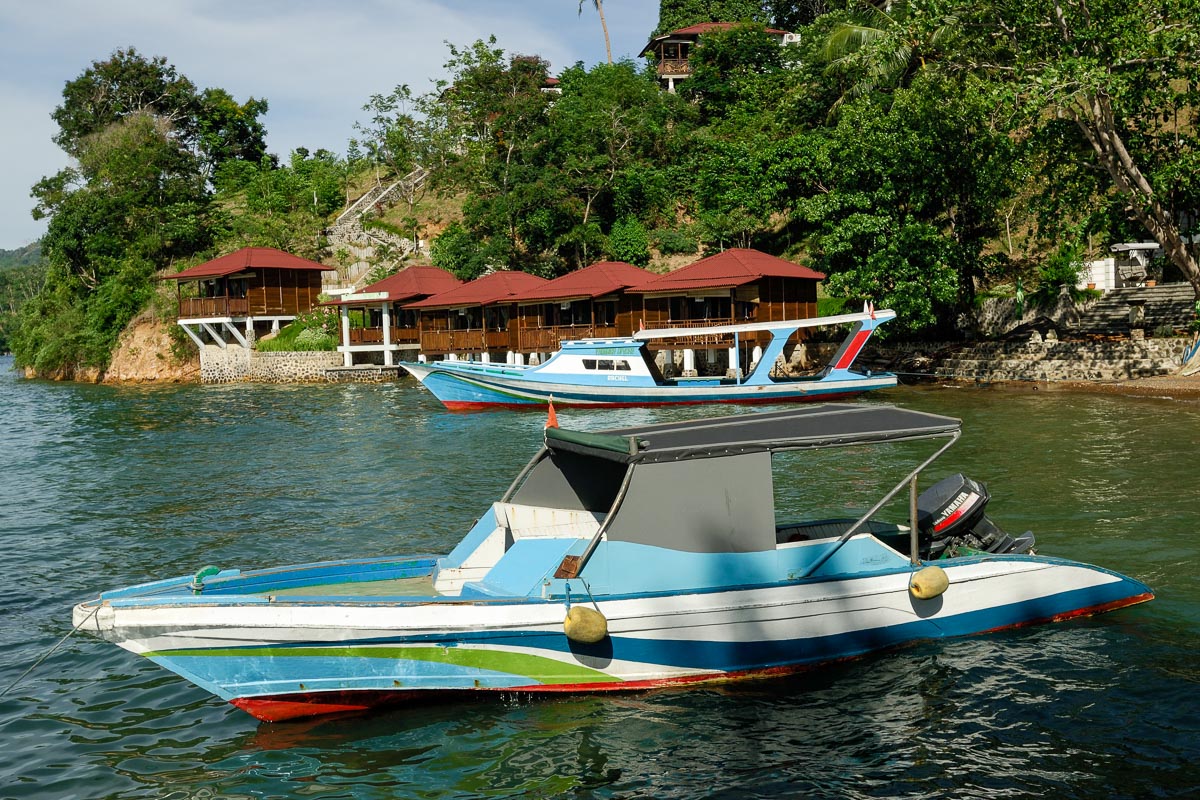 Overview
Long, slow, and relaxed dives with small groups and expert local spotters
Flexible dive packages and schedules ideal for visitors combining their time underwater with other holiday activities
Lovely rustic-chic waterfront and hillside guest accommodations with expansive views of Lembeh Strait
Modern facilities for photography equipment and personal scuba gear
Enjoy an eat, sleep, dive, repeat experience with four tanks a day in Indonesia's critter capital - plus delicious family-style meals, perfectly appointed guest rooms, and land-based excursions of all kinds. Bastianos Froggies Lembeh is a recent fusion of two of Lemebh's most iconic resorts, offering incredible macro-focused scuba diving with small group sizes, extended bottom times, and eagle-eyed local spotters. Plus, you'll also have access to state-of-the-art facilities for underwater camera equipment and personal dive gear. With just 20 bungalows, this resort feels more like a sleepaway camp for divers than a hotel, boasting a unique social atmosphere that is perfect for dedicated divers and macro fanatics.
---
---
Amenities
---
About
About Bastianos Froggies Lembeh
Bastianos Froggies Lembeh is the result of a recent merger between two of Lembeh's best-loved dive resorts, and has been in preparation for more than five years. Combining the two owners' extensive knowledge of the dive hospitality industry, Bastianos Froggies Lembeh is set to provide guests with an enhanced experience, both above and below the water. Operating out of what was previously Froggies Divers Lembeh, this relaxed, modestly-sized resort offers a tranquil escape into nature for up to 40 guests. The property occupies its own small, secluded bay with a black sand beach and mangrove-lined shore, backed by lush tropical jungle. 
Take the plunge four times a day amid the planet's very best muck diving, with boat rides between five and 30 minutes to world-renowned sites. When the day's diving is done, enjoy a warm family-style meal with your fellow divers, and a social night of clinking glasses and comparing the day's photography. Then, slip off to your perfectly-appointed rustic-chic bungalow for a spot of stargazing from your veranda and a comfortable night's sleep set to the sound of waves. The resort's team of local travel experts is happy to help you book tours and land-based excursions, transfers, and even joint stays with their partner resort, Froggies Bunaken.
Explore the resort
In the centre of the bay and adjacent to the office, Bastianos Froggies' restaurant invites guests to socialise with other visitors from around the world, sharing their common passion for diving. Each day's delicious meals are inspired by Indonesian cuisine, prepared with fresh local ingredients, and served with a lovely view over the small beach area, floating jetty and Bitung in the distance. Guests will also benefit from a brand new swimming pool, built in 2022. The resort's guest bungalows offer the perfect balance between traditional design and modern comfort, with everything you'll need to enjoy your stay in total privacy. 
Bastianos Froggies Lembeh provides 24/7 electricity, and free WiFi is available throughout the resort, ideal for guests who want to stay connected during their remote island holiday. A complimentary laundry service is also offered - making it easy to keep fresh and comfortable, even during an extended stay. The resort's friendly and energetic travel team is happy to plan land-based activities including tours of North Sulawesi, trekking, massage and spa services, and visits to local villages and temples. Plus, this resort can even organise transfers and onward travel, so all you'll have to do, is dive!
Diving from Bastianos Froggies Lembeh
Located on the water's edge, and complete with a floating jetty, Bastianos Froggies' dive centre provides an outstanding experience for divers of all skill levels - from beginner PADI courses to incredible underwater adventures in the world-famous Lembeh Strait. You'll enjoy short boat rides to the region's best sites, up to four tanks a day at a variety of macro hotspots, and incredible service from a passionate and professional dive team. These guys know how to work with photographers! You can expect nitrox, long bottom times, small groups split by experience level, and expert subject-spotting from local experts. 
Diving in Lembeh is all about the small stuff, and with a bit of extra attention, the environment comes to life with pint-sized creatures so strange you'll hardly believe your eyes. If you're already an experienced muck diver - it simply doesn't get any better. And if you're new to the world of macro - get ready to be hooked! Best of all, you can trust your scuba toys and photography equipment to this resort's expert staff, and you'll find all the modern facilities you need capturing that perfect shot - including a brand new camera room!
---
Top tips
Don't miss the dusk dives - known for cool sightings like mating mandarinfish! 
Bastianos Froggies welcomes guests of all ages, but its facilities are best for adventurous couples and dive groups.
There are no stores or banks here - be sure to pack all the essentials from home, and plenty of pocket cash.
Add a special trip to Bangka Island, Batu Kapal, or Jiko Yansi to diversify your underwater experience here.
---
Diving
Diving in Lembeh Strait
Exotic cuttlefish

Year round

Hairy Frogfish

Year round

Clown frogfish

Year round

Cryptic Scorpionfish

Year round

Ghost pipefish

Year round

Pygmy seahorse

Year round

Unique crabs & shrimps

Year round

Giant frogfish

Year round
Since its diving discovery in the early 1990s, the Lembeh Strait has found fame for its exhilarating muck diving. Simply put, there is nowhere else in the world where divers can find such a remarkable concentration of weird and wonderful critters. Lembeh's dive sites are home to hairy frogfish, flamboyant cuttlefish. Ambon scorpionfish, wonderpus and much, much more, all just minutes from your dive resort.