Scuba diving in
Rangiroa and Tikehau
Experience an authentic side of French Polynesia in the two remote atolls of Rangiroa and Tikehau and get ready to embark on exhilarating frontier dives alongside sharks and dolphins.
Highlights
Authentic and exhilarating experiences in the depths of the South Pacific
Witness great hammerheads feed in Rangiroa's Tiputa Pass
Uninhabited islands with pink beaches, blue lagoons and green coconut groves 
Dive with several shark species, pods of dolphins and much more
Far from French Polynesia's more famous islands, Rangiroa and Tikehau are a must for adventurous divers and travellers looking for a more authentic experience - contrasting a staggeringly wild setting with warm welcomes and relaxed islands. Deep within the irrepressible South Pacific, these two large atolls feel like isolated outposts on the edge of the world, surrounded by nothing but open ocean. But, the ocean is precisely what compels many to make this journey. Praised by Jacques Cousteau as some of the most beautiful and diverse waters in French Polynesia, Rangiroa and Tikehau are a scuba diver's dream-come-true. Expect manta rays in the lagoon, breathtaking bluewater dives, and dramatic drifts with sharks, including great hammerheads.
Diving in Rangiroa and Tikehau
Schooling reef fish

Year round

Plentiful reef life

Year round
These remote  atolls may take some effort to get to, but for adventurous divers, they are well worth the extra effort. Visitors get a front-row seat to some truly jaw-dropping experiences, including encounters with immense schools of fish, playful dolphin pods, and several shark species including grey, lemon, silky, nurse and tiger sharks, as well as great hammerheads.
Rangiroa
Rangiroa Atoll is made up of around 415 small islets and sandbars, with over 100 narrow passageways in between. Dive sites are scattered around these channels and are located both inside and outside the lagoon, offering a wide variety of experiences and levels of difficulty. Typically, diving is done on the ocean side of the reef during outgoing tides, with drifts into the lagoon performed when the tide is coming in. And, while there is no shore diving in Rangiroa, all the sites are accessible by a short five or ten-minute boat ride.
Avatoru Pass and Tiputa Pass
Many of Rangiroa's most famous dive sites are found in the north of the atoll, clustered around the two main channels lying either side of the Avatoru Island. The western channel is home to the Avatoru Pass drift dive which is renowned for reef shark encounters, but for many, the eastern channel is where the real action is. Known as Tiputa Pass, this site is only suitable for advanced divers and offers some of the atoll's most iconic underwater experiences. Expect thrilling drifts with plenty of bigger species, including schools of jacks, surgeonfish and barracuda, occasional leopard rays, mantas and dolphins, and resident whitetip and grey reef sharks.
But that's not all. Between the months of January and March, one of Rangiroa's most impressive displays occurs right here in Tiputa Pass, as great hammerheads gather to feed on squadrons of eagle rays. At this time, divers often report encounters with multiple hammerheads at the entrance to the channel - a true sight to behold.
Tikehau
Although dive sites are limited, Tikehau has a range of experiences on offer with options for all experience levels. Turtle Refuge is a relatively shallow site with a high concentration of marine life, while inside the lagoon, a dive site known as The Pearl Farm features an established manta cleaning station at a depth of less than 15 metres. Here, experienced and beginner divers alike can enjoy the magic of watching as multiple large manta rays sail above the coral. More advanced divers can explore the likes of Hina's Bell, where tuna and marlin lurk at depth, as well as Trou Aux Requins, or Shark Hole - a vertical cave in the reef between 20 and 50-metres deep where schools of grey reef sharks hide.
Tuheiva Pass
Tikehau has one real channel between its lagoon and the open ocean, known as Tuheiva Pass, and much like Rangiroa, many of the dive sites are found in close proximity. Because of its shallow depth and moderate current, Tuheiva Pass is a popular drift dive that can throw up plenty of exceptional encounters. The schools of fish are so dense here they often block out the light from above, while grey reef sharks and leopard rays emerge from the shadows below and the occasional tiger shark or hammerhead cruises past in the blue.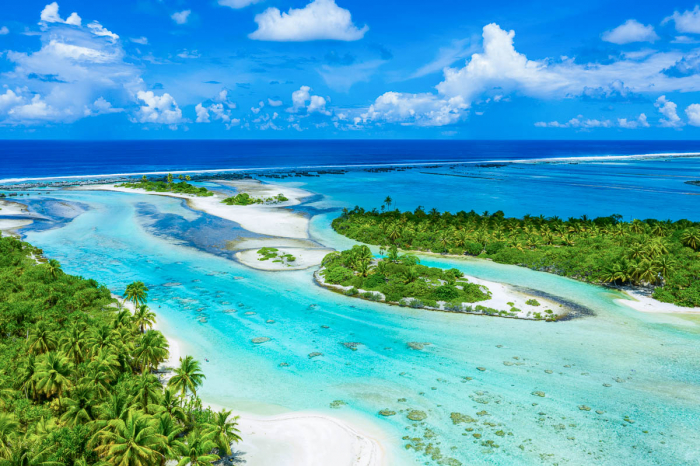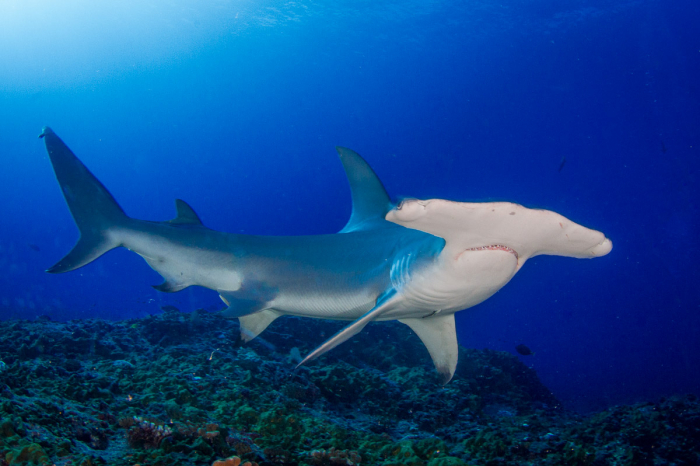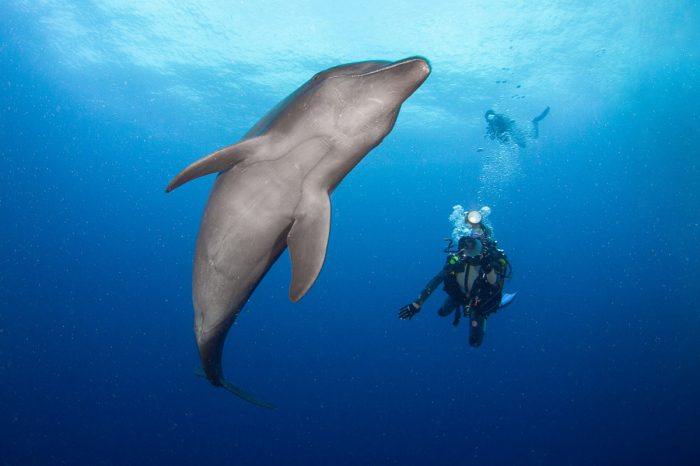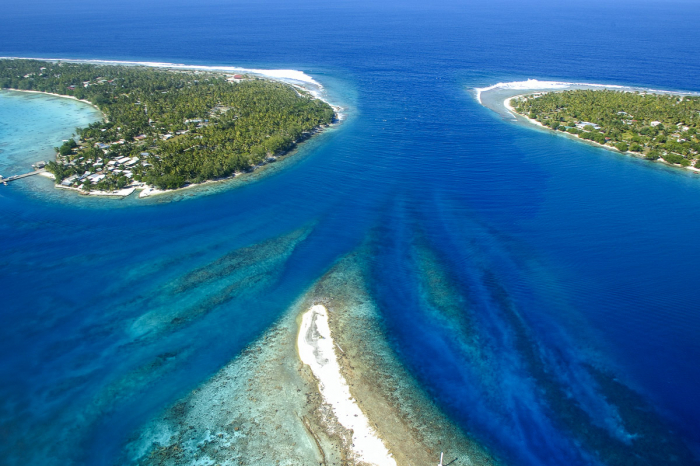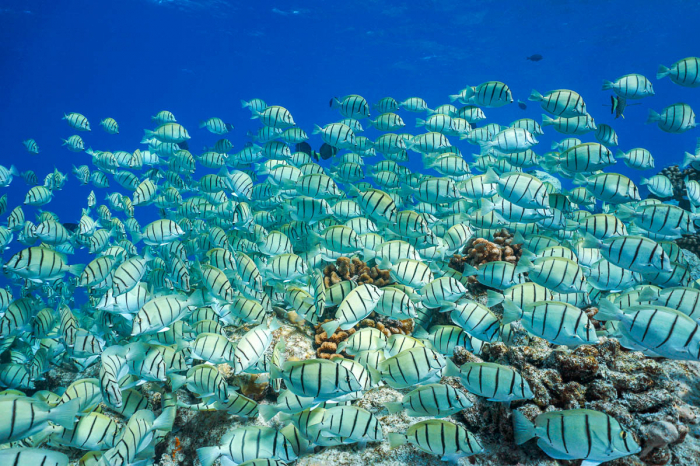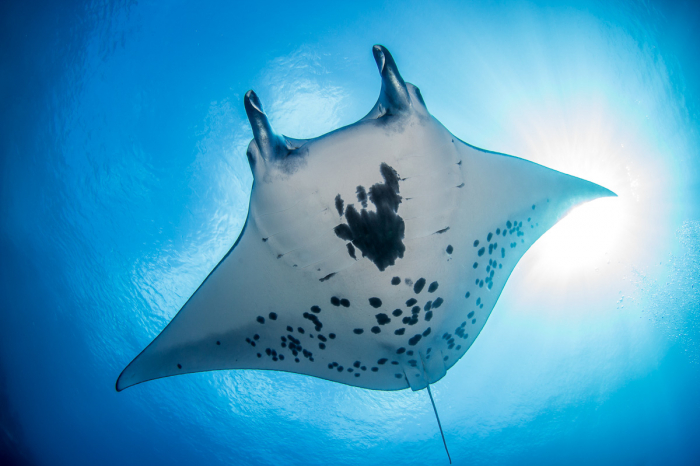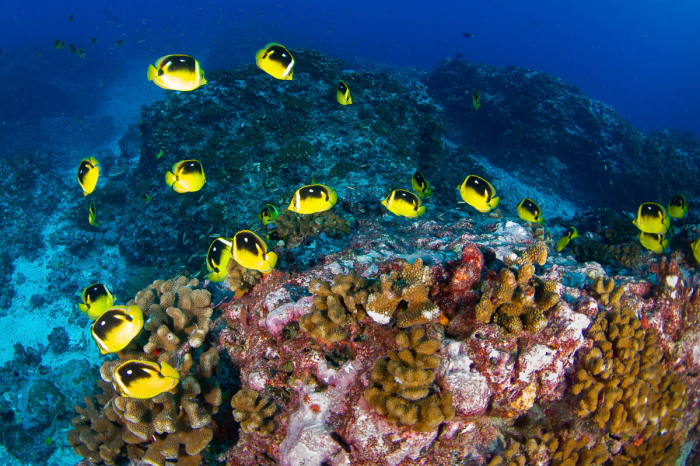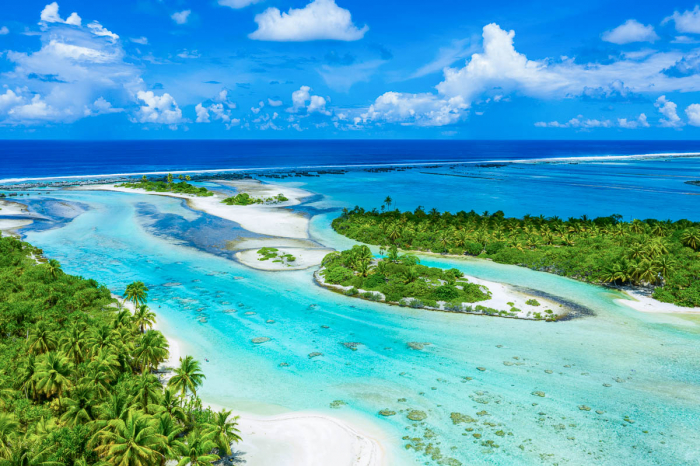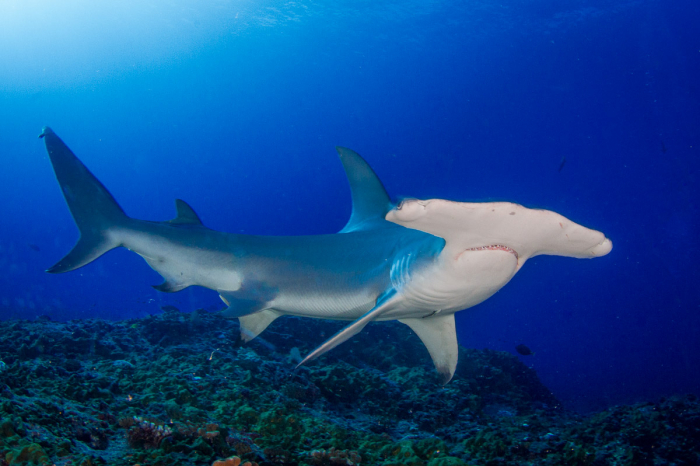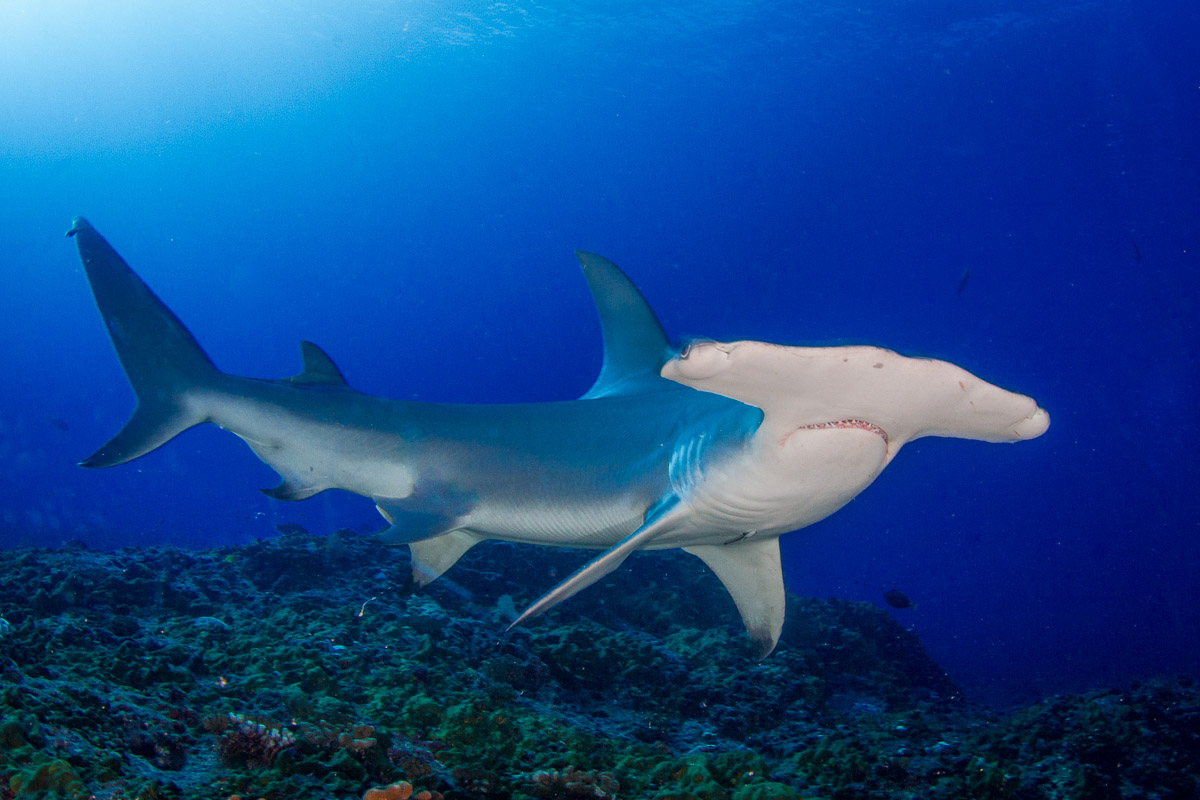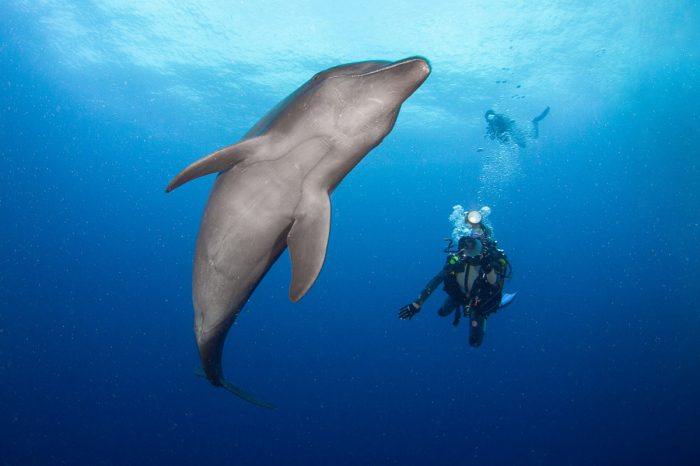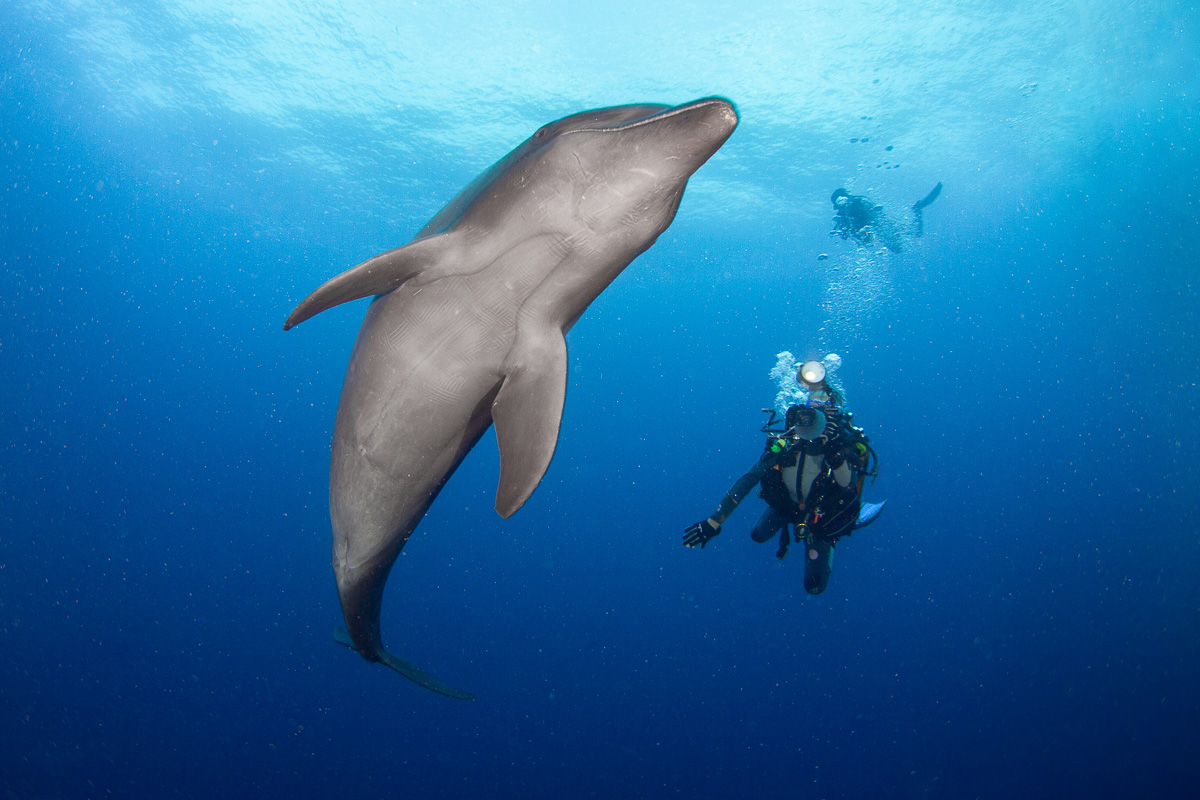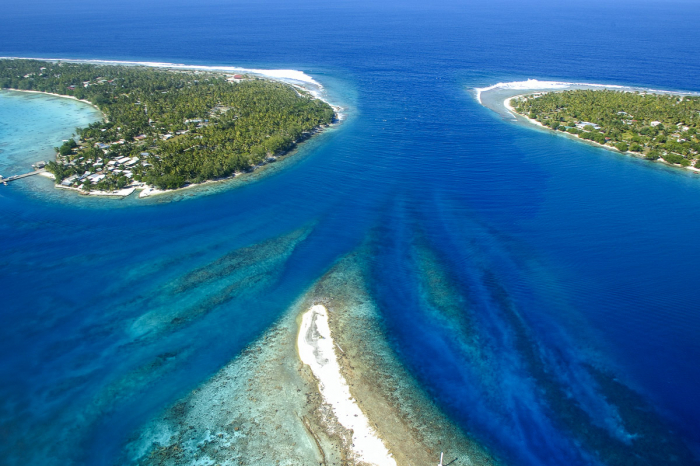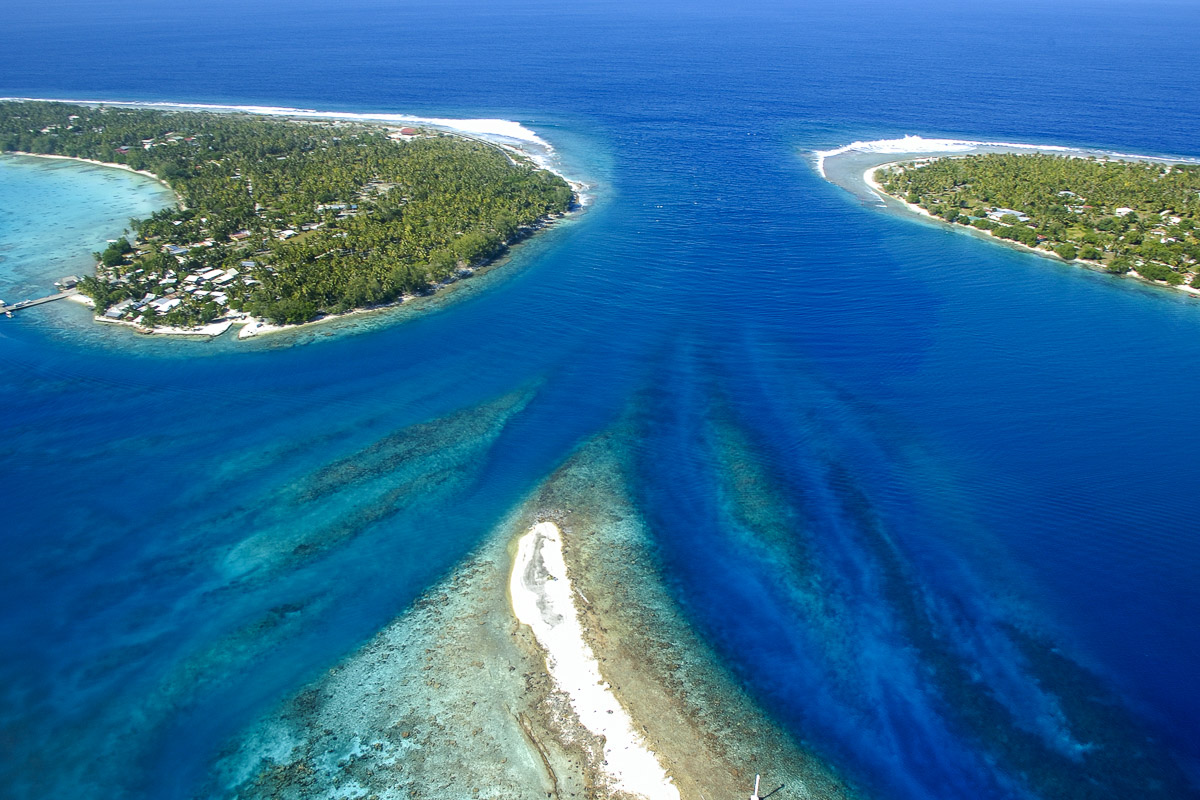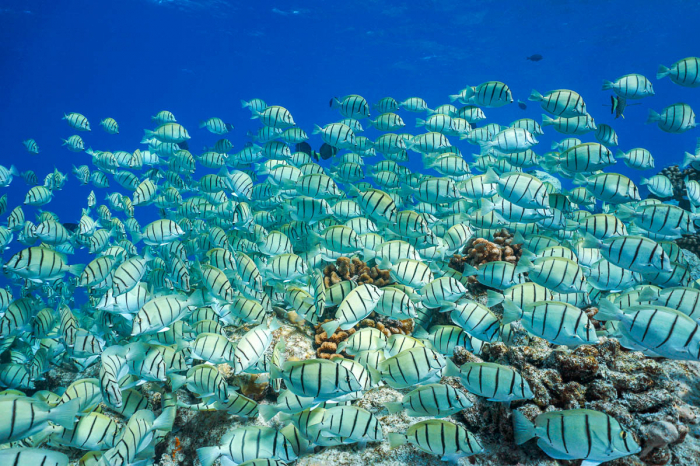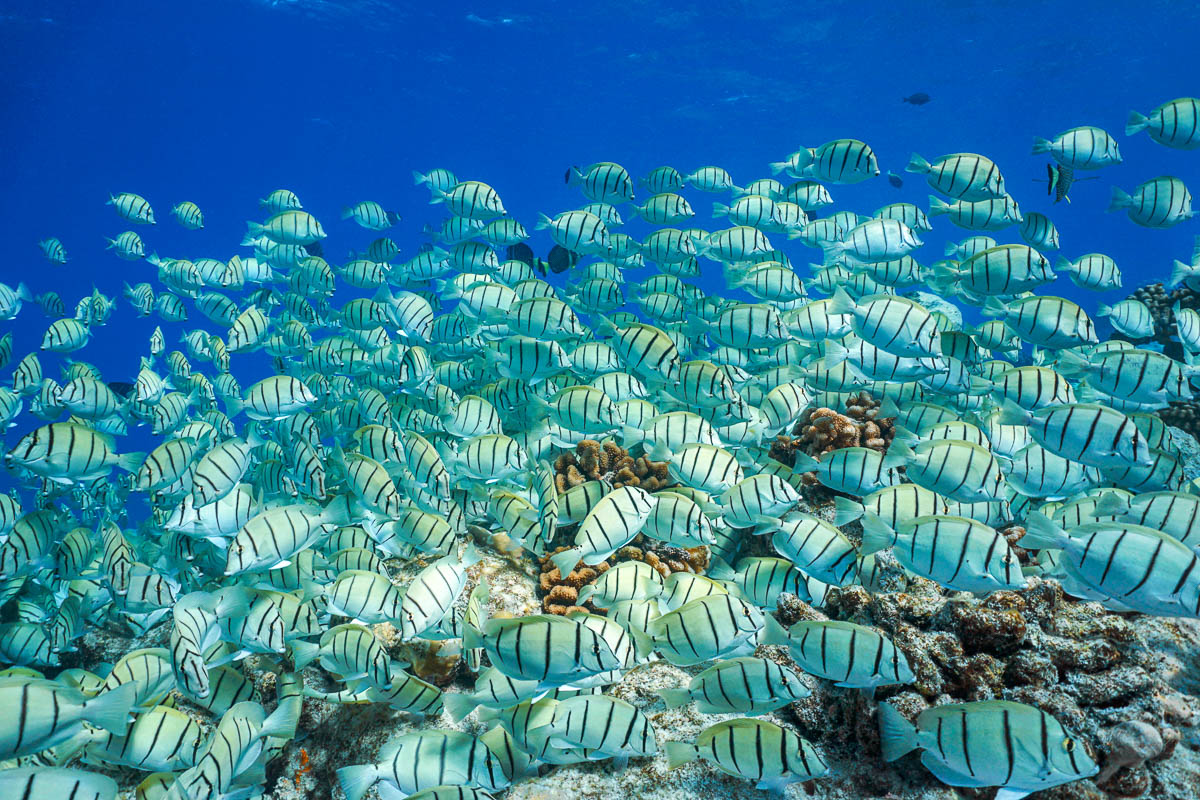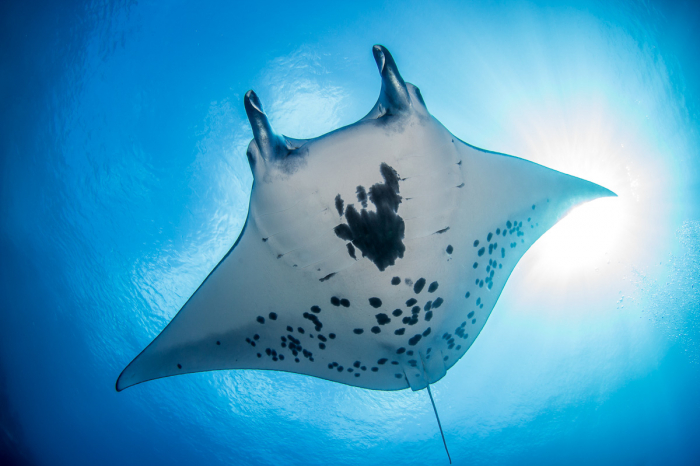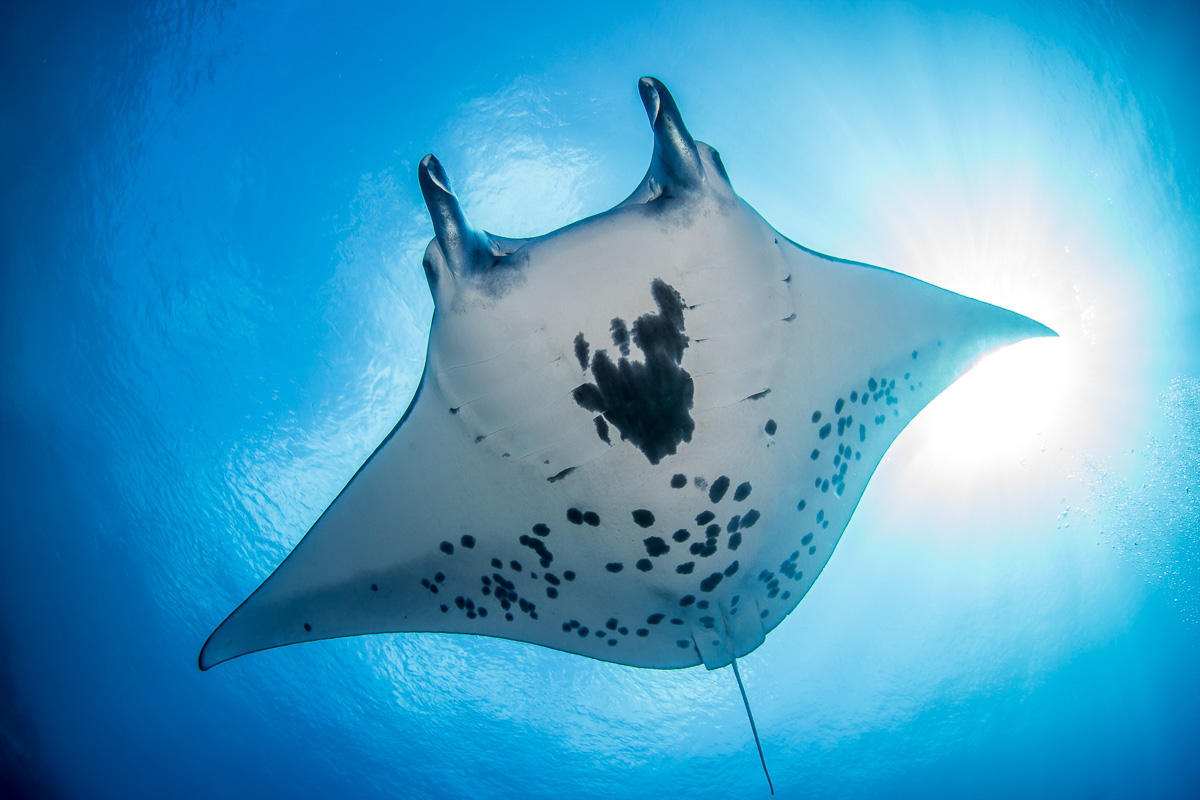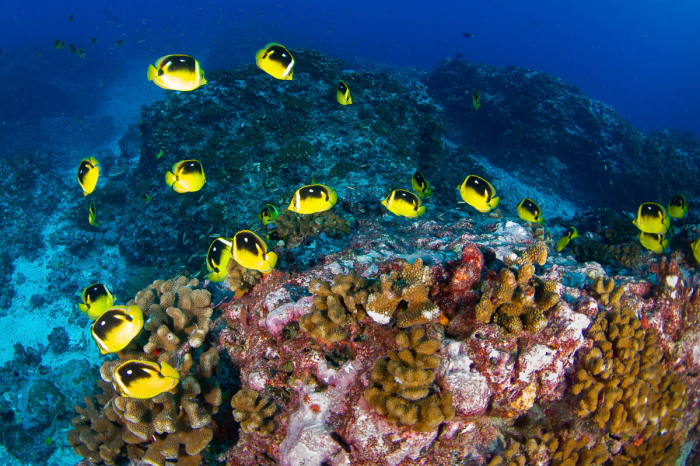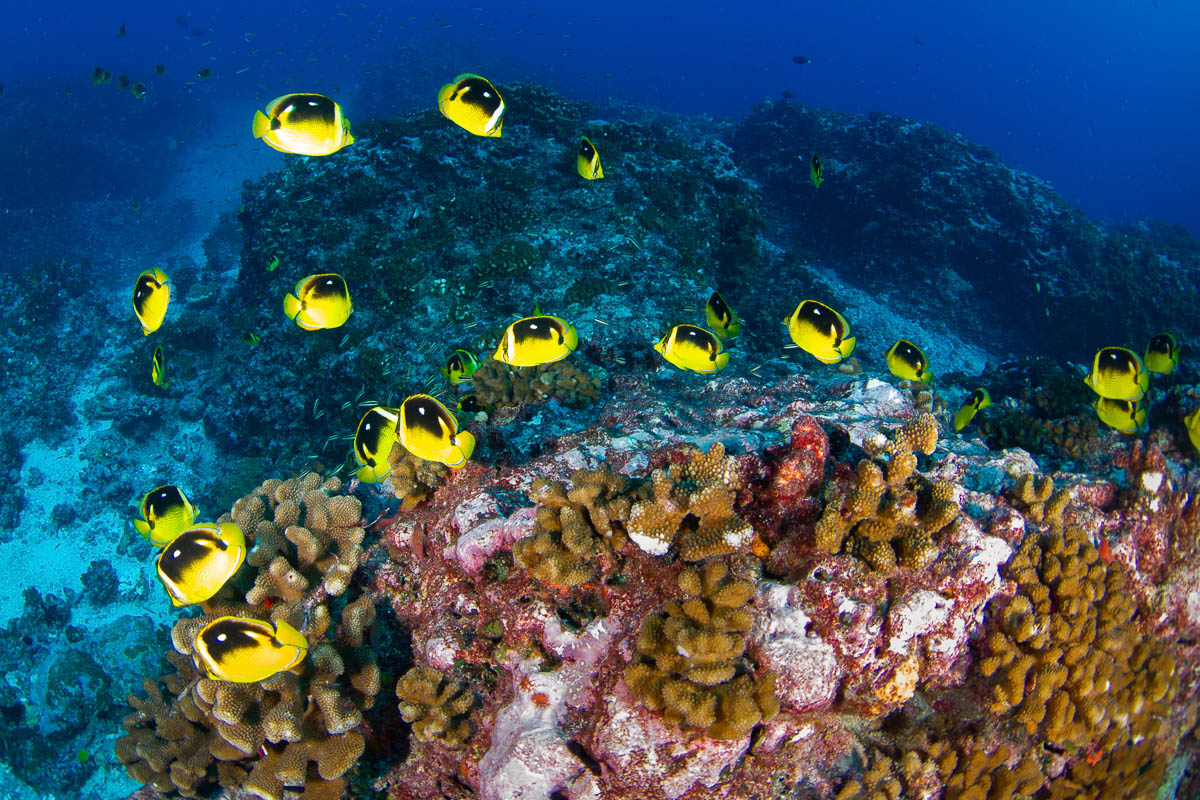 Diving Environment
Type
Drift, channel, shark encounters
Top tips

In the absence of groundwater, and without facilities to purify their own, the most humble guesthouses will often use seawater in the showers.
Rangiroa hosts the Farerei Haga festival every September, featuring traditional performances such as dances and coconut weaving.
There are no banks or ATMs on Tikehau Atoll, so remember to bring plenty of cash.
About Rangiroa and Tikehau Atolls
Rangiroa is situated in the Tuamotu Archipelago, more than 350-kilometres northeast of Tahiti, and is the larger and more touristy of these two destinations. Meaning 'vast sky' in Tuamotuan, Rangiroa is one of the largest atolls in the world, measuring some 82-kilometres long and 32-kilometres wide. The vast inner lagoon is like an inland sea, protected by 200-kilometres of barrier reef and hundreds of islets decorated with palm trees and pink and white sand beaches, only two of which are inhabited. In the north, the towns of Avatoru and Tiputa congregate around their respective churches, embodying the destination's laid-back atmosphere and enduring faith - traits that are synonymous with the pristine wilderness of the Pacific Ocean.
Just a few clicks west, the slightly smaller and rather unassuming atoll of Tikehau provides some of the most authentic experiences in the region. Meaning "peaceful landing" in the local dialect, Tikehau is surrounded by countless small islets that barely rise more than a few inches above the ocean and dazzle visitors with charming coconut groves and picturesque pink sand beaches. But the real beauty of this place is the slow and steady pace of traditional life, as locals go about their duties of fishing, palm-leaf weaving, and copra and monoi oil production. Incredibly, only around 500 people call this remote outpost home, creating a sense of pride and appreciation among the locals that only helps to elevate Tikehau's captivating charm.
Getting there
Rangiroa's airport is serviced by direct flights from Tahiti and Bora Bora, each taking roughly an hour, with one-stop flights also scheduled, often touching down in Tikehau en route. Once on the island, you'll find a handful of car rental operators at the airport, though prices tend to be high. Some resorts offer car hire by the hour, providing a more cost-effective way to tour the 10-kilometre island of Avatoru. Most attractions and tours will offer pick-up services from your accommodation, otherwise taxis are easy to arrange. Most resorts and pensions have bicycles available to borrow or rent and, as the islands are entirely flat, this makes for a very pleasant way to get around.
Like Rangiroa, Tikehau is also serviced by frequent direct and one-stop flights from Tahiti, taking around an hour. 20-minute direct flights also operate between Tikehau and Rangiroa. From the airport, your guesthouse or resort will collect you either by car or boat, depending on your final destination. With just a few kilometres of roads, the easiest way to get around the main village of Tuherahera is by hiring a scooter or bicycle, but walking is an option too. Resort islands typically offer boat transfers to and from the main town, either included in the price or at an additional cost, and kayaks can be easily rented to help visitors explore the lagoon.
Where to stay
With a convenient airport and a port large enough to receive cruise ships, Rangiroa is geared towards tourism, but space is still limited and accommodation can book up in advance. The majority of Rangiroa's accommodation is found on the eastern side of the main island, though a few options can also be found in the main town of Avatoru to the west, as well as a few secluded spots on other islands - including in the far south of the atoll.
Aside from budget - which will likely dictate whether you opt for a locally-run pension or a top-end resort  - the most important factor when considering your accommodation is orientation. On the lagoon side you can expect calm, crystalline waters and top-notch snorkelling just steps from the beach, while the ocean side is wilder, with crashing waves to lull you to sleep. During their stay in Rangiroa, guests can visit pink sand beaches, Pinctada margaritifera pearl farms, and the only vineyard in French Polynesia - as well as a stunning cyan-coloured pool cradled by sand bars and coconut trees, creating a dream-like lagoon within a lagoon.
Although sparsely populated, Tikehau Atoll is home to a surprising choice of accommodation. A handful of guesthouses, known as pensions, can be found on the main island, within easy reach of the airport and shops, and can make for a more authentic experience. Or visitors can opt for one of several exclusive private island resorts which, while not quite on par with the splendour of Bora Bora, are still suitably luxurious. 
The island itself offers some of the most breathtaking beaches in the archipelago while the charming town of Tuherahera is decorated with hibiscus and bougainvillaea flowers - making it a lovely place to explore. Tikehau is also an ideal spot for bird-watching enthusiasts, with a small islet in the lagoon hosting red-footed boobies, crested terns, and blue noddis, as well as the long-billed rufous warbler, the Tuamotu woodpecker, and the rare barnacle lori.
Diving seasons and weather
While many consider the best time to visit the months are from August to October, Rangiroa and Tikehau have a warm tropical climate that is perfect for diving throughout the year. That said, there are two distinct seasons visitors should be aware of before booking a trip. The dry season runs from May to October and sees air and water temperatures between 25-27°C. Between June and August, the southeasterly wind, known as maramu, can create rougher seas and make diving a fraction more difficult.
During the rainy season, which lasts from November to April, temperatures rise to around 28-30°C on land and in the water. Due to the lack of mountains, clouds rarely gather above these low-lying islands, meaning you see less rain here than elsewhere in French Polynesia. The odd cyclone has been known to pass through the region at this time.
For divers, one of the main considerations is what marine life you're hoping to see. Manta rays can be seen year-round, though the highest numbers and best chances align with the whale season from August through October. And, for advanced and adventurous divers, the rainy season in Rangiroa offers something spectacular, as great hammerheads gather to feed on eagle rays between January and March.
---
Other popular destinations