Did you know that the world's largest and most effective wild shark monitoring programme – The Wildbook for Whale Sharks - was started with space-age technology created for NASA?
Popular science outlet Phys.org recently reported on how this breakthrough in whale shark research came about. Led by Dr Brad Norman, a team of researchers was able to use identification technology adapted from NASA's Hubble Telescope to accurately differentiate different whale sharks based on their markings. Simply put, each shark has unique markings, and this technology, once used to map the stars, can also be used to chart their spots! 

Whale sharks have cruised the oceans for millions of years. But, today, their future is uncertain as this extraordinary species is teetering close to extinction - and accurate identification and tracking could play a vital role in its preservation. This research could also provide valuable information on whale shark breeding, lifecycles, and migrations - much of which remains a mystery.
"Each whale shark has distinctive markings—the lines and spots on their skin are like a fingerprint—with no two whale sharks the same."

- Dr. Brad Norman, Researcher of the Harry Butler Institute
By photographing the same reference point on each shark, scientists can make a detailed comparison between individuals. However, for this strategy to succeed, the researchers need hundreds, if not thousands, of pictures. That's where citizen science comes in!
Joined by software guru Jason Holmberg and NASA astrophysicist Zaven Arzoumanian, Dr Norman was able to develop a user-friendly database allowing anyone, anywhere to upload their own images of whale sharks. Today, the programme has identified more than 11,000 individual whale sharks in over 50 countries around the world.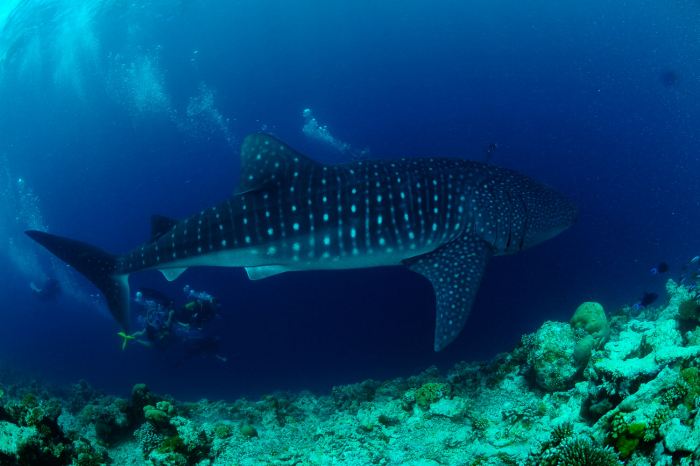 As part of the programme, Dr Norman and his team of marine researchers have also employed a simple and low-impact tagging system. This new study uses small satellite tags, attached to a whale shark's dorsal fin, to monitor where in the world the tagged shark is at any given time.

To further incorporate the public into their work, Dr Norman's team has now joined forces with the whale shark not-for-profit organization ECOCEAN Inc. Together, they have begun inviting schools to sponsor their own whale shark tag, in an effort to combine conservation research with promoting the importance of science, technology, engineering and maths (STEM) in schools. 
Combining citizen science with funded research has done more than provide data for scientists. This new approach has also been instrumental in raising awareness of whale sharks' endangered status. It also allows the public to participate in conservation monitoring, and encourages greater care for the environment. This offers a bright hope for the future, according to Dr Norman, who was quoted as saying "Community stewardship is so important to maintain the health of our environment. And if you do get the chance, go swimming with a gentle giant."
---
---
Join the ZuBlu community to receive the latest insights and unmissable adventures
Don't worry, we'll only send you really good stuff - and we never share your details
---