As originally reported by Intrado earlier this year, scientists noticed a new example of migratory movements between the Galapagos Marine Reserve and Cocos Island National Park, supporting a push for increased conservation of migratory marine species.
The discovery was made during a research trip - supported by philanthropist and ocean advocate, Dona Bertarelli - and incorporated into a film calling for the creation of the world's first multinational network of marine protected areas. Viewers were encouraged to sign a petition which asked the governments of Ecuador, Costa Rica, Colombia, and Panama to consider the proposal.
During the trip, which took place in February, the team encountered a female tiger shark at Cocos Island. As it turned out, the shark had been tagged some seven years before in the Galapagos Islands, on a separate research expedition led by non-profit organisation OCEARCH along with MigraMar, Galapagos National Park Directorate and Charles Darwin Foundation scientists. 
This tiger shark marks the sixth highly migratory species shown to use the Cocos–Galapagos Swimway. We urge the governments of Costa Rica and Ecuador to make history by creating the first bi-lateral marine protected area connecting two UNESCO World Heritage Sites.

- Todd Steiner, executive director of Turtle Island Restoration and Cocos-Galapagos Hope Spot Champion 2021
Incredibly, this is the first evidence of a tiger shark migrating between the two marine protected areas, placing it on the ever-growing list of other species known to use this marine superhighway - known as the Cocos-Galapagos Swimway. Other species already on the list include green and leatherback turtles, as well as hammerhead, silky, Galapagos, and whale sharks.
Many endangered marine species are migratory, and become vulnerable to fishing gear as soon as they cross outside the marine reserve. In this case, many of the movements appear to follow the underwater chain of seamounts that link the two reserves – we call it a swimway.

- Dr. Alex Hearn of MigraMar and Universidad San Francisco de Quito-Galapagos Science Center 2021
Both Ecuador and Costa Rica are currently exploring ways to increase protection around their respective parks, and thankfully, the Cocos-Galapagos Swimway, which was declared a Mission Blue Hope Spot in 2020, forms a central part of these investigations.

"OCEARCH/MigraMar tiger shark tracking data was used to define the boundary of the Revillagigedo Marine Reserve, the largest marine park in North America, off the Pacific Coast of Mexico. We hope Ecuador and Costa Rica leverage this information as effectively as Mexico. It's not logical to protect these animals around the Galapagos and Cocos islands and leave them vulnerable as they travel between islands," stated Chris Fischer, OCEARCH Founder and Expedition Leader.
---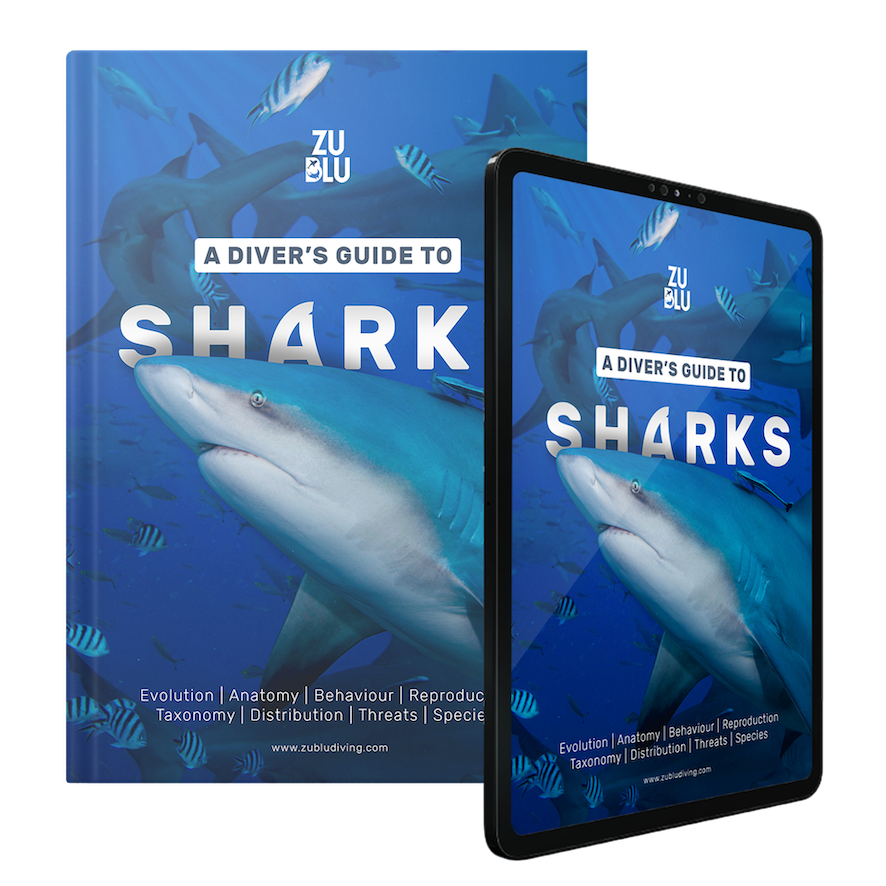 Everything you need to know about these wonderful creatures in a FREE 50 page guide. Read online or download today!
---
---
Join the ZuBlu community to receive the latest insights and unmissable adventures
Don't worry, we'll only send you really good stuff - and we never share your details
---