Promoted as an example of 'best practice' ecotourism by the Sustainable Development Goals Help Desk, Misool Marine Reserve is unlike any other protected marine area on the planet. This unique wildlife reserve isn't managed by the government, but instead by a private tourism operator, Misool Eco Resort, and its nonprofit sister organisation, Misool Foundation.

The park itself protects a complex and highly biodiverse coral reef system in the remote waters of southern Raja Ampat, Indonesia. Considered one of the planet's most dynamic scuba diving destinations, Raja Ampat is an epicentre of marine biodiversity, with 1,500 species of fish and 600 different types of hard and soft coral.

Island dedicated to sustainable tourism
Misool Eco Resort is a private island resort with a focus on sustainability. And, rather than keeping and collecting their profits, the owners use revenue from their eco-tourism efforts to fund the reserve. The resort's founders, Marit and Andrew Miners, started the project back in 2005 - by forging a powerful partnership with local landowners and communities. Today, the park's protection is stronger than ever, with a highly dedicated local team patrolling its waters and ensuring the security of this fragile ecosystem.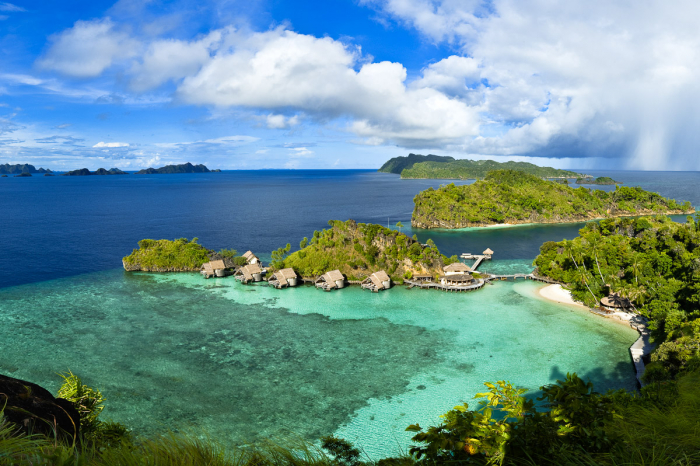 Once the site of a former shark finning camp, Misool Resort is now a haven for marine wildlife of all shapes and sizes. This success story demonstrates the vital role that the private sector can play in protecting and regenerating natural areas from environmental impacts and destructive practices. 
At almost twice the size of Singapore, this sprawling reserve covers 300,000 acres of sea, including a chain of small uninhabited islands covered in dense forest. The park is divided into two No-Take Zones (NTZs) - Daram and Batbitim. These areas are linked by a blue-water corridor, which is a government-mandated Marine Protected Area zoned exclusively for traditional use. This includes fishing with a hand line and other sustainable practices. 
In addition to coral reef ecosystems, the Misool Marine Reserve also protects highly endangered coastal mangrove forests. These wetlands act as essential nursery grounds for juvenile reef fish and aid in shoreline stabilisation, erosion control, and as an important carbon sink. This, in turn, helps bolster the region against powerful tropical storms and slows the effects of climate change - specifically rising sea levels.
ZuBlu is proud to work with Misool Eco Resort - offering guests a chance to take the trip of their dreams and dive in these pristine waters while creating a brighter future for Misool, and all of Raja Ampat in the process.
---
---
Join the ZuBlu community to receive the latest insights and unmissable adventures
Don't worry, we'll only send you really good stuff - and we never share your details
---