Been dreaming of manta rays and whale sharks during lock down? Well brush off the wetsuit and fins - it's time to go diving again!
The Maldives, one of ZuBlu's most loved dive destinations, is opening its doors to visitors again - just in time for the incredible manta congregations at Hanifaru Bay!
We've put together the latest information about booking your accommodation or liveaboard, and what is required when you enter and leave the country. We've also downloaded the latest guidelines from the Ministry of Tourism in the Maldives so you can read and understand what steps the country is taking to ensure your holiday is safe.

The Maldives is opening its borders and lifting travel restrictions starting July 15, 2020.
Resorts, liveaboards and hotels on private islands are open starting from July 15, 2020.
Guest houses and hotels on local islands are open for bookings from August 1, 2020.
Tourists traveling to the Maldives will be provided a free 30-day tourist visa on arrival.
Get regular updates from the Ministry of Tourism Maldives.
Booking accommodation
A confirmed booking in a tourist establishment registered with the Ministry of Tourism, prior to traveling to the Maldives, is mandatory.
Guests must book their entire stay in one registered resort or guesthouse. Stays at multiple resorts and hotels are not allowed, although exemptions will be made for transit arrangements.
Entry to the Maldives
Tourists will not be subject to any quarantine measures upon arrival to the Maldives.
Tourists will not be required to submit any medical test results for entry to the Maldives.
However, travellers showing any symptoms of COVID-19 will subjected to a PCR test at the traveller's cost. Local health authorities may conduct random testing, at no cost to travellers.
A health declaration card will be required as part of the on-arrival procedure.
Departure from the Maldives
Testing services are available in the Maldives for tourists who require COVID-19 test results to return to their countries of origin or another destination.
Guidelines
You can download the guidelines from the Ministry of Tourism Maldives below:
Time to go diving?
Read more about diving in the Maldives below.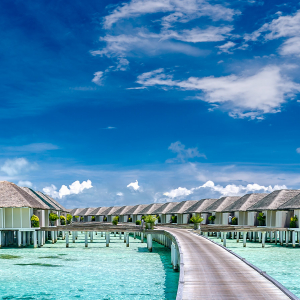 Recommended destination
Maldives
There is nowhere on earth quite like the Maldives. With its pristine white sandy beaches, over-water bungalows and extensive healthy reefs, the Maldives provide front row access to a ...