Are you considering traveling during the pandemic? If so, you aren't alone. Around the globe, divers with dry gills dream of taking the plunge in their favourite destinations. And, after the (understatement alert!) uneventful year in travel that we all experienced in 2020, diving around the globe is better than ever. 
Whether you've already recovered, had a vaccine, or feel comfortable taking an adventure with precautions in place, 2021 offers an opportunity for your dive and travel dreams to come true. But how?
Read on for all the answers to your biggest questions including: Where can I travel during COVID, how to get a COVID test for travel, and more!
Know before you go
than you might think. But, to pull off a safe dive holiday during these unprecedented times, you'll need to do some homework prior to departure. Consider the following points before booking a trip:
International laws
Where, how, and when you can travel during the pandemic is largely dependent on international laws currently in place to control the flow of tourism. And, as we are still learning about the virus and how it spreads, these laws are constantly changing. Sounds complicated? Well, it is! The process of travel itself can be as simple as getting a COVID test and going. It's keeping track of these changes that's the tricky part. That's why more and more divers are relying on a travel agent to do the research. 

Making use of a professional travel agent's expertise will cut out the guesswork when it comes to flights, layovers, and the ever-changing travel restrictions we've all faced for the last year. These travel pros can also help you choose easy to reach destinations based on where you live, and your dream destination's current laws.
Local rules
Once you've selected a region or country for dive travel, you'll want to take some time to learn about local rules in your destination of choice. Are there curfews and mandatory mask policies in place? Will beaches, bars, and restaurants be open? 
Your agent can also get in touch with your chosen resort or liveaboard to get the latest information. Because the owners and management team are working on a local level, they'll have the most up-to-date information. And, they'll likely be able to help with things like how to get a COVID test before your return travel.
Operator policies
While you're probably already sick and tired of COVID regulations, it's important to remember that all these policies are put in place to help protect you and your fellow travellers, as well as local people where you'll be diving. 

Many resorts and liveaboards currently have their own COVID protocols. This could include smaller diving groups, staged dive briefings and meals, and social distancing during your stay. You should also plan to wear a mask any time you are around other guests, and continue to wash your hands or use a sanitizing gel frequently to prevent accidental transmission.
If your operator sends any type of COVID preparedness information ahead of travel, be sure to read it carefully. This is where you'll find their current policies, as well as helpful tips to make travel easy and enjoyable.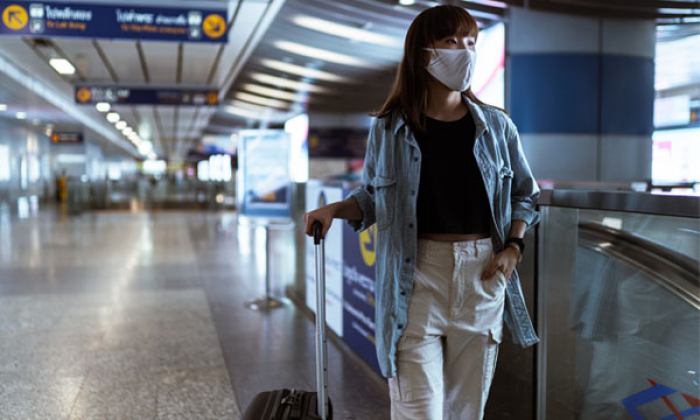 Look after yourself
While you're likely to find plenty of resources for travellers throughout your journey, it's best to have a self-reliant mindset. You can avoid unwelcome surprises by taking a few additional steps before you leave home, and travelling smart at all times. And, while it might seem like lots of extra effort now, COVID precautions are likely to become the "new normal" for dive travel in the future - so there's no sense in putting these changes off.
BYO Safety supplies
By now, you're probably a PPE (Personal Protective Equipment) expert. But, it makes sense to take a few extra precautions while you travel. Don't forget to pack protection for your eyes, nose, and mouth, as these represent the easiest entrances to your body for the virus. Wearing this extra gear also helps remind you not to touch your face - essential medical advice from WHO.
In addition to the standard PPE suggested above, you might also want to travel with gloves or protective coverings to prevent any chance of accidental transmission via clothing or accessories. And, while you'll probably have your temperatures taken multiple times per day while in transit, bringing your own thermometer along might prove useful.
Proper documentation
It goes without saying that you'll likely need to provide a negative COVID test result if you plan to travel. In fact, this might be required even if you've already recovered from a previous infection or been vaccinated. Be sure that you understand which specific types of test will be accepted in your destination of choice. And, verify that you'll be able to provide an official printed result with a laboratory or physician's stamp or signature and your personal information included. 
If you're reading this and wondering "where can I get a COVID test for travel?" - don't worry. Thanks to an increase in demand, PCR and LAMP tests are readily available in most developed countries, with results available in 24 to 48 hours. Just keep in mind that these are different from the rapid antigen and other "quick result" type tests that you might see for sale online and in pharmacies. While these are generally accepted for domestic travel, they likely won't cut it for crossing borders. 
You may also be required to show a temperature or symptom log. While this is hardly proof that you aren't sick, it does clearly demonstrate that you have been keeping track of your health and are currently symptom-free.
As always, you should also travel with proof of insurance, legal identification, and all of your diving credentials - plus copies in case something happens to the originals. Printed itineraries, proof of onward travel, and other information about your trip may be required as well, based on your destination of choice.
Tech in the time of COVID
Travel safety during the COVID era has gone high-tech. For the easiest travel possible, you'll use a smartphone to download your home country and destination's COVID tracking apps. These programmes rely on QR codes for a touch-free airport experience and help to monitor the flow of travel and get a better understanding of how restrictions are working. 

Not sure which applications are currently required? Your travel agent can provide the most up to date information, to help keep your dive travel experience worry-free.
Pack your patience
Simply put, COVID makes travel more complicated. But, if you travel with plenty of patience you can still have a stress-free experience. Arrive for air and land transit earlier than normal, and remember that all the extra questions and paperwork are meant to help, not hurt. 
Consider packing some extra comfort items and entertainment to help you keep your cool. Relaxing music, games, and apps that you enjoy using are the perfect place to start. You might also want to bring a few books along, or download a free ZuBlu diving guide to help pass the time. 
You might also notice that far fewer snacks and drinks are currently being sold and served during transit. If you're the type of diver that gets "hangry", don't leave home without a few healthy and easy to pack options. This could be something as simple as protein bars and a reusable water bottle!
What to do if you get sick
Getting sick during a dive holiday was a major hassle before COVID - and contracting the virus while travelling is far from anybody's idea of a good time. But, if it does happen to you, it isn't necessarily the end of the world. More than one year into the pandemic, most resorts and liveaboards have quarantine plans in place, and are prepared to help, should something happen. These details will most likely be included in the operator's pre-travel information and provided before your dates of travel.
If you're wondering, "does travel insurance cover COVID?", the answer is easy - that depends on your insurance policy. Before you book anything, get in touch with a few different providers to find out what they will and will not cover. It's also important to verify that coverage extends to your specific destination of choice. 
A bit of extra planning will come in handy if you do get sick during dive travel - even if you contract an illness other than COVID. Be sure to bring extra cash along, just in case you need to pay for medical expenses or additional lodging. You should also have an easy to read list of emergency contacts and documents containing personal health information, such as allergies and pre-existing medical conditions.
Minimise risk
When it comes to avoiding the virus, there are a few important steps to take beyond wearing masks and washing your hands frequently. Limiting your exposure to others is essential, as is knowing when you are most at risk for transmission.
Pandemic pods and small group settings
Also known as travel bubbles and quarenteams, pandemic pods are an easy and creative way to limit your chances of catching COVID. This strategy focuses on small groups of travellers who transit, dive, dine, and even stay together. But, how does it work?
For the highest level of protection possible, your pandemic pod should carry out a self-imposed quarantine and COVID testing before travel. Then, all members should reduce social interaction with those outside their "bubble". This helps to limit exposure and keep your team safe. Pandemic pods work perfectly for families and dive groups travelling together, but can also be formed with just about anyone you plan to share your adventures with! Just remember, full participation is essential for this tactic to pay off! 
Limiting your exposure to others helps slow the spread of COVID. So, more and more travellers are opting for small group settings, either on low-occupancy liveaboards or in small, boutique resorts. Depending on the size of your travel group and chosen operator's occupancy, your pandemic pod could also book out an entire resort, or charter its own vessel!  
How and when transmission takes place
All the prevention in the world won't help if you don't properly apply it. So, it's essential to consider how and when the virus is most likely to spread. 

Over the last year, research has shown that indoor environments prevent a greater risk. And, contrary to initial reports, COVID isn't highly contagious when left in trace amounts on hard surfaces. You can further reduce the chances of transmission by avoiding hugs, handshakes, and other direct contact. And, keep hygiene in mind at all times. This includes precautions such as not touching your face, and coughing or sneezing into your elbow rather than your hands.
Safe return
Once you're done adventuring, you'll want to make return travel as simple and straightforward as possible. Thankfully, operators and airlines are well aware of this fact, and are hard at work rolling out new policies and procedures to help visitors get home safely. This is another time when an experienced travel agent will come in handy, especially if your country currently holds high restrictions for COVID-safe travel.
Quarantines and testing
Depending on where in the world you live, you may require a COVID screening such as the PCR or LAMP test to return home. And, you might need to quarantine, but with a bit of pre-planning, these steps are easy to accomplish.
In most cases, your resort or liveaboard operator will be able to arrange a COVID screening before your return flight. And, more and more airports are now offering on-site testing as well. Depending on your home country, quarantine can be carried out at home, in a hotel, or in a specialized facility. Be sure to get the most recent information possible regarding these policies before you leave for your trip. And, plan a bit of extra room in your budget for quarantine-related expenses.
Plan future travel
Once you've completed your first COVID-safe trip, you'll likely feel way more comfortable with future travel. And, you'll have a much better idea of what to expect, at least when it comes to your own country's regulations. 

Keep in mind that with vaccines rolling out and testing becoming cheaper and more accessible, travel in 2021 is likely to keep getting easier. But, you should still work with an experienced travel agent to make sure all goes according to plan.
---
---
Join the ZuBlu community to receive the latest insights and unmissable adventures
Don't worry, we'll only send you really good stuff - and we never share your details
---