On the 24th March 2021, Maldives Fisheries Minister, Zaha Waheed, announced that the government is conducting intensive talks to end the nation's 11-year ban on shark fishing. In response to a question from a member of the People's Majlis Economic Committee Minister Waheed reportedly said shark fishing "presents a profitable revenue-generation strategy for the state."
Thankfully, concerned stakeholders were quick to respond, banding together to inform the government using a scientific and economic approach to the importance of living sharks in our oceans. This group originally consisted of around 50 local stakeholders - including NGOs, dive centres, and some of the country's most influential tourism operators - who all signed a joint statement to government ministers demanding they reconsider their plans. And the list of undersigned has since grown, with almost 60 international organisations also joining the call, including ZuBlu.
Commercial shark fishing in the Maldives began in 1970 and was banned in 2010 - along with the sale and export of all related products - following a decline in shark populations. Since then, sharks have become increasingly valuable to the country as a tourist attraction, with divers flocking to the island nation in search of whale sharks, hammerheads, tiger, threshers, and more.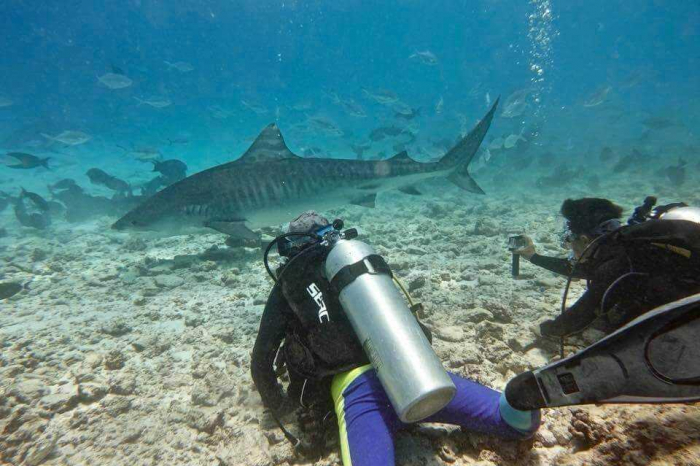 Unfortunately, elsewhere in the world, the practice of shark fishing has been proven to reduce tourism, the Maldives' main export. A 2009 study by researchers at James Cook University, estimated that a single grey reef shark was worth $3,300 in tourism, compared to just $32 once caught. Likewise, a 2018 paper led by The University of Western Australia, suggested that illegal fishing and reduced shark numbers can cause economic losses of US$24 million to the local dive tourism sector.
Sharks also sit high up on the food chain and are responsible for maintaining a healthy balance within ecosystems. In fact, another paper published in the Journal of Animal Ecology, concludes that a healthy shark population is critical for some underwater environments to recover from environmental damage. As the ongoing climate crisis nears its tipping point, supporting natural healing processes such as this couldn't be more critical. 
"very few countries implement shark conservation. Since it is a means to generate profit we don't have to limit ourselves. [We can] open [shark fishing] as a managed fishery for a certain duration and fish without endangering the shark population."

- Zaha Waheed, Maldives Fisheries Minister
Sadly, as slow-reproducing animals, sharks are particularly vulnerable to stressors such as fishing. And, as an expansive island nation, effective monitoring and regulation of the fishery would present an insurmountable challenge. 
The joint statement urges authorities to "give serious consideration to the fragility of the balance of nature in the Maldives," suggesting that "as a nation of 99% water and 1% land, the health of the ocean is vital for its survival." It also highlights the continuous need for safeguarding due to threat multipliers such as the climate crisis, economic downturns, and the COVID-19 pandemic.
Alongside the joint statement, a petition started on the 25th March, just a day after Waheed's comments, has already exceeded its original target of 15,000 signatures, showing a shared concern amongst travellers, ocean-enthusiasts, and the general public. 
To do your part, please sign and share the petition at change.org 
ZuBlu is strongly committed to opposing any lifting of the ban on shark fishing within the Maldives, and we will keep you updated as this campaign continues.
---
---
Join the ZuBlu community to receive the latest insights and unmissable adventures
Don't worry, we'll only send you really good stuff - and we never share your details
---