Working in partnership with Indo Ocean Project's CorAlliance programme, ZuBlu will be giving the gift of a healthy coral reef this Christmas. And guess what, you can help! 
For every new follow on Instagram during the month of December, we pledge to plant one baby coral on the northern reefs of Nusa Penida, Bali. And there's absolutely no limit! So the more likes, the more corals. Simple.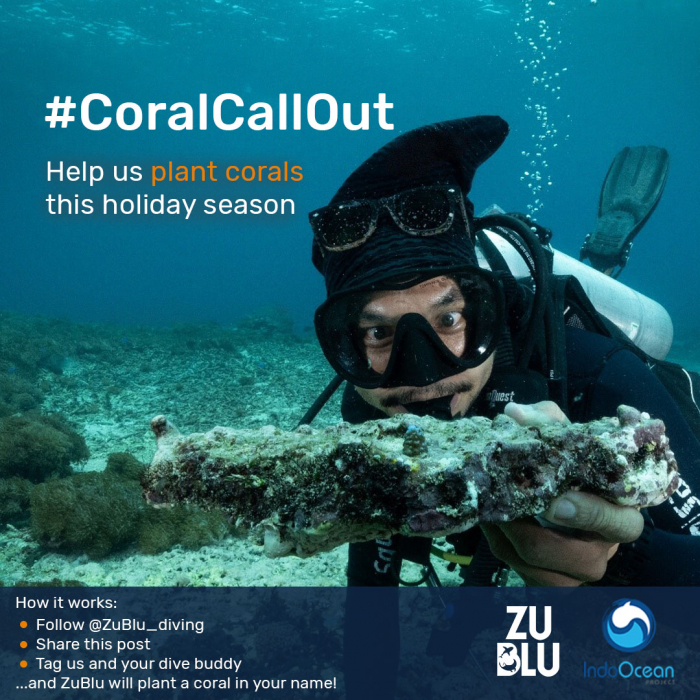 Here's what you've got to do:
Follow ZuBlu on Instagram
Tag a dive buddy in one of our coral call out posts
Share or repost one of our coral call out posts on Instagram to spread the coral love!
Don't forget to use #CoralCallOut and #FollowForCoral
Already part of the ZuBlu community? No worries. Invite a friend to follow and we'll plant a coral for you, too!
---
Established in May 2020 as a social-ecological response to the effects of Covid-19 on a tourism dependent island, Indo Ocean Project's CorAlliance programme employs local dive industry staff who have been adversely affected by the recent pandemic. 
The team was trained in a variety of conservation and coral monitoring techniques and set to work restoring Nusa Penida's spectacular reefs. Indo Ocean Project's CorAlliance programme focuses on rehabilitating damaged areas of reef using an all natural, non-invasive coral propagation methodology that has been tested across Southeast Asia since 2016.
Using a modified planting technique from Ocean Gardener and Ocean Quest, the coral ranger team heads out several times per week in search of free-floating fragments of branching hard corals. These fragments are then cut into smaller "nubbins" and attached to a net system sitting 30 cm above the coral rubble. Once the fragments grow large enough, the net is lowered and fixed in place, securing the substrate, bridging healthy reefs, and creating a more desirable habitat for other coral polyps and juvenile reef fish. 
The deadline to help us restore the reef is midnight, 31st December 2020. So get sharing and have yourself a kaleidoscopic Christmas. 
---
---
Join the ZuBlu community to receive the latest insights and unmissable adventures
Don't worry, we'll only send you really good stuff - and we never share your details
---