On the 14th October 2021 the International Trade Council announced the winners of the 2021 Go Global Awards - and ZuBlu secured top place for Tourism and Hospitality!

Originally launched in 1989, The International Trade Council's Go Global Awards celebrate organisations that drive the global economy through innovation, technology, and strategy - and winning an award is no small feat. 
The 2021 Go Global Awards received a total of 6,416 entries, coming from organisations in 178 countries, and follows a rigorous three-tiered selection process. Candidates are first ranked, then the top 20% of nominations are cross-reviewed to ensure consistency. Finalists are selected and move forward to the live judging event, where they present before independent members of the Go Global Awards Committee. The Awards Committee then announces their final decisions at the Go Global Awards Day.
ZuBlu is immensely proud to stand alongside other organisations who, in the face of a global pandemic, are deemed to have displayed leadership, resilience and innovation, while embracing change and supporting their employees and communities in a way never seen before.
But the Go Global Awards goes beyond winning trophies. The program aims to build a community of senior executives from across the globe to support one another, share ideas, create partnerships, and build on their existing knowledge and connections. ZuBlu is excited to be part of this community moving forward.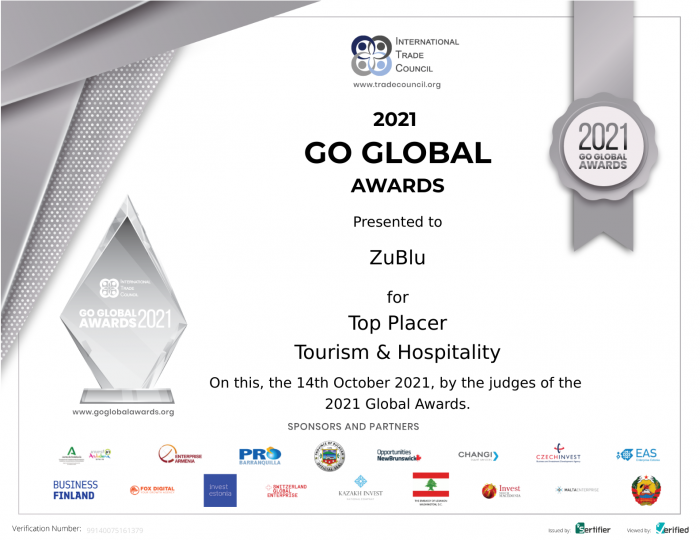 ---
Ready to book with the best?
Contact one of our dive travel experts today

---
---
Join the ZuBlu community to receive the latest insights and unmissable adventures
Don't worry, we'll only send you really good stuff - and we never share your details
---