Forget flowers - surprise your loved one this Valentine's day with an idyllic dive getaway. Share your love for the ocean and create underwater memories that will last a lifetime.
Read on and discover our most romantic dive getaways for 2020...
1. Rihiveli - South Male, Maldives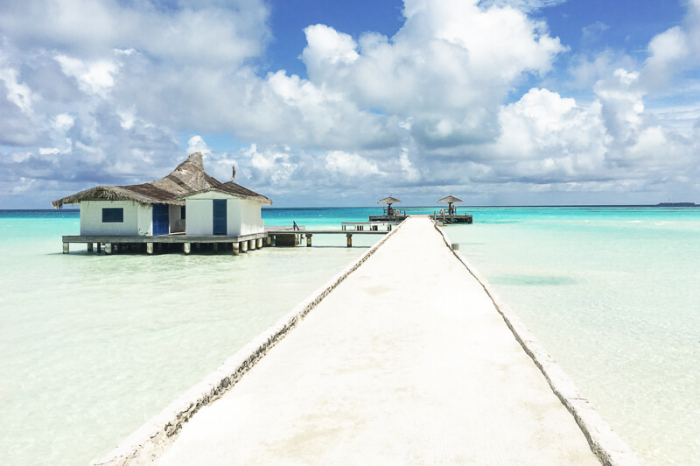 Barefoot luxury on an exclusive private island resort
Located in South Male Atoll and less than an hour from the airport, Rihiveli the Dream offers a luxury private island escape and encourages guests to unplug from the rest of the world. From its use of natural building materials to in-house composting programs and water filtering facilities, Rhiveli aims to reduce its carbon footprint and ensure balance and sustainability, providing a guilt-free getaway this valentines day.

The restaurant and bar sits on the water's edge, allowing guests to enjoy superb buffet-style cuisine as reef sharks, turtles, and rays often swim below. For those seeking a little extra romance, Rihiveli's in-house spa is rich with culture, combining expertise and techniques from across Asia, and offering a variety of treatments and tailor-made services. Activities such as yoga, fitness and Pilates are also offered by the spa.
Scuba diving at Rihiveli
Rihiveli is located on the edge of an oceanic barrier reef, separated from North Male Atoll by the deep Vaadhu Kandu channel. The diverse depths and unique topography here create an exciting ecosystem, with bucket-list species such as manta rays and whale sharks, and conditions that cater to all divers.

The resort's attentive staff will rinse and dry all gear after diving, ensuring equipment remains in pristine condition and guests can enjoy every moment of their holiday together. High-quality cameras and Diver Propulsion Vehicles are also available to rent, and Nitrox is provided free of charge.
---
2. Ocean Vida - Malapascua, Philippines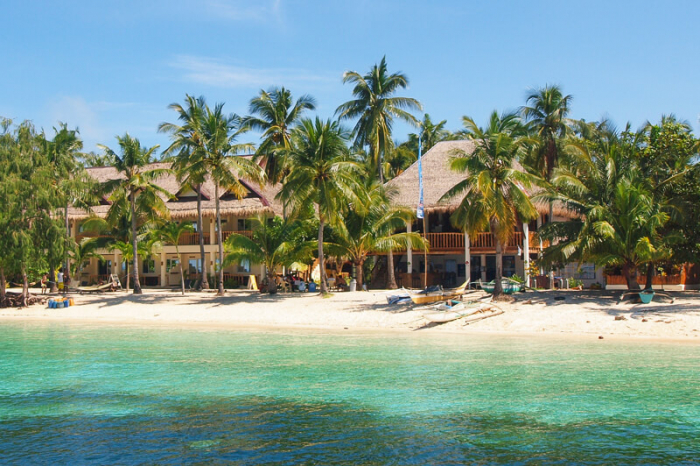 Revitalising beach-front resort - perfect for couples
Located at the heart of Bounty Beach, on the southern tip of Malapascua Island, Ocean Vida Resort aims to revitalise guests with comfort, relaxation and high-quality service. Offering superb facilities, a fantastic sandy beach, multiple relaxation areas and tailored packages, this resort specialises in providing romantic and unforgettable holiday experiences for loved ones. 
Just a few meters away, Ocean Vida's sister resort offers a variety of spa treatments including massages, manicures and pedicures. The spa is considered a quiet area where guests are encouraged to turn off mobile phones, reconnect with one another, or simply indulge themselves. Yoga classes which cater to all levels are also available and include Vinyasa yoga, power yoga, candlelight yoga and beach yoga.
Scuba diving at Ocean Vida
The diving at Ocean Vida is managed by the 5 Star dive centre, Sea Explorers, who have over 30 years of experience diving the Philippines and creating incredible memories for guests. The well-established dive centre boasts 2 air-conditioned classrooms, 2 newly renovated Bangka boats, and offers up to 4 dives each day. 
Malapascua originally found fame for its regular thresher sharks sighting, and Sea Explorers offer daily sunrise dives to Monad Shoal with a good chance of seeing these evasive creatures. Various species of ray, whitetip reef sharks and mating mandarin fish are just a few of the other delights on offer.
---
3. Bunaken Oasis - Bunaken, Sulawesi, Indonesia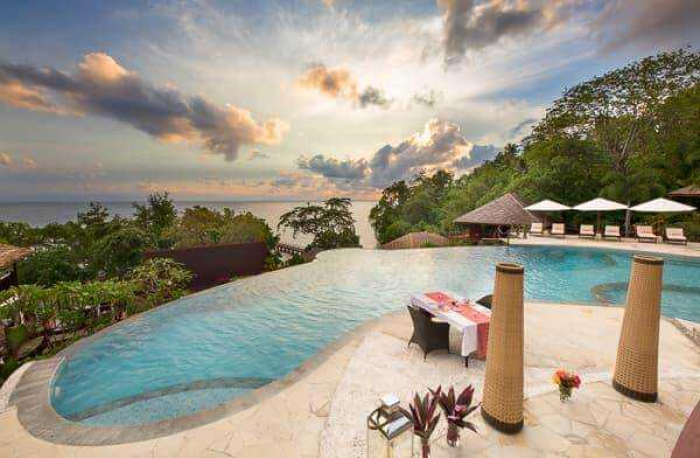 Stunning sustainable resort with flawless services & world-class diving
Set on a small hill with picturesque views over the Bunaken National Park seascape, this intimate collection of cottages surrounded by verdant tropical gardens is the perfect choice for a romantic getaway. Each beautifully-appointed villa is designed to bring the natural beauty of Sulawesi right into your suite, incorporating Indonesian teak furnishings, sumptuous wrap-around windows, and stylish balconies with lofty thatched roofs.
A serene freeform infinity pool takes pride of place at the heart of the resort, boasting dramatic ocean views and a relaxing pool bar for an atmospheric evening drink. Couples in search of a little more adventure can take advantage of the resort's highly-tailored concierge service, offering activities such as volcano climbs, local cultural shows, waterfall swims – just name what you're after and the staff will arrange an experience to remember.
Scuba diving at Bunaken Oasis
At the water's edge, a small fleet of purpose-built dive boats awaits, ready to transport guests to a choice of more than 100 world-class dive sites. Diving in Bunaken National Park is characterised by dramatic plunging walls, sunlit coral gardens, enticing muck sites, and incredibly diverse marine life – in fact, an astounding 70 percent of marine species native to the Indo-Pacific can be found in these waters.
As with everything else at Bunaken Oasis, the diving schedule is designed to work for you – just choose when and where you'd like to explore and let the dive staff handle the rest. Guests who know exactly what they want from the perfect dive holiday can even hand their wish list to the team and the dedicated staff will strive to help tick those boxes off.
---
4. Sangat Island Resort - Palawan, Philippines
A remote 'off-grid' tropical paradise - the Philippines' best kept secret
Nestled along an idyllic 300-meter white sand beach, and hidden among towering limestone cliffs and dense jungle, Sangat Island Resort allows guests to create their own adventure holiday or simply relax with a loved one and enjoy the stunning surroundings. The resort's charming accommodation includes traditionally built beachfront and hillside chalets, as well as a truly unique villa with a private beach that is only accessible by kayak or hanging bridge – ideal for couples after a little extra seclusion.
A premier destination for eco-conscious diving, Sangat Island is 'off grid' with its own electricity and water supply - in fact, it is the only resort in the Philippines to be completely powered by solar energy. The open-air, beachside restaurant serves fresh and healthy fusion cuisine in a sociable atmosphere, while the two bars offer a wide selection drinks throughout the day and into the evening. Guests visiting Sangat Island Resort can indulge in the onsite fitness studio and massage salon or enjoy a range of activities including snorkelling, kayaking, jet skiing, trekking, and rock climbing.
Scuba diving at Sangat Island Resort
While Sangat Island offers some truly exceptional reefs, the real highlight of the area is the many wrecks which can be explored – a total of 11 World War II wrecks lie strewn around the Calamian Islands, eight of them within a 10-minute boat ride from the resort. The majority of these large wrecks are intact, with plenty of opportunities for penetration and exterior exploration, providing some of the best wreck diving experiences in southeast Asia. Support for technical divers is available from the dive centre, as well as a nitrox filling station and a dedicated camera room for underwater photographers.
---
5. Papua Explorers - Raja Ampat, Indonesia
A tranquil water village resort, at the edge of pristine Papuan jungle
Papua Explorers is situated on a jungle-clad peninsula overlooking the Dampier Strait, on the beautiful island of Gam – home to vibrant birds of paradise and other incredible wildlife. The resort was constructed with local, natural materials using traditional Papuan techniques and makes every effort to run as sustainably as possible. Guests are accommodated in gorgeous rustic bungalows which stand above the water's edge, offering direct access to the ocean, and are designed to exist in harmony with the incredible natural surroundings.
The resort's beautiful, circular restaurant and lounge stands on stilts above the water and offers panoramic views of the ocean as well as freshly prepared local and international cuisine. For those who would like something a little different, the Papua Explorers Spa is located on the jetty and provides an amazing mix of Indonesian treatments along with beautiful views out over the Dampier Strait – a great way to relax after a long day of diving.
Scuba diving at Papua Explorers
Papua Explorers is perfectly located at the heart of Raja Ampat's exceptional diving. The resort offers easy access to over 50 world-class dive sites - most of which are less than a 30-minute boat journey away - including famous sites such as Manta Point and Cape Kri. Several boat dives are provided every day, alongside unlimited diving on the house reef, and free nitrox for qualified divers.
The resort has also established an NGO dedicated to protecting Raja Ampat's marine life through science, education and awareness, allowing guests to support local conservation efforts while relaxing and enjoying the area's natural beauty.
---
6. Volivoli Beach Resort - Fiji
Fiji's premium boutique resort, mastering the art of slow living
Volivoli Beach Resort is nestled among lush green forest on the untouched north coast of Fiji's main island. Surrounded by azure seas boasting some of the earth's healthiest coral reefs, the coastline is home to thriving mangroves and history-filled caves, while inland are thundering waterfalls, abundant crop fields and colourful Fijian villages.
Spread over several acres on its own peninsula, Volivoli has everything you need for an unspoilt paradise retreat. Bask in the peaceful sunshine around the oceanfront swimming pool surrounded by flourishing gardens, lounge in a hammock by the beach watching the sunset, dine on inspired local cuisine in one of the two 'farm-to-table' restaurants, soak in the pool with an ice-cold beer or cocktail at the pool bar, or regenerate in the restorative spa – what more could you possibly ask for this valentines day?
Scuba diving at Volivoli Beach Resort
The local diving is among the best in Fiji and focuses on the renowned Bligh Water – home to the most spectacular soft corals and incredible reefs. There are over 50 incredible dive sites, suitable for various levels of experience, with many of the best lying just a 20-minute boat ride from the beach. Ra Divers is one of Fiji's longest established dive operators, boasting a modern building and advanced equipment. The dive centre is a fully certified PADI and SSI facility and is among the most reputable in the South Pacific.
---
7. Virgin Cocoa - Maratua Atoll, Indonesia
A complete escape-from-it-all, surrounded by a stunning house reef
Set in the middle of the Celebes Sea at the south end of Maratua Atoll, this tiny island resort abounds with coconut palms, pristine white sandy beaches and calm, clear waters. This beautiful secluded island is an ideal location for anyone seeking some peace and quiet to unwind, and is a great option for honeymooners and couples wanting some 'us' time away from any distractions. 
The luxurious resort provides exceptional service in a relaxed environment and happily tailors service to individual guests. Relaxing and romantic spa treatments using pure, natural, local products can be taken in the privacy of your own bungalow and daily yoga classes are held every morning and evening. Guests can also take private cookery classes, visit Kakaban's renowned Jellyfish Lake, or spot huge coconut crabs on a twilight stroll around the island.
Scuba diving at Virgin Cocoa
Virgin Cocoa's spectacular house reef stretches for around 4 km and is perfect for snorkelers and divers alike. The resort offers access to no less than seven dive sites, each boasting incredibly diverse and healthy coral landscapes, as well as turtles, barracudas, eagle rays, sharks, pygmy seahorses, nudibranchs, orangutan crabs and sea snakes. Further afield, guests can visit Sangalaki with its manta rays and turtles, Jellyfish Lake at Kakaban or the shark channel in Big Fish Country.

For more adventurous divers, Virgin Cocoa can organise trips to the largely undiscovered Muaras atoll south of Maratua. Here guests can see the exceptional reef walls covered in colourful soft corals, crevices inhabited by spiny lobsters, stingrays and turtles, as well as white-tip reef sharks, grey reef sharks, and thresher sharks.
---
---
---