Our team of dive travel experts are here to help.
COVID-19 is impacting dive travel across the globe. But wherever you want to go, we're here to help.
Which countries are open? Is scuba diving allowed? What are the restrictions? What happens if ... ?
We know you have lots of questions. Our team of dive travel experts is here to help you get back in the water with confidence.
---
Need help with your travel plans in 2021?
Speak with one of our dive travel experts today.

---
COVID-19 travel advice
We've gathered the most up to date information, along with links to government websites for official statements and travel advice. The situation is changing rapidly, so don't forget to check back for updates – or simply get in touch and let us know your wishes and we can contact you when your dream trip becomes possible.
Domestic travel
Internal travel and scuba diving are now permitted in most countries, so if you are already located in destination and want to go on a dive trip, contact us to see what is possible!

Information updated 21 April 2021. 
---
Open with restrictions
Egypt
Last updated 21 April 2021
Commercial flights and international tourism to Egypt resumed on 1 July 2020.
Travel in Egypt will be restricted to the coastal governorates of the Red Sea, South Sinai and Matrouh, where tourists can travel freely. There are restrictions preventing travel from these areas to other parts of Egypt.
All arriving foreign passengers will be subject to temperature checks, must fill out a Public Health Card, and show proof of a valid health insurance policy.  From 15 August 2020, foreign passengers must provide a negative PCR test result for coronavirus. The PCR test must have been taken within 72 hours prior to arrival and the certificate must be written in English or Arabic.  From certain countries, this time limit for the PCR test is extended to 96 hours.
Most foreign nationals require a visa. Find out about supporting documents for entry to Egypt and apply online via Egypt's Online Visa portal.
Most liveaboards and resorts are now open and operating. Contact us and we'll help with your travel wishes to the Red Sea.
Maldives
Last updated 21 April 2021
Maldives borders are currently open to international visitors. 
Maldives opened the borders for all nationalities from 15 July 2020 and there are not expected to be any further incoming travel restrictions to the country. Tourists travelling to Maldives are provided with a free 30-day tourist visa on arrival.  Private island resorts and liveaboards have been able to reopen since 15 July 2020 and most are now operational.
The re-opening of guesthouses on local islands started on 15 October 2020.  Most of our partner guesthouses and service providers have received approval to reopen and are either open now or expected to open very soon.
From 15th October 2020, visitors will require a negative PCR test taken a maximum of 96 hours prior to departure from the first point of embarkation en route to the Maldives.  Visitors must also fill out a health declaration form 24 hours before departure, and an immigration arrival card which will be handed out by airline crew. 
No quarantine necessary on arrival
Extra precautions in place at the airport
It is possible to overnight in Male for transit purposes
PCR tests can be arranged before departure from the Maldives - please check for further details when booking
If you have stayed at a tourist guesthouse at any point during your stay, you must conduct a PCR test 72 hours before your departure.  Most islands have facilities to do this test without having to return to Male.
It is now possible to do a "split stay" trip in the Maldives; visiting more than one island/resort/liveaboard.
Contact us and let us know your preferred travel plans and we'll be happy to make them happen!
Indonesia
Last updated 21 April 2021
Indonesian borders are currently closed to international visitors. The government has not indicated a timeline for when international visitors will be able to enter the country. However domestic travel is possible and specifically, Bali is open to domestic visitors. 
You can view the latest government information here. Alternatively, contact us and let us know your preferred travel plans and we'll get back to you as soon as they become possible.
---
Expected to open soon
Thailand
Last updated 21 April 2021
The Government of Thailand is taking a phased approach to resuming international tourism. Most international tourists are not permitted to enter the country.
On 22 July, a press release from the Thai government announced that four types of foreigners are now allowed to enter Thailand, those with work permits or other special permission, international students, and diplomats.  All people entering Thailand are subject to 14-days quarantine and potential COVID-19 testing upon arrival.
As of 1 October 2020, to 30 September 2021, Thailand has allowed limited numbers of long-stay foreign tourists under the Special Tourist Visa Program. This long-stay visa is open to foreign nationals travelling to Thailand with the intention to stay long term as a tourist. Those who are qualified must get in touch with the local Tourism Authority of Thailand Office or Thai Embassy in their current location for more information.

Under a plan approved by provincial authorities, foreign visitors will be allowed entry to Phuket without quarantine from 1 July 2021.  However, there will be a requirement to use a Covid-19 tracing mobile app.  We are waiting for further details of this plan and will update this page as soon as the details are known.
You can contact us and let us know your preferred travel plans and we'll get back to you to help with your holiday.
---
Closed for international arrivals until further notice
Australia 
Last updated 21 April 2021
From 20 March 2020, no travellers are allowed to enter Australia except for Australian citizens or permanent residents and immediate family, and the international borders remain closed until further notice. Domestic travel is also heavily restricted.  We expect this situation to stay the same for the foreseeable future.
Malaysia 
Last updated 21 April 2021
A Recovery Movement Control Order is currently in place which has been extended tentatively until 30 June 2021. Entry to Malaysia is prohibited, except for Malaysian nationals and foreign nationals holding certain categories of residency visas and employment passes. Anyone granted permission to enter Malaysia must quarantine for 14 days in a designated Government facility and pay the costs.  
Myanmar
Last updated 21 April 2021
All international flights are suspended until further notice. Authorities are planning to reopen for foreign business travellers and anyone arriving in Myanmar will be subject to a 28-day quarantine, 21 days in a government facility, and 7 days at home.
New Zealand
Last updated 21 April 2021
All travellers, except for returning resident New Zealanders, will be denied entry. Exemptions to the entry ban are listed in full by New Zealand Immigration, and this includes their partners, legal guardians or any dependent children travelling with them. All arrivals will be tested for COVID-19, and are subject to 14 days of government-supervised quarantine or self-isolation. Before entering the community, everyone must test negative for COVID-19.
Philippines
Last updated 21 April 2021
Entry to the Philippines is currently prohibited except for Philippine nationals and foreign nationals holding valid residency permits. The Philippines authorities have announced that foreign nationals with long-term visas will be allowed to enter the Philippines from 1 August 2020 subject to certain conditions.
There are domestic travel opportunities, contact us for more information. 
---
---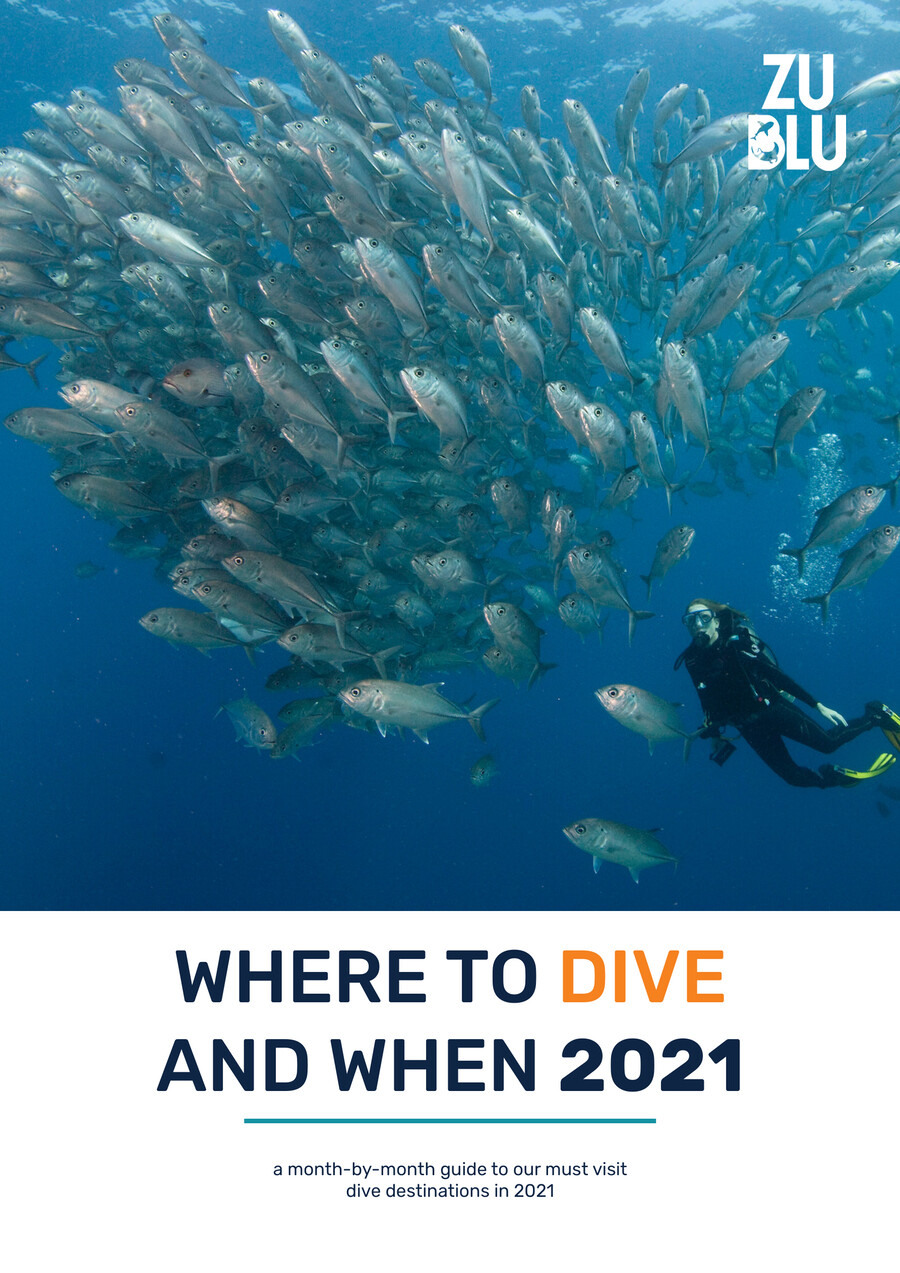 Get inspired with this free month-by-month guide to the best diving destinations from the Red Sea to the South Pacific. Explore ZuBlu's top picks and start planning your 2021 dive holiday.
---
---
---