Back to ZuBlu Insights
Best Places to Learn to Dive in Asia
---
Want to learn something new as part of your New Year's resolutions? Or are you feeling inspired by the Blue Planet and want to finally take the plunge? Well, Asia is probably the best place in the world to learn to scuba dive, so book your course, grab your mask and dive in!
FIND YOUR PERFECT DIVE SCHOOL
To help you find your dream diving destination, ZuBlu have put together a guide to the best places to learn to dive in Asia. We've covered the top learning locations including Bali and the Gili Islands in Indonesia, Malapascua and Puerto Galera in the Philippines, Sabah in Malaysia and Vaavu and Rasdhoo Atolls in the Maldives.
WANT TO FIND A GREAT PLACE TO LEARN?
Find your perfect resort
WHERE IS THE BEST PLACE TO LEARN TO DIVE IN ASIA?
With so many amazing scuba diving destinations across Asia, it can be a hard task trying to recommend one place over another - particular as choosing that perfect holiday destination is so personal.
So instead of trying to do the impossible, we've highlighted some inspirational destinations and put together a few guidelines that will help you decide where to learn. And don't forget, you can talk to a ZuBlu travel specialist and book you dive course directly with us.
Pick somewhere that has easy conditions, both while doing the course and for a few fun dives after you complete your training. There's not much point in doing a course, then struggling in ripping currents the day after, so make sure you give yourself an easy time with you first outings as a qualified Open Water diver!
Consider what else is important for your holiday. Are you looking for a budget option, or some luxury? Nightlife? Do you prefer something off the beaten track, or a bustling tourist centre? Do you want to combine your dive course with some other adventures on land? Taking these into account will will help pick a perfect destination.
Doing your course in a remote destination with incredible diving might seem like a good idea, but you will have far fewer choices of dive school or instructors. Our recommendation would be to do your course at one of the popular destinations for training - the Gili Islands, Bali or Mabul in Sabah for instance - then head somewhere else for more diving. You're more likely to find a great course, and you'll maximise your fun diving time when you do head out to explore the wilds!
LEARNING TO DIVE IN INDONESIA
With over 17,000 islands, incredible marine life and a huge number of resorts and dive centres to choose from, Indonesia is our top choice for anyone looking to learn to dive. Dive spots can be found right across the islands, but the dive industry has become concentrated on those islands that offer the perfect combination of ease of access, amazing diving, beaches and adventures, and an established tourism industry.
Our number one choice for beginners is Bali. Justifiably famous as one the world's top tourism destinations, the 'Island of the Gods' is also well-known for its amazing diving and great conditions for learning. Destinations such as Pemuteran, Tulamben, Amed, Padangbai, Sanur and Lembongan all have a great variety of resorts and dive centres to choose from, along with plenty to do when you're not diving. Further east, the Gili Islands in Lombok are our second choice. Gili Trawangan, Gili Air and Gili Meno offer a combination of outstanding beaches, easy diving, great nightlife and a laid-back island atmosphere, with plenty of accommodation options for backpackers, and more luxurious resorts and villas. Heading along the island chain of Indonesia, we come to the small town of Labuan Bajo in Flores, gateway to the Komodo National Park and other great choice for beginners. Although Komodo is famous for its currents, the many islands offer plenty of sheltered spots suitable for training and the dive centres are used to teaching divers how to dive in currents - a great skill to master if you want to explore more of Indonesia. Our last choice is North Sulawesi and the islands of the Bunaken National Park off Manado, and Gangga and Bankga in the northern tip. Both destinations have a great choice of resorts and dive centres, great conditions for learning, as well as plenty of spectacular marine life.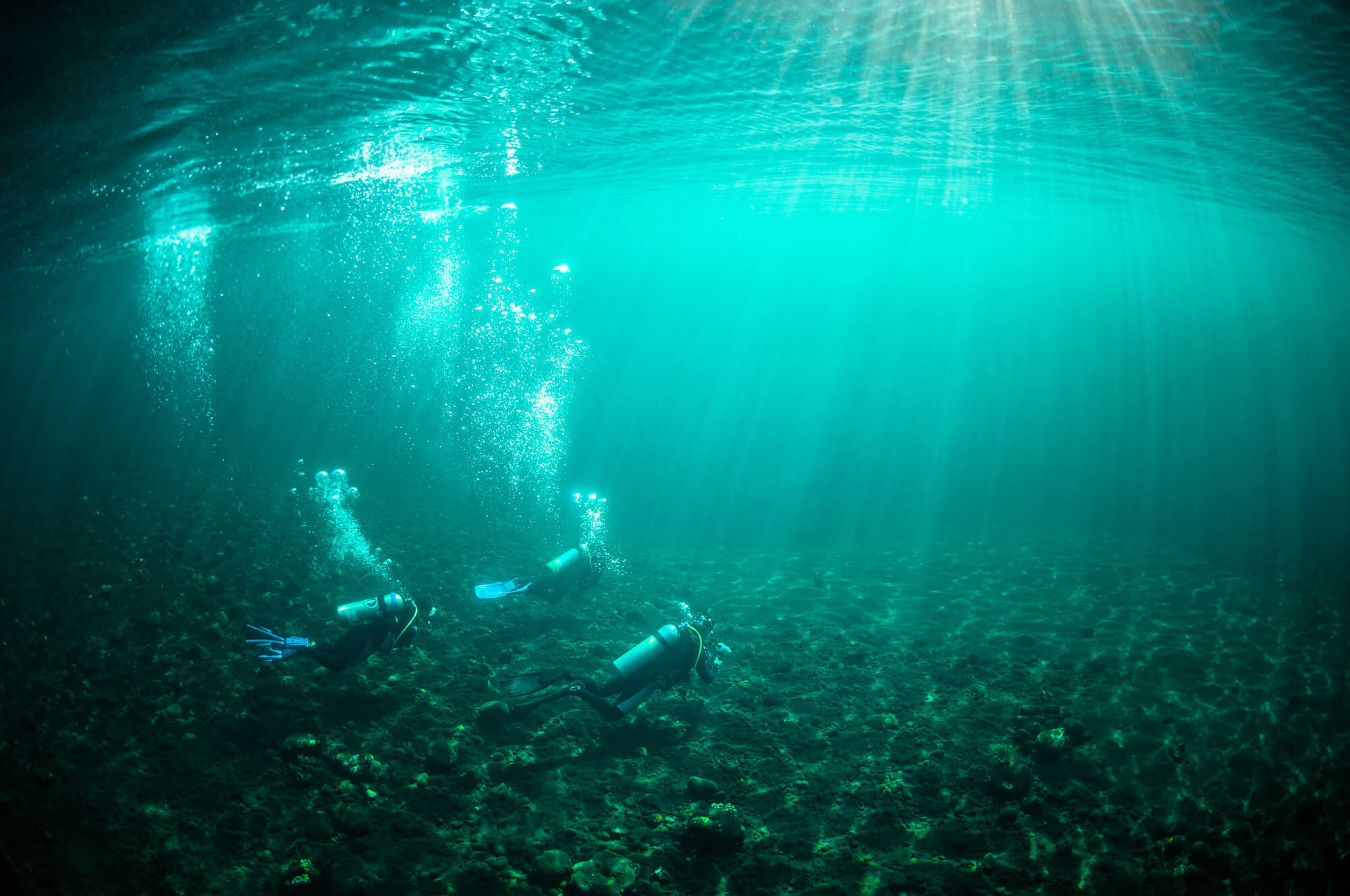 If you are considering learning to dive in Indonesia, then we would recommend completing your course in Bali or the Gili Islands, then heading off to other destinations once you are qualified and have a few more dives under your weight belt. With a little more experience, you'll be able to really make the most of your time in Indonesia and explore some of the incredible dive spots that have made this country one of the top destinations in the world for scuba diving.
LEARNING TO DIVE IN THE PHILIPPINES
Much like Indonesia, the islands of the Philippines have something to offer every aspiring diver - whether you are looking for stunning beaches, beautiful reefs or some nightlife, then you are sure to find a destination that will meet all of your requirements for a perfect scuba diving holiday. The vast majority of destinations in the Philippines have the sheltered conditions that are so important when learning to dive, so we suggest you base your choice of dive school or resort on what else you are looking for from your holiday. A ZuBlu travel specialist will be able to help!
Some of our favourite destinations to learn to dive in the Philippines are Malapascua, home to the famous thresher sharks and some fantastic dive resorts and schools; Dumaguete with its great muck diving and peaceful atmosphere; and Puerto Galera with its amazing resorts, beautiful beaches and plenty of nightlife.
LEARNING TO DIVE IN MALAYSIA
The Malaysian state of Sabah in Borneo is one of Asia's best choices if you are looking to get certified or want to improve your skills. The islands of the Tunku Abdul Rahman National Park, just off the coast from Kota Kinabalu, are perfect for learning to dive with easy conditions and plenty of shallow reefs and sandy areas to practice your skills. Over on the east coast, the island of Mabul is also a perfect place to learn, with lots of sheltered, sandy dive spots and several reputable companies to learn with. In both Kota Kinabalu and Mabul, ZuBlu works with several fantastic dive resorts and schools that can give you the perfect start to your diving career.
If you are looking for an incredible adventure holiday, then ZuBlu recommends basing yourself in Kota Kinabalu or Mabul whilst you learn to dive, then stay on for some diving at Sipadan with its renowned marine life once you are qualified, and heading to dry land and exploring Sabah's extraordinary jungles and rivers. Learn more about how you can book a once-in-a-lifetime adventure trip HERE LINK.
LEARNING TO DIVE IN THE MALDIVES
With its amazing reefs, sheltered lagoons and incredible selection of inspiring resorts and dive schools, the Maldives is perfect for learning to dive pretty much wherever you go! The vast majority of resorts have in-house instructors and are able to offer courses from Bubblemaker upwards. And if they don't have their own dive centre, then they will certainly work with recommended instructors and dive guides who can teach you. So, rather than recommend one destination over any others in the Maldives for learning to dive, we would simply suggest you choose your resort based on what you want from your holiday and your budget, then talk to a ZuBlu travel specialist about doing a course as well.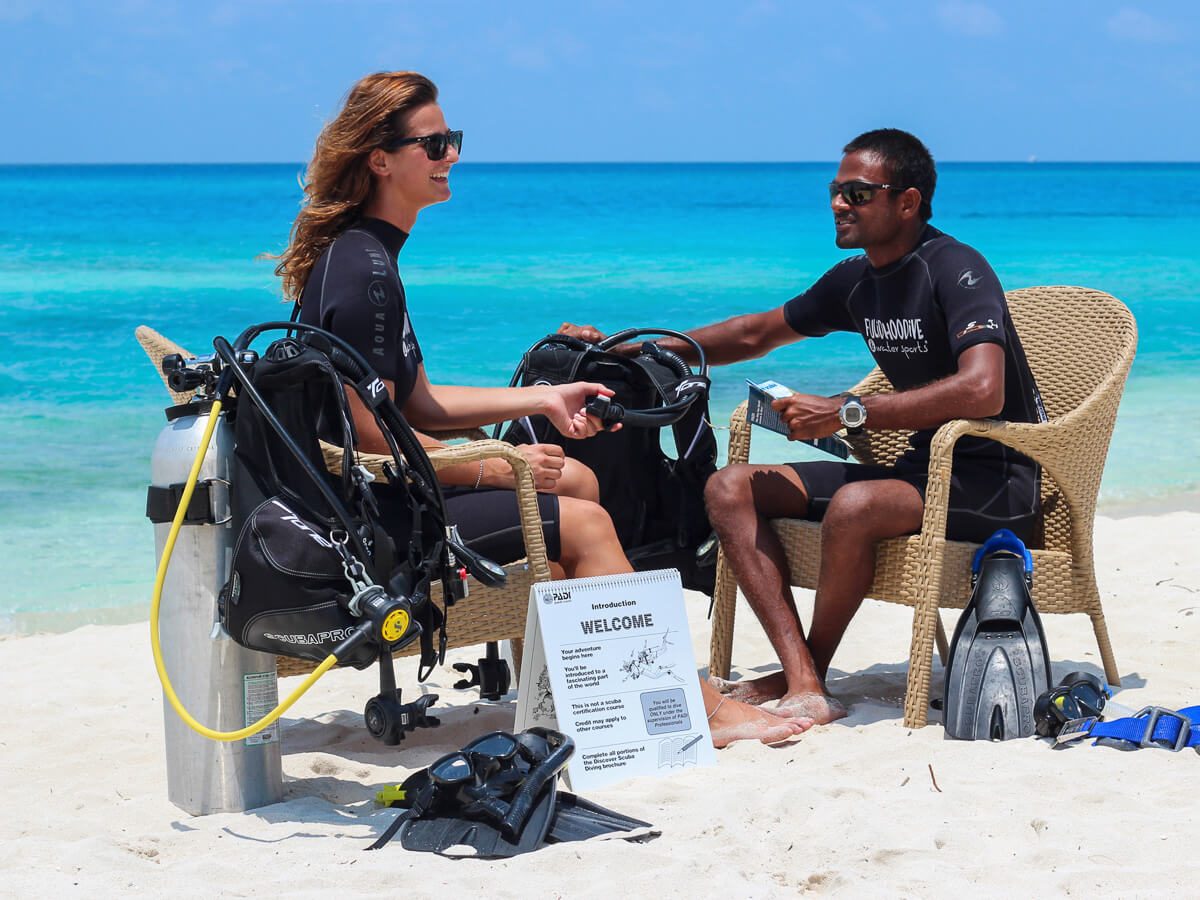 If you are looking for some inspiration, then ZuBlu has a few favourite resorts and dive centres that we are always happy to recommend. Fulidhoo Dive in Vaavu Atoll are very well-managed and are perfectly placed to explore all the amazing diving in and around the atoll. Or if you are looking for a more luxurious option, then Kuramathi Resort in Rasdhoo Atoll and Six Senses in Laamu both offer a stunning resort experience and great training.
WHAT SHOULD I LOOK FOR WHEN CHOOSING A DIVE CENTRE?
All of the resorts, liveaboards and dive centres that ZuBlu works with are ones we would be happy to dive with ourselves. They offer the same high standards of professionalism, fantastic service and a commitment to the environment as ZuBlu. So the simplest way to find your perfect dive school is to speak to one of our travel specialists and let them find your perfect choice - knowing that our recommendations will all be great choices!
But if you are looking for a dive company yourself, then there are a few things you should consider when making your choice. First and foremost, talk to friends and other divers about their experiences - first-hand recommendations of dive schools or instructors are often the most accurate! If you are at a dive shop, then take a look at their equipment and boats. Do they look organised and well-maintained? If not, walk away and find somewhere else - a dive shop that doesn't care for its equipment is unlikely to care for you as a guest. Ask the dive centre manager about the student to teacher ratio during the course as well. The better the ratio, the more personal attention you will get when learning. If everything is looking good, then talk to the instructor and if they are attentive, enthusiastic and organised, then go for it! You're going to spend the next 3 or 4 days with the instructor so pick someone that you get on with and who is passionate about diving and the marine environment.
HOW MUCH DOES IT COST TO LEARN TO DIVE?
While you can always get one off deals and discounted prices, we recommend you book your course with a reputable dive centre or resort - it might cost you a little more, but the benefits of doing your course with a professional and committed instructor easily outweigh extra dollars.
The actual cost of getting certified varies according to where you decide to do the course. We've put together some rough prices for a PADI Open Water course over 3 or more days with a reputable dive centre. Take rates are a guide only and don't include your accommodation and other expenses, but they are a good place to start if you are planning a trip.
Bali, Indonesia - From Rp 7,000,000 / US$480 upwards for courses in Pemuteran, Tulamben, Amed, Padangbai, Sanur or Lembongan.
Gili Islands, Indonesia - From Rp 5,500,000 / US$375 upwards for courses in the Gili Islands.
Labuan Bajo, Indonesia - From Rp 5,500,000 / US$375 upwards for courses in Labuan Bajo.
North Sulawesi, Indonesia - From Rp 7,000,000 / US$480 for courses in Manado, Lembeh and Bangka and Gangga.
Kota Kinabalu, Malaysia - From RM 1000 / US$240 upwards for courses around the islands of the Tunku Abdul Rahman National Park close to Kota Kinabalu.
Mabul & Kapalai, Malaysia - From RM1100 / US$265 upwards for courses around the islands.
Philippines - From PH 18,000 / US$340 upwards for courses across most of the Philippines.
Maldives - From US$750 upwards for courses across most of the Maldives.
HOW LONG DOES IT TAKE TO GET CERTIFIED?
The PADI Open Water course is broken down into 3 sections - theory, confined water and open water. In each section you will learn the fundamentals of diving and master all the skills you need to become a certified diver. The course can be completed in 3 - 4 days, and you can complete the theory section of the course at home using PADI's e-learning tools. We would recommend NOT rushing your course - instead take the full 4 days to master your skills and get the most out of your time with your instructor. Many resorts also offer packages that include the Open Water course plus a few extra days of fun diving after you have been certified. We think this is the perfect way to become a qualified scuba diver as you can continue to work on your new skills with the same dive team and instructor you have just learnt to dive with.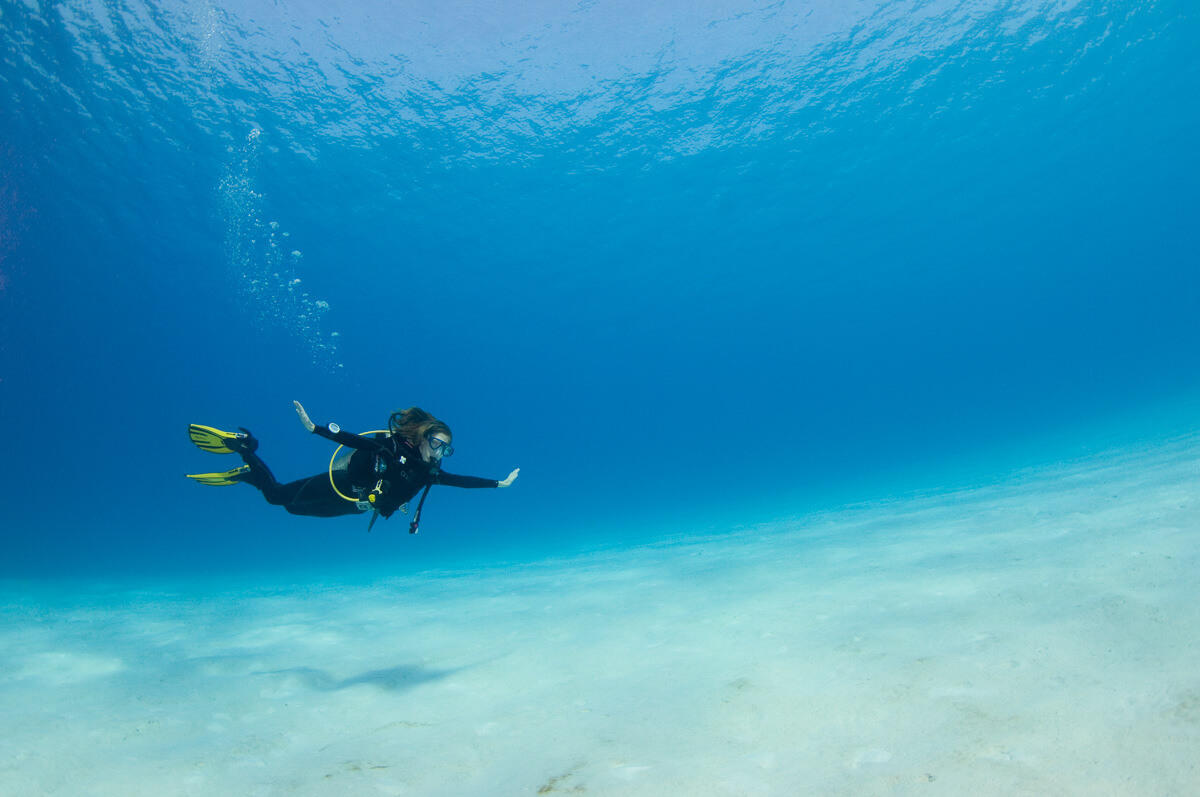 IS IT HARD TO LEARN TO SCUBA DIVE?
Not at all! As long as you are comfortable in the water, are in good health and are reasonably fit, then you will be able to complete your course without difficulty. But what if I am nervous about being in the open water? Well, you are not alone! Many people feel a little worried about being in the open water for the first time and it might take a few training dives before you feel more comfortable. Don't forget your instructor is there to help you overcome any fears you might have - they are trained to guide you through the process of learning to dive and gain confidence in the water at the same time.
HOW DO I BOOK A DIVE COURSE?
Once you have worked out where you would like to get certified, then get in touch with a travel specialist at ZuBlu! Our experts can help you find your ideal dive centre or resort, book your course and make the perfect start to your underwater career.
READY FOR A DIVE?
Talk to a ZuBlu travel specialist and book your course